Janice Warren, the 47-year old VP and General Manager of Winston Seating Operations at Rockwell Collins attributes her professional success to many factors, including the influence and example of her mother. Which makes it all the more notable that one of Warren's early jobs as an executive was to fire her mom.
Warren's mother, Karen Kandefer, was a long-time employee at an airplane seat manufacturing plant in Bantam, Connecticut that had been around Since World War 2. Ownership of the company changed with some frequency over the years and by 1992, it was  purchased by B/E Aerospace, which was itself acquired by Rockwell Collins in 2016.
Kandefer was a supervisor, the only woman on the factory floor, according to her daughter. "Back then it was a man's world," Warren said in a recent interview.
"My mother was good at sub-assembly; she understood how parts could go together. She was good with people, and so they liked her."
Obviously, Kandefer's bosses trusted her judgment too, because when she suggested hiring her daughter for part-time work during school and summer holidays, the company agreed.
The emphasis was on part-time, seasonal work, a career in aircraft seat manufacturing was never part of Janice Warren's career plan. But life had other ideas.
Nearing the end of college in 1993 Janice Warren landed a job with Carrier, a United Technologies company, but before ever arriving for her first day at work, she was laid off along with 25 other soon-to-be-graduates.
Back to B/E Aerospace she went, taking a job in the finance office and soon she was climbing the management ladder. This is how seven years later Warren had to break the news that the Connecticut plant was closing and B/E Aerospace was moving to Winston-Salem, North Carolina.
"She was one of the last," to be laid off, Warren said of her mom. "I was the one who had to thank my mother for all her years of service."
Some workers had been approaching fifty-year anniversaries. Among that crowd, Kandefer was a relative newcomer with 24 years there when she was laid off.
But Warren decided to stay with the company. She moved to North Carolina but wasn't there long when she was assigned to Kilkeel, Ireland, where the B/E Aerospace plant was in such disarray, it was on its way to losing its distributor status with Boeing. Warren was asked to figure out what was happening and fix it. It was the biggest challenge of her career.
"They were not impressed that a woman was going to be taking over the site," Warren remembered. "They questioned my capabilities. I hadn't even said "hello", she said. Then there was the "Protestant/Catholic religious thing" and union issues. "I had a lot of people challenging me."
After completing the project and returning home to North Carolina, Warren was soon asked to join the team creating the West Point plant where the company would manufacture premium and main cabin seating. Now complete, it runs one shift, five days a week, but with a built-in flexibility that allows for a ramp-up as demand requires.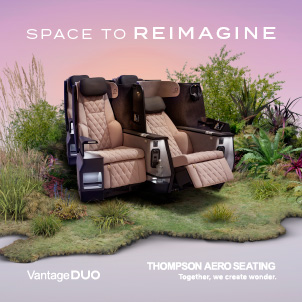 With all the added production in North Carolina, the company needed more experienced workers. Warren remembers someone asking her if her mother would be interested in returning to work. It turned out she was. Karen Kandefer was back on the factory floor.
"They hired her as a lead in the factory at Winston-Salem seating," Warren said. She got to say a professional goodbye to her mother once again, only now at a time of Kandefer's choosing when she decided to retire after 32 years with the company.
Daughter Janice is anything but retiring as she strides across the factory floor making countless decisions large and small and dealing with the unexpected. Her judgment is valued because it is the product of years of experience and a work-ethic honed under the supervision of a woman who paved the way.
"My mother worked hard on the factory floor," Warren said. "She would see me talking to someone and she'd say, 'I sure hope that's work talk because we're not paid to talk, we're paid to work.'"
"She led by example."
Related Articles: