Finnair is seeing a 100% increase in inflight sales on its China flights after implementing real-time Alipay payment processing via inflight connectivity, according to company CEO Pekka Vauramo.
The carrier, whose long-haul fleet is fitted with Panasonic Avionics' Ku-band connectivity system, is often asked about how it monetizes the wifi solution. "And of course the normal ways [are] that people sell the airtime, the connection time, but there [are] other ways, other indirect ways of monetizing wifi of course though because [the connections] are not cheap. Compared with the home connections, they cost like 100 times more than those connections. But recently we took on our China flights, Alipay, mobile payment," Vauramo told RGN at the IATA AGM in Cancun. The carrier saw inflight sales to passengers increase a whopping 100% as a result of the real-time Alipay transactions, he said.
That's one way to monetize wifi, noted the Finnair CEO, and it's very important because Alipay is "a very commonly used mobile payment in China. And no dealing with the currencies, no cash money required… It makes purchasing easy."
Finnair is now offering Alipay on all its China flights, and tweeted about the initiative this week.
On its short-haul fleet, Finnair will fit aircraft with ViaSat Ka-band connectivity, powered by the Eutelsat KA-SAT satellite over Europe. Vauramo is not concerned about trying to keep service consistent with two different connectivity providers. "[It's] not an issue because they are only short-haul, and long-haul it's a different story altogether," he said.
Discussing #PaxEx more broadly, the Finnair CEO also believes seat width matters to economy class passengers, especially on long-haul flights.
Maybe even more so than the space it's about the perception, and it's about the air space. That you have the breathing space, that you have around you. That probably matters more than the space. Then of course [it's a] totally different story then when we talk about business class where there is fully reclining seats nowadays; that's a totally different experience then.
If you have a good product and service, he said logically, that increases demand. Finnair's long-haul fleet comprises Airbus A330s and A350s, which are configured with 18"-wide economy class seats.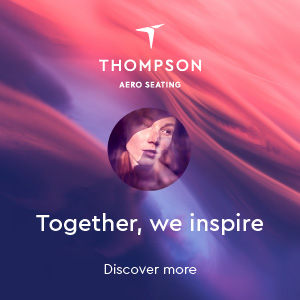 Finnair is, however, grappling with A350 delivery delays due to problems with Zodiac premium seating, as first reported by Bloomberg.
Admitting that there "is a lot of rework that needs to be done" Vauramo told RGN and Leeham News on the sidelines of the AGM that, "Of course you buy a new aircraft and you expect that one to be perfect and then there is a very visible defect; [it's] visible also to passengers so then we don't like it." Cathay Pacific's problems with premium seating on its A350s are similar, he agreed.
Airbus will foot the initial bill. "We buy the aircraft with the seats from Airbus so of course it's between us and Airbus but of course I know the issue is with Zodiac. They need to come up with the solution."
Would Finnair buy Zodiac seats again? "Difficult to say. Difficult to say but I mean of course if I knew that there is problems I wouldn't buy, but," said Vauramo. "It's very frustrating."
Related articles:
Photo at top credited to Finnair