SITAONAIR has hailed the successful launch of Iridium's second set of Iridium NEXT constellation satellites as another step closer to achieving minute-by-minute, 100% global aircraft flight-tracking.
In partnership with Aireon and FlightAware, SITAONAIR's AIRCOM® FlightTracker will deliver enhanced capabilities to airline customers from 2018. Aireon's space-based automatic dependent surveillance broadcast data (ADS-B) will then fill any gaps in current flight-tracking coverage globally – and is expected to be transmitted through the complete Iridium NEXT satellite constellation, via FlightAware.
Paul Gibson, Portfolio Director, AIRCOM®, at SITAONAIR, says: "This is an exciting moment for SITAONAIR as the second set of satellites start their journey to enabling us to deliver 100% global, real-time flight-tracking to the air transport industry. We are looking forward to seeing the project progress and being able to demonstrate its value to airlines.
"The beauty of adding space-based ADS-B data to our current AIRCOM® FlightTracker is that it will integrate seamlessly into the existing interface, while increasing tracking coverage up to 100%. In short, the airlines who adopt our space-based flight-tracking will have the tools to see the precise position, speed and altitude of all airborne fleet – any time, anywhere – and be immediately alerted if any aircraft veers from its flight plan, even if that route is over ocean or the Poles.
"With real-time alerts generated at least once a minute, airlines with enhanced FlightTracker will be way ahead of the ICAO's best practice one-minute mandate – truly consolidating their commitment to safe travel."

SITAONAIR's AIRCOM® FlightTracker is currently used by over 60 airlines worldwide.
What is AIRCOM® FlightTracker?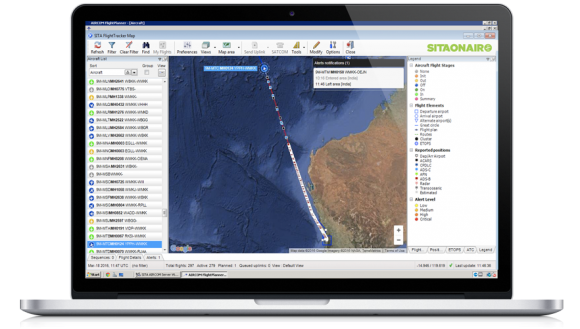 FlightTracker's capabilities include:
Providing airline operations teams with an application that aggregates the best available inflight position data from multiple sources on a single aircraft position display
Issuing alerts to flight operations of any route deviation. Staff can also clearly see if it has been agreed between an aircraft and ATC
Automated alerting for large fleets, so if an aircraft doesn't report its position, deviates from the flight plan or enters a defined geographic area, FlightTracker will create an alert and automatically start a sequence of actions where needed
Being aircraft agnostic, whether a fleet has either ACARS or ADS-B OUT capabilities
Allowing operations teams to view the flight track of each flight with frequent and accurate positions from our fused data feed
Having the capability to be set up to deliver forecast weather data with flight plans, to improve decision-making.
Paul continues: "The SITAONAIR Montreal Development Team has already determined how the new space-based ADS-B data should be integrated and presented within FlightTracker. The display uses specific color-coding to identify different data sources, and, for us, it is a case of drawing in this data and giving space-based ADS-B its own distinct place in this set."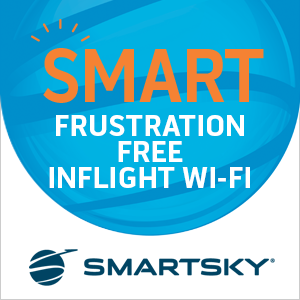 The second payload of 10 Iridium NEXT satellites, hosting Aireon's space-based ADS-B system, launched from SpaceX's California-based launch facility at Vandenberg Air Force Base on a Falcon 9 rocket. The first batch of 10 satellites, hosting the space-based automatic dependent surveillance broadcast (ADS-B) system, was launched by SpaceX on 14 January 2017.
For more information and to discover the full SITAONAIR connected aircraft portfolio, visit www.sitaonair.aero
About SITAONAIR
SITAONAIR is the air travel industry's trusted connected aircraft service expert. With its unrivalled industry-backed heritage, SITAONAIR empowers 400+ airlines, 14,000+ aircraft and 30+ operators to navigate the complexity of connectivity and unlock connected aircraft value. We work in partnership with the air travel community, helping support its digital transformation, to unlock the true value of data, grow ancillary revenues, and enhance the passenger experience, operational efficiency and airline safety. Our co-created solutions for passengers, cockpit and cabin crew, and aircraft data management equip the industry to address the challenges and value-generating opportunities it presents. We support Air Navigation Service Providers in defining and implementing next generation solutions of Air Traffic Management.
SITAONAIR is a subsidiary of The SITA Group, which is airline-owned and airline-focused. Find out more by visiting www.sitaonair.aero
Featured image credited to istock.com/JakeOlimb