Delta Air Lines' first Airbus A350 recently showed up fully painted and performing test flights in advance of delivery next month. It is one of five A350s the carrier is expected to take this year. And these five might be part of only a small cluster of A350 frames that Airbus delivers to the United States for a while. As Delta announced last month, the US major is deferring 10 of its 25 A350-900 deliveries set for 2019-2020 "by two to three years with additional delivery flexibility".
Delta is not alone in making growth and capacity adjustments. American Airlines inherited an A350 order from US Airways when the two carriers merged. Those deliveries were deferred once in 2016; a second deferral was announced when the carrier issued its quarterly earnings in late April. The A350s are not expected to join the American fleet until 2020 at the earliest. American also deferred some 787-9 deliveries from Boeing.
Meanwhile, until very recently, United Airlines' pending A350 order carries more questions than answers. The Chicago-based carrier indicated it was reviewing its order book, and delivery of the A350-1000s appeared unlikely, particularly given that a pilot training simulator order was scrubbed in the short term. Flightglobal is now reporting that United has deferred delivery of its first four A35os. During the Paris Air Show, United agreed to take four more 777-300ER aircraft in 2018, which helps bridge the 777 production line for Boeing.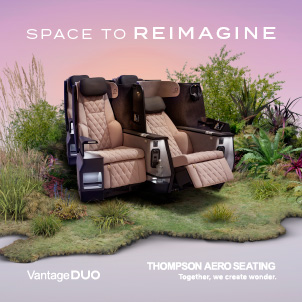 Delivery delays and the relatively slow trickle of twin-aisle aircraft orders at the Paris Air Show spark concerns, though Airbus and Boeing will claim sufficient order backlogs for their newer types for several years to come. Low fuel prices plus global political and economic instabilities raise questions about whether we'll see more deferrals, especially if oil prices remain low. Adding capacity, albeit with older generation aircraft, is not too difficult or expensive. Delta's infamous 777-for-$10 million comment in late 2015 may not be easily repeated for frames in serviceable condition, but the concept remains: cheap planes on the secondary market may slow new deliveries in the near-term.
The slowing of deliveries has a significant impact on many supplier companies, too. Astronics makes the vast majority of power outlets on twin-aisle aircraft (both 110V and USB), as well as many of the motors inside premium cabin seats. The company reported disappointing earnings last quarter and revised estimates down based on expectations of deliveries slowing, both of new aircraft and retrofits. It expects to "apply pressure to our supply base to protect margins," according to CEO Peter Gundermann. Spirit Aerosystems, a major supplier to Boeing, echoed the supply base margin comments in its most recent quarterly earnings. Both expect to be able to push some of that pressure further down the supply chain, affecting many more companies.
Astronics' Gundermann also noted that, "[T]he aftermarket element that we participate in with those kinds of airframes is also slowing kind of at the same time. So whereas we've seen a lot of growth in widebodies, at the moment, we are seeing that flattening out a little bit." This suggests that the deferrals are not just a switch to older aircraft but cuts more broadly in growth across the market. There is little doubt that other vendors and partners will feel similar pressures as the twin-aisle segment slows.
The other major consideration is what all of this means for passengers; news there is decidedly mixed. Most reviews thus far for the A350 appear positive. Some fit-and-finish bits are wearing faster than expected (see Zodiac's implementation for Cathay and similar troubles at Finnair) but efforts are underway to address those shortcomings. And there is no doubt that the new plane is quieter on board, with better air flow and generally more personal space for passengers, as the vast majority of buyers are taking the 'standard' 9-abreast configuration in economy – i.e. with 18-inch wide seats.
Both United and Delta remain steady in their commitment to retire the 747-400s from their fleets this year. United is back-filling with some 777-300ERs resulting in nearly even total seats flying, though space available to economy class passengers is diminishing with the move; at least in-seat entertainment (via Panasonic) is included. While those 777 deliveries were also delayed thanks to issues in securing the new Polaris seats from Zodiac, they are nearly all flying now, only a few weeks later than initially planned.
Delta's plans obviously include partially offsetting the 747 retirements with the five A350s, but that will not fully replace the retiring 747s. The carrier expects significant cuts in trans-Pacific capacity from a couple of years ago thanks to the shifting fleet. Delta also faces some challenges associated with running long-haul operations with a very small subfleet, particularly with a brand new aircraft type for the company. With only five frames flung far afield there is little room to recover if things go awry. That's not to say that problems should be expected with the planes, but new fleet induction typically brings some teething pains for an airline.
The carrier should be able to run the three planned routes (from Detroit to Tokyo-Narita, Beijing and Seoul) but flexibility drops as the route network fills in. And passengers will face challenges in determining which version of the "premium economy" product they're buying as Delta sells both its versions the same way via third-party booking channels.
The deferrals from Delta also mean a small slowdown in Gogo 2Ku installs, with Delta being the largest customer for the product (the first Delta A350 is being fitted with 2Ku). Gogo has approximately 1,600 aircraft in the backlog today so missing a dozen or so is not a major shift in total capacity being delivered in the coming years. It has long been assumed that Delta, Panasonic's largest IFE customer, intends to fit the A350s with Panasonic systems (even as the 2Ku installs are completed via greenfield retrofits). As such, Delta's deferral could impact Panasonic to a small degree as well.
American Airlines shed many 767s recently and refurbished others, though the retrofits delivered a lower quality product than many passengers typically expect for long-haul service (AA's 757 Diamond refit also lacks a decade of #PaxEx innovation, including IFE). Forgoing in-seat IFE could be argued as reasonable for a fleet destined to retire soon given system and content costs. With longer delivery delays and the retrofit planes sticking around longer, it is easy to argue that decision now appears short-sighted.
Related Articles: