LE BOURGET — Unveiled by chief executive Akbar al Baker, Qatar Airways' innovative next-generation Qsuite business class saw long queues as journalists toured the Boeing 777-300ER (whimsically, the one registered A7-BED) at the Paris Air Show. The seats themselves, manufactured by Rockwell Collins (previously B/E Aerospace), impress in a number of ways, and live up to the promise they showed when unveiled earlier this year.
First, the quad design itself is remarkable, and both Rockwell Collins and Qatar Airways are to be congratulated for this innovative evolution of premium seating. A selection of sharing plates were on display, though fortunately there was no example of the business meeting that the airline's computer-generated mockups (and the side of its chalet at the air show) were showing.
The aesthetic cleverly balances chic, technological and classical, with the dark grey seating moquette matching some of the side panelling, and coordinating pleasingly with other greys, tans, and signature Qatar burgundy — as well as the elegant marble effect side table. The cabin ambience — even on a roasting hot day on the ground at Le Bourget — was truly excellent.
The overall sturdiness of the construction, too, is impressive. The doors close with a satisfying yet simple slide. The table is sturdy, supported on the side away from its unfolding mechanism by an unobtrusive and thus elegant perch. "It's a highly complex seat in terms of aluminium structure, composite structure," Rockwell Collins executive vice president and chief operating officer, Interior Systems, Werner Lieberherr tells Runway Network.
A nearly silent seat mechanism is a real bonus, especially given that passengers will be sleeping in close proximity to each other in the centre sections.
A couple of practical downsides: while Qatar Airways has not removed the overhead air vents (a positive) they no longer line up with every seat row, so some rows lack the feature. Some rows also lack a full window, with the "window" seat enjoying only two partial windows. It's a shame that some clever shrouding work couldn't have remedied the situation.
More practically for every seat, the controls are in a single line with very small pictograms. While this may feel elegant, it is poor user experience given the number of functional options and the similarity of many of them. While this might feel like an embarrassment of riches, user interface for people with reduced sight (including glasses-wearers, older passengers, and people with disabilities) could be improved, as in other seats, with rocker switches in the Z-shape of the seat itself approximating the motion of each function.
As the first business class suite product with doors to debut in the flesh, numerous notable safety innovations are in place.
First: each suite door is removable with a pull handle mechanism, in the event that the sliding mechanism does not work following a hard landing, Rockwell Collins' Lieberherr confirmed. When pulling down on the handle, the red door frame section can be removed and, per the supplementary Qsuite safety card, placed on the seat.
However, experience with jettisoning overwing escape doors suggests that this may not be second nature to passengers, which may result in the discarded doors littering the aisles and potentially impeding escape. Lieberherr notes that he was unaware of any such result in testing, noting that Rockwell undertook, at the direction of regulators, "at first, computer testing, but then also in-person testing. They wanted to see how it works in reality in terms of egress."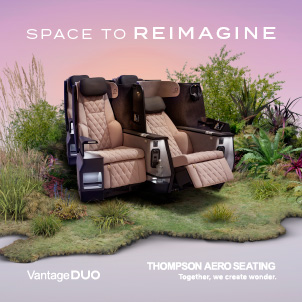 Rockwell has also managed to create a seat that requires neither seat nor surface airbags to pass the head injury criterion, Lieberherr confirms. Given that both the primary table — which does not entirely retract — and the side table feel close enough to the potential path of an occupant's head if their body pivots around the seatbelt, Rockwell Collins has made significant advances in delethalisation and passing the head injury criterion, despite enhanced certification requirements in the decade since first class suites débuted.
Lieberherr described the certification process for business class suites compared with first class suites as "similar, but when you look at certification requirements they have definitely increased over time. So they are more stringent than they were ten years ago, but we were able to manage it."
Despite multiple requests, Qatar Airways did not make any staff member available to answer further questions to Runway Girl Network prior to or during the unguided Qsuite visit. RGN hopes to press for further answers this week at the Paris Air Show, and will update this article if we learn more.
Image Gallery:
Related Articles: