Continuing the trend of barebones slimline seats evolving into fully featured longhaul products, Mirus' Hawk LR impressed at the Aircraft Interiors Expo this year with smart design, flexible features and a return to the semi-embedded seatback tablet — plus a new order for more than two dozen A330-300 shipsets, totalling some ten thousand seats.
While the "new customer" Mirus was touting (AirAsia X) turned out to be their old customer (AirAsia), the choice by the longhaul low-cost carrier to upgrade its A330 seats to a newer model is nonetheless a big win for Mirus, and a vote of confidence by the AirAsia group in a company that is, at this point, almost its in-house seatmaker.
In terms of comfort, the Hawk LR seats on display were above average, leveraging the knee and shin space engineering work that Mirus carried out last year on its shorthaul Hawk seat, taking a hit on the programme but dramatically improving comfort with 1.5" of extra space.
Hawk LR offers a variety of feature options for airlines to choose: in-seat charging supplied by digEcor and IFPL, an inductive charging system, movable headrests, a personal electronic device holder, fully embedded inflight entertainment, and most surprisingly a semi-embedded Samsung Galaxy tablet.
Delethalisation questions around semi-embedded tablets are still swirling, however, and if any airline plumps for seatback tablets they will have to go a long way to persuade regulators that they're safe to remain installed during taxi, takeoff and landing. Indeed, given the US and UK electronics ban for airlines from certain parts of the world where aviation security is judged not to be sufficient, it would be a brave airline that bet the IFE house on tablets being permitted — not to mention the question of tablet longevity and generational updating of the slot in which the tablet embeds.
Despite all these options, though, it seems Hawk LR's first customer is taking seats with few bells or whistles. Mirus CEO Phil Hall tells Runway Girl Network that AirAsia X will retain its BYOD entertainment model with passengers' personal electronic devices. That is, again, an eyebrow-raising decision in the context of the electronics ban, particularly given that some of AirAsia X's longhaul operations are based in countries that have previously come under aviation safety scrutiny.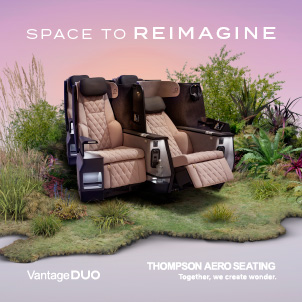 AirAsia X will likely only be offering a high-power 2-ampere, 5-volt USB charging port on new aircraft, Hall says, with retrofits likely to come without power. Given some of AirAsia X's sector length, that's a surprising and disappointing #PaxEx decision on the part of the airline, which Hall says will start refitting its A330-300 fleet in approximately 10-12 months.
Nor has AirAsia made a decision on whether to outfit its forthcoming Airbus A350 seats with Hawk LR, let alone selected any features for those seats. AirAsia X's A350s will come in a significantly tighter ten-abreast configuration, seen only on Air Caraïbes today.
Overall, the Hawk LR impressed — not least with its prime position at the end of the walkway between the Aircraft Interiors Expo and World Travel Catering & Onboard Services Expo sites in Hamburg.
That said, the Hawk LR on display was a wider seat that would fit an Airbus A350 in its comfortable nine-abreast layout, offering over eighteen inches of seat width per passenger. AirAsia's narrower A330s also offer nine-abreast seating, but on the smaller A330 cross-section seat width is around 16.7" per traveller — one of the narrowest in the skies.
The crucial test for Mirus is exactly how much space it can sculpt out of its seat in the ultra-high-density A330 nine-abreast and A350 ten-abreast cross-sections.
Related Articles: