FlightSafety International's new Gulfstream G650 simulator, based at the Centre at Farnborough, brings the training specialist's global simulator inventory for the type to five. Its Learning Centre in Savannah, Georgia has two, while Wilmington, Delaware and Long Beach, California each have single units. The Centre at Farnborough in the UK also offers training on the Gulfstream G550.
Built to FAA and EASA Level D classification, the new 'sim' includes six-axis motion; night, dusk and day visuals; and dynamic control loading. Michele Posey, director, sales at FlightSafety International says the sim offers training of the highest fidelity and showcases the company's latest technology.
"We manufacture the simulator and provide the training," she says. "It includes our VITAL 1100 visual system providing exceptional continuous global, high-definition satellite imagery and features powerful graphics processors that deliver exceptional realism with any time-of-day operations during all phases of flight.
"Our current library of highly detailed geo-specific models includes 387 airports for fixed-wing aircraft and 467 areas used in helicopter training. The airports and visual scenes represent locations in Africa; Asia; Central, North and South America; Europe; Hawaii; Iceland; India; Indonesia; the Middle East; and Siberia, while our CrewView collimated glass mirror display provides superior distortion-free optical performance with greater clarity, sharpness and brightness."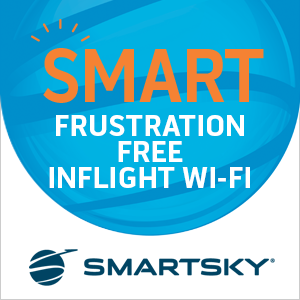 Level D classification is the highest standard of simulator qualification, requiring that the system replicate the flight and operating characteristics of the aircraft type it represents.
EASA and FAA requirements are exacting and call for equipment and software replicating those of the type simulated, and specify a minimum standard of visuals. The FAA demands a 'three-degree-of-freedom motion system', while EASA requires a 'force cueing motion system'.
FlightSafety's simulators are therefore type specific. "The simulator's flight deck, flight and operating characteristics replicate the aircraft they represent. The imagery varies depending upon whether the simulator is for a helicopter or fixed-wing aircraft, and with aircraft mission."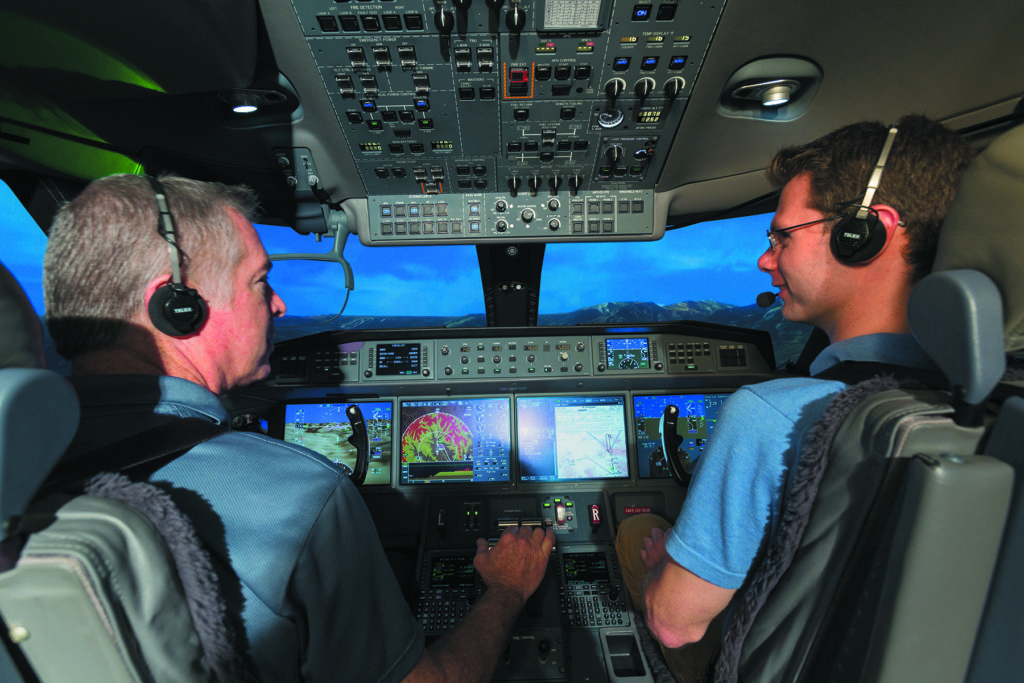 The G650 simulators are no exception and Posey notes that as Gulfstream's factory-authorized training provider, all five of its G650 sims are kept busy. "An initial type rating course is 24 days, while the recurrent course takes five days and the prior experience course seven. The simulators are also used for special training, such as flying into particular airports, and our Advanced Courses include upset prevention and recovery training."
An operating station enables interaction between an instructor outside the sim and the crew within. The instructor's role goes beyond teaching, since he or she also injects emergency situations, unexpected weather and more into the training. Posey explains: "There are a number of emergency scenarios that must be introduced according to aviation authority regulatory requirements. They're developed and inserted in the simulator sessions by our instructors, based on our experience."
FlightSafety's G650 sims are perhaps the most obvious, high-tech expression of its instructional product, but Posey says its Savannah Centre also offers "a dedicated maintenance training facility and flight attendant training area for Gulfstream aircraft". Are European operators for whom pilot training at Farnborough might be a preferred option therefore obliged to send their cabin crew and engineers to Georgia? Apparently not: "Both are available on site at a customer location upon request."
FlightSafety's relationship with Gulfstream reaches back over more than four decades. It's clearly one customers trust, so what does Michele Posey credit for its success? "It can be attributed to the high quality and scope of our training, our customer service, and the value we provide to Gulfstream and their aircraft owners and operators."
Related Articles: