When Recaro debuted its first ever fully flat bed in 2016, the CL6710 and its direct aisle access were a welcome return to longhaul business class from the company that had previously gone only as far as angled lie-flat. But in addition to the launch customer on the Airbus A330neo, TAP Portugal announced last year, Recaro tells Runway Girl Network that the seatmaker has an unnamed customer on the Boeing 787 platform.
But the evolution of this product — and in particular its ancillary features — is fascinating. Last year, alongside several rows of seats, the German seatmaker was also showing a number of wellbeing customisation options: lights, heat, fan, and massage, all controlled with an app from a passenger's wirelessly charged phone.
Obviously, the mass wireless charging future many in early 2016 thought was en route with the iPhone 7 has not materialised, but the rest of the customisations have made their way from a concept corner in the Recaro stand to the mainstream of the company's longhaul business class offering. Michael Hopp, senior product manager at Recaro for business class and cabin solutions, showed RGN around 2017's CL6710, explaining how last year's wellbeing concepts are this year's product on sale.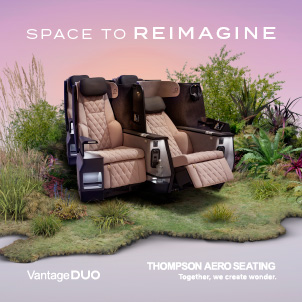 "Last year, we showed different possibilities of adding wellbeing to the seat," Hopp says. "We also initiated the integration of your own digital devices into the aircraft world. This year we've taken that one step further: we have analyzed feedback from the market on those wellbeing projects."
Specifically, Hopp said, "we had heating in the ottoman area on the armrest, in the back of the seat itself.  We had lighting, we had cooling, so there were a lot of options. What we saw as feedback, is that there is still a market that is indecisive."
In that context, Hopp explains, "what we deduced from that data is that people, they like to adapt to have added value for the passengers, but then on the other hand — as usual with airlines — they don't want to add too much complexity in terms of cost, in terms of maintenance, total cost of ownership, et cetera."
As a result, Recaro is this year offering heating, lighting, and a premium massage function — all well-established in the upmarket automotive sector that is very much Recaro's bread and butter. All worked well, even if the massage function was only a slight improvement on the usual "my seatback is vibrating slightly" airline version.
Hopp also confirmed that Recaro has a 787 customer, and confirmed that the seating will be 1-2-1 throughout, and not a more dense version in the centre pairs with nine alternating "columns" of seats/footrests, seen with seats like Thompson's original Vantage product on the A330 cross-section.
When RGN asked about time to market, Hopp also delved into the suppliers-to-suppliers issue that Recaro has historically been strong in managing. "Of course, you always have the usual aircraft program, which is roughly two years. But we are seeing that we have actually progressed quite far with these components. But the main hurdle currently, the main obstacle is to have these automotive oriented suppliers getting used to the shipset quantities that we have in the aviation industry. So you see a lot of discussions about that, but we don't see that far away. We see that in the near future."
While the first CL6710 for TAP Portugal with the first A330neo won't have all Recaro's wellbeing bells and whistles when it's delivered early next year, the onus is on Recaro to ensure that the product avoids the delivery woes suffered by other high-profile seating suppliers. For many in the industry, that will be the real test of the German seatmaker's longhaul business class fortunes.
Related Articles: