SD recently added the Astronics AeroSat FliteStream T-Series tail mount antenna to its portfolio, and became a value added reseller (VAR) for the Panasonic Ku connectivity service, enabling simultaneous Internet and live TV capability through the single antenna for business aircraft operators. The passenger-pleasing solution is being touted as offering significant operator benefits, as senior commercial director Derek Donahue explains to Runway Girl Network.
On 13 March, Satcom Direct (SD) announced an agreement with Astronics AeroSat "to sell the FliteStream T-Series tail mount connectivity system through SD's global dealer network". The statement noted that the FliteStream T-Series solution "employs the Panasonic Avionics global communications network to enable business jet passengers to watch live television and use the Internet simultaneously through a single antenna".
But surely bizjet operators already enjoy live television through their broadband connectivity? Why would they need a second antenna? And isn't SD actually competing with elements of its existing business – notably its VAR status on the Inmarsat Global Xpress Ka-powered Jet ConneX (JX) program – by offering a Panasonic Ku-supported system?
Derek Donahue, SD's senior commercial director, explains the complexities of offering live television in-flight on business aircraft: "Prior to the T-Series tail mount system, passengers had two principal means through which they could watch live television: install a potentially expensive antenna and LRUs for a system providing television service only, with channel line-ups changing based upon region and satellite; or stream live content via [inflight] Wi-Fi through an application or website for which the end user had a home TV subscription or streaming-only subscription (Netflix, for example).
"Streaming live content enables a passenger to watch exactly the content they choose, but it comes at a sizable cost, since they're paying per minute, per MB, or using up a large portion of the aircraft's monthly data allowance. But FliteStream, in partnership with Panasonic's GCS [Global Communications Services] network, will provide access to three live TV channels (CNN, CNBC and Sport24) at no extra cost.
"Additionally, because of the IP multicast architecture, when passengers watch these channels it won't draw against their monthly data package. We believe CNN, CNBC and Sport24 will cover a large portion of the target market for live television on an aircraft. But outside these, we've provided sufficient data allowance in the service plans for operators to stream more specific content."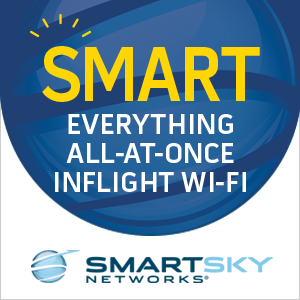 Donahue regards the system as an alternative to SD's popular JX offering (again, powered by Inmarsat GX, and boasting service speeds of up to 15Mbps). "We're not asking customers to 'switch', but simply offering another upgrade path to what they currently have installed. Through Panasonic's GCS network and FliteStream we can deliver a 4 Mbps connection. That's a significant upgrade over the most commonly installed systems today. We remain network agnostic and provide the best solution according to client needs," he says.
The Honeywell antenna serving JX usually fits within the volume of existing aircraft radomes, but the system's Ka-band frequency generally requires that an aerodynamically similar radome unit in a different material be installed (though RGN has learned that some operators are using Ku radomes for Ka as a stop-gap). Is this also the case with the FliteStream T-Series antenna?
"It requires a radome material that'll support the Ku-band frequency that Panasonic's GCS network operates within. Because Ku-band services have been around the business jet industry for quite some time – via DIRECTV, or the ViaSat BBML & Yonder systems, for example – Ku radomes are readily available for most of the target airframes," says Donahue.
An STC has already been granted for the first of those target airframes, the Gulfstream IV. Each new platform will require an STC and more are in the pipeline. As well as the antenna, the Panasonic retrofit involves 'boxes' Donahue describes as typical for any satcom install: "You have a modem, diplexer, amplifier and transceiver." The result, of course, is live television and Internet connectivity through a single antenna, saving on weight and complexity.
"At the moment we're focused on a successful launch through the retrofit/after-market," he says, "but we'd love to see this as a line fit solution in the future."
Related Articles: