HAMBURG — Though it is a leading provider of flight deck avionics Rockwell Collins' footprint in aircraft cabins has been decidedly less robust over the last several years due to its decision not to develop next generation in-seat IFE for the Airbus A380 and Boeing 787, and far more recently to cease offering its PAVES-branded in-seat IFE for narrowbodies, as first reported on RGN Premium.
But Rockwell Collins' acquisition of aircraft interiors giant B/E Aerospace – a deal that is expected to be finalized within mere weeks – and its value added reseller status on the Inmarsat Global Xpress inflight connectivity program, is priming the firm to have a significant volume of content nose-to-tail on board many airliners.
Indeed, it's somewhat staggering to consider the potential opportunities presented by the complementary B/E acquisition. Rockwell Collins could package everything from avionics, cockpit communications, cabin connectivity, premium and economy seats, lavatories, cabin lighting, and other interior elements. It already packages avionics and connectivity today, with Rockwell Collins senior director global marketing Richard Nordstrom telling Runway Girl Network at the Aircraft Interiors Expo that, "We did [that] with Norwegian."
Under the arrangement, Norwegian has tapped Rockwell Collins as GX integrator for 125 aircraft "to start with", says Nordstrom. "It's going to be more eventually, we believe."
Norwegian currently offers Global Eagle Entertainment's Ku-band connectivity solution on its domestic Boeing 737 fleet. "They [Norwegian] have a good relationship with GEE; and they're sticking with their 737NGs with GEE now, but I would say once they see the performance level that we're going to bring [with GX], there is a good possibility that we may be in that area too," Nordstrom suggests.
While Rockwell Collins has cracked into Norwegian with this GX Ka-band connectivity win, across the proverbial pond Panasonic Avionics has forged a Ku-band connectivity deal with Global Eagle's other premier customer, Dallas-based Southwest Airlines. Should the market be concerned about Global Eagle's positioning? "No, we're cracking in too," responds Global Eagle EVP aviation Josh Marks. "We took 500 aircraft at Shareco and HNA Group away from other providers. So I think the market will go towards dual source arrangements. I think just as Boeing and Airbus have evolved a dual offer in many cases, airlines have been looking for the same kinds of sourcing arrangements [for connectivity] going forward.
"At the same time," he continues, "I think airlines are also at a point where they're looking for integrators to help them bridge the connectivity future. And as we look at where we are at this point in time, the evolution of the connectivity to the aircraft is happening at breakneck speed. The economics are changing at breakneck speed.
"And it's a real question for airlines as to whether they want to lock in with one provider; one connectivity operator; one technology specifically, one satellite system; or whether they want to follow a path of integrating systems that are built into the avionics or the entertainment systems of the aircraft. And I think a lot of the decisions that you're seeing right now are airlines looking at how to bring together the different pieces of the puzzle whether they're avionics or the inflight entertainment systems on the airplane, and [they] are looking at the connectivity system as the last mile link to the plane."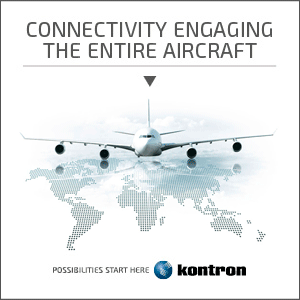 Asked to describe the value proposition of the GX offering – which Rockwell Collins is currently in the process of installing on an Air Astana Boeing 767 – versus Ku connectivity competitors, Nordstrom says, "You have to have consistency of performance and you have to have energy levels throughout each of those bands so that you have a passenger that says, 'I'm on it, it's working and it stays that way all through the flight'. We have lots of issues with other Ku options because they vary the power energy within their broad beams, and so you have this 'oh it's good, it's bad, it's out, it's good, it's bad'. It's an inconsistent performance."
"The nice thing about GX is that it is totally consistent," he adds. "It works right to the edge of the map; the map is not a pseudo map so to speak. The energy level runs right to the edge of the map [bar the poles]. So when you see where you are relative to that system, you know you're going to get that same performance no matter where you are. Not to the poles, but everywhere else. It's a truly consistent performance."
Rockwell Collins' vision entails that of a fully connected ecosystem with some cockpit transmissions moving over the inflight broadband pipe. Safety services will remain firmly on L-band as provided by Inmarsat (via Classic and soon SwiftBroadband) and Iridium (via the current LEO constellation and its NEXT constellation), according to the firm.
"But there are things for electronic flight bags (EFBs), updated more in real-time, and big high-definition radar; things that can be done more efficiently coming over the big pipe," says Nordstrom. So everything up to non-safety ACARS data is viable in Rockwell Collins' view, providing that the next generation of #InfoSsec keeps cockpit services and cabin connectivity "separate and protected".
In that vein, Rockwell Collins is developing some cyber security hardware and firewalls for its GX connectivity implementation "and I think that's going to be key to use the big pipe in back," says Nordstrom.
Meanwhile, it might seem strange that Rockwell Collins has opted not to offer any sort of in-seat IFE solution in its portfolio (it will continue to provide its PAVES broadcast overhead monitors, though these will be limited to current OEM offerable solutions).
When the firm in February confirmed to RGN that it is exiting the in-seat IFE business, it said in a statement:
Rockwell Collins recently completed an in-depth review of IFE market dynamics and how best to position Rockwell Collins to address the connected aircraft. This review led us to shift our strategy and investments to the broader connected aircraft and not invest in future in-seat video capabilities.

Factors driving this decision include:

The airline industry's rapid adoption of aircraft broadband connectivity and wireless distribution solutions.
Our acquisition of ARINC and other investments puts Rockwell Collins in a unique position to lead the industry evolution to a 'connected aircraft' environment.
Recent industry dynamics that indicate single-aisle in-seat hardware adoption is going to decline and continue to become a commodity much like the rapidly evolving consumer electronics segment.
Indeed, American Airlines' decision not to take IFE on its forthcoming Boeing 737 MAXs and Hawaiian Airlines' move to only offer streaming wireless IFE and PED holders on its A321neos are indicative of the drivers prompting Rockwell Collins to exit.
But with a few exceptions (such as Singapore Airlines' low-cost subsidiary Scoot), a wireless-only world has not yet been embraced by long-haul, widebody operators. To wit, in-seat IFE is found (and delivered) on the vast majority of longhaul aircraft, as it is considered a 'comfort factor' for passengers. To serve their needs, Rockwell Collins is reminding the market that B/E Aerospace already has "excellent relationships [with IFE vendors], they've done a beautiful job…" So there is little reason to compete with those relationships.
Rockwell Collins is clearly embracing the idea of being able to have more content on the airplane and to, as the firm says, "put it together in better ways, so we've talked a little bit about the connected airplane … imagine the IoT of the cabin." Imagine the "maintenance efficiencies, and all the things you can do with that once you have it. Pushing it via cabin connectivity."
Adds Nordstrom, "When you can take various entities within the actual ecosystem for connectivity [in] the aviation industry and you look at the number of people who have access to all those points and have presence, we probably have the greatest presence and depth and breath of anybody in the marketplace. The key though is to figure out how to best take those synergies."
Related Articles: