This is an Op-Ed contribution from Werner Lieberherr, executive vice president and chief operating officer, Interior Systems for Rockwell Collins. 
The world's love affair with flying peaked in the 1930s when China Clippers delivered the ideal of luxurious travel in a romantic age. Today, "luxurious" and "romantic" aren't words that immediately come to mind when flying.
But take heart. The global aviation industry is on the cusp of transformation. Passenger psychographics and demographics are shifting. Travelers' needs and desires are evolving. And airlines are seeking to meet these evolving needs by adopting increasingly sophisticated innovations in products and services. They're emphasizing connectivity, personalization, and the delivery of almost endless options that bring terrestrial conveniences and experiences to 30,000 feet.
In short, this new paradigm is going to enable passengers to fall in love again with flying.
One recent acquisition within the aviation industry sheds light on where the industry is headed and how companies are proactively working to stay in front of passenger expectations.
Last October, Rockwell Collins, a leader in cockpit, cabin, communication and connectivity solutions, announced that it would acquire B/E Aerospace, the industry-leading designer and manufacturer of aircraft seats and cabin environments.
At first blush, you might ask how one has anything to do with the other. Well, it does. And, believe me, it will.
As CEO of B/E Aerospace, I enthusiastically supported this combination of leaders as a catalyst for the further digital integration of the entire aviation ecosystem — passengers, aircraft, airlines, airline partners and airports — across commercial, business jet and military domains.
In short, the aviation industry is broadening its focus from the connected aircraft to connected users across the aviation ecosystem. It's this broader focus on connected users that's going to spark the aviation industry's transformation and make flying fun again.
If we consider just the aircraft cabin alone, the potential is thrilling. The beating heart of this transformation is smart network technology, processors and sensors that seamlessly integrate connectivity, smart cabin environments and connected users.
Here's a high-level look at the integrative nature of this transformation.
Smart Seats and Galleys
When booking flights, or sitting in smart cabin seats, a digital interface will enable passengers to order specific meals, drinks, blankets, and amenities for a catered travel experience that reduces crew workload and improves passenger touchpoints. Were you asleep and missed lunch? Notify the galley from your smart seat. Would you like a glass of wine with dinner instead of a soft drink? Change your pre-order by sending a message to your flight attendant.
And with high-speed WiFi-enabled cabins, passengers will use their personal laptops, tablets, and smart phones to download hundreds of entertainment options. Airlines may choose to eliminate seatback screens and the associated seatback electronics from their narrow-body aircraft. Removal of embedded IFE may provide more space and promote different storage options for the lower seat pitch environment. This would be a huge weight/cost savings for airlines.
Additionally, consider the opportunities of smart restocking. Galley sensors will automatically determine the inventory required for restocking the aircraft and communicate that information to ground personnel.
Smart Lighting
The integration of wireless connectivity and cabin lighting systems will deliver lighting that soothes, calms and relaxes. Lighting throughout the cabin will adjust with the stage of the flight and be tuned by each airline to its unique brand. Sensors will change lighting automatically depending on weather outside the aircraft and the amount of ambient light coming through larger windows.
Smart Overhead Bins
Smart cabin processors and sensors may end the scrambling, shoving and short-tempered shaming that describe the current stress-filled hunt for overhead bin space. At booking, overhead space could be allocated directly above the corresponding seat. Sensors would alert the cabin crew if carry-on bags were placed in any other overhead bin. Digital displays on the overhead bin will confirm reserved spaces and sensors will determine when the bin is full. The check-in process will ensure access to carry-ons and prevent unplanned bag check. Carry-on bags might even be loaded before passengers to save time during the boarding process.
And just imagine how bin reservations might improve deplaning. Embedded sensors will maximize the efficiency of the deplaning process. Based on time and distance to connecting gates, smart sensors may enable passengers with tight connections to deplane first.
Smart Predictive Maintenance
Whether it's smart overhead bins, seats, galleys, lighting, or more efficient boarding and deplaning, connected sensors will warn of equipment failure before it happens, ensuring that maintenance can fix the problem in a fraction of the current downtime. This means more aircraft pushing back from their gates on time, more passengers making their connections, and more people smiling.
This is only the beginning. The possibilities for integrating connectivity, processors and sensors with leading-edge cabin environments are staggering. The benefits for connected users and the airline customers who serve them are boundless.
Today, the global aviation industry is on the cusp of a seismic transformation. It's a transformation that passengers on a China Clipper couldn't have imagined. While the integration of connectivity and cabin environments will enable the same breathtaking anticipation of travel, it will have the benefit of bleeding-edge technology, a modern sense of design, and comfort that has crossed from the virtual world to the physical.
And we're going to fall in love again with flying.
Header Image: Pan American Airways inaugural flight to Hong Kong from San Francisco (Alameda) arriving October 23, 1936, in the Martin M-130 Philippine Clipper. John T. McCoy 1962 watercolor – SFO Museum Gift of the Pan Am Historical Foundation
Related Articles: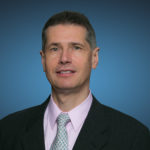 About the author, Werner Lieberherr
Werner Lieberherr is executive vice president and chief operating officer, Interior Systems for Rockwell Collins. The Interior Systems business unit was formed as a result of Rockwell Collins acquiring B/E Aerospace, Inc. in April 2017, and encompasses a broad range of aircraft interior systems.
Previously, Lieberherr served as president & chief executive officer of B/E Aerospace and senior vice president & general manager of the Commercial Aircraft Segment.
Prior to B/E Aerospace, Lieberherr served 16 years in the energy industry with ABB and Alstom Power Inc. in various leadership roles including president, managing director and vice president in Europe, Asia and North America.
Lieberherr holds a Master's Degree in Business Administration from Kellogg School of Management, Northwestern University and a Master's Degree in Operations Research and Industrial Engineering from the Swiss Federal Institute of Technology (ETH) in Zurich.