How much could an airline charge for an 18" diagonal screen in economy? How about for a middle economy seat that is 20.8" wide, bigger than many premium economy and even business class seats? And what passenger experience improvements would both a horizontal stagger — taking neighbouring shoulders out of contact — and vertical stagger — doing the same with hips — make?
That's the question being posed by Molon Labe, inventors of the recently certified Side-Slip Seat, with its partners Panasonic Avionics and BMW Designworks. Essentially, the staggered side-effect of the barebones, fast-boarding Side-Slip Seat has been translated into a more comfortable experience for more fully featured economy cabins. A preliminary render can be found at the top of this article, while Molon Labe promises more detailed imagery soon. Of note, the stylings and dimensions with which the consortium entered the Crystal Cabin Awards have been significantly updated already.
Fundamentally, in its current triple-seat row concept incarnation, the centre seat is stepped back two inches and down one inch, while the aisle and window seats are raised an inch, when compared with the ergonomic standard. "We're taking nothing from the aisle and window seat for these longhaul economy class seats, but that middle seat is going to have almost three inches of extra width," Molon Labe CEO Hank Scott tells Runway Girl Network.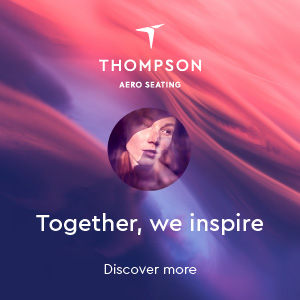 Now, if this all sounds a little like the Airbus effort several years ago to give a wider seat to aisle passengers, which airlines could then sell as ancillary revenue, you're not alone. In response to RGN's questions about the exceedingly negative response from non-aviation media to the idea of 'stealing' space from other passengers, Scott says, "At the end of the day, we don't steal from anyone, we just add to the middle."
"For the shorthaul seat, on the A320, the exact numbers are 18", 20.8" on the middle, and 18"," explains Scott. "On the 737 — and there are some slight variations on the model of 737, and how far back you are in the cabin — we go to the standard they currently have, which is 17.3", 19.8", and 17.3". We think we can play with that, we just haven't put a lot of effort into Boeing until recently because they've very recently shown some interest."
"The A320 is where we've put most of our effort into very detailed design, because Airbus has been very much into this because of their Airspace by Airbus mentality. Just recently, Boeing has really invited to come up and visit them and do some analysis on the width and how much it works. Boeing's been a little bit late to the game, but they're coming in aggressively now."
The extra-wide screen may well be a key selling point. "We've just confirmed with Panasonic directly from the CEO that we can fit that 18" IFE screen," Scott says, "where the normal economy class passenger has a 13.5" IFE screen, we're taking the standard, off-the-shelf 18" diagonal IFE screen for the middle. The new renderings will show it, the current renderings show it a little, but not as much as I'd like to."
A Panasonic spokesman shared slightly different numbers, however – "13.3 inch monitors on either side; [and a] 17.3 inch monitor on center seat".
Another feature of the Side-Slip Seat that the new staggered version inherits is a two-height armrest, putting to rest the question of to which passenger each armrest belongs.
"There are two things we've done, and you'll see this on the longhaul seat," Scott says. "The armrests that are in the middle — the lower portion of the armrest — we've sculpted it so that it curves towards the middle. It basically precludes the aisle and middle seat people from using it."
"We can go to an airline and say, look, we can sculpt it, we can increase the length, we can increase the stagger — it's so easy to customise that. Sculpting the middle seat to say 'this is your portion of the real estate', that's what people want. It just depends on part numbers: does the airline want one armrest part number that can be changed out in thirty seconds, or do they want three part numbers? I think the longhaul carriers will go for the three."
Another memory jogged by the seat is the Thompson Vantage Cozy Suite, a much-praised but never-purchased product. In response to questions from RGN about the issue, Scott said, "The Crystal Cabin Awards asked about that. Our staggered design is staggered vertically and fore-aft. Their staggered design is staggered left to right. There's a Boeing patent that's prior art twenty-five years ago that would shut down both."
That vertical stagger is key to the seat's attractiveness, Scott explains. "We've looked at the entire envelope of seats: what's the lowest seat on the market, what's the highest seat on the market. We thought, let's go down an inch on the middle seat and up on the aisle and window seats from pretty much the industry standard, and then let's do the fore-aft stagger, which is two inches. It's not as black and white as that: we agonised over what percentile we're covering, how long the seat pan is, two degrees up vs four degrees down, 17" vs 18", but at the end of the day, we offer two options instead of most airlines offering one option."
Indeed, it could be a selling point, and this point in time may well be the opportunity that airlines can take, Scott suggests. "In the modern world, people do get to pick their seats. I do need more width. I do need more height. I'm worried about my legs dangling. So I'm going to pick the middle seat. If an airline was clever, they would take the window seat and the aisle seat, and change the height on both of them — which we're more than happy to do — and with digital analysis and digital certification we could have three different heights and widths for the triple."
Overall, though, the seat is a relatively advanced prototype. "We're just showing a conceptual change," Scott concludes. "The airlines, especially the legacy airlines, are going to say 'all right, I'm a southeast Asian airline, here's my ergonomic population, here's the height of the middle seat, here's the height of the aisle seat.' Based on our ability to do very rapid digital certification through AC20-146 and our partnership with the National Institute of Aviation Research, it's a no-brainer. We're selling a concept, and the customer gets to come in and say 'this is important to us'. We're really testing the waters. We're saying, 'here's the advantages; how would you like to take advantage of them?'"
Related Articles:
Featured image courtesy Molon Labe