American Airlines' recent confirmation that it will not include seatback entertainment on its Boeing 737 MAX fleet – part of a broader IFEC strategy that has yet to be fully detailed by the carrier – reignited the smoldering debate about just what entertainment experience passengers should expect on narrowbodies, and how to deliver such in the best (cheapest?) manner. The conversation spans both consumers and industry partners, with the impact of the decision varying wildly depending on where you're sitting.
Industry Partners
There is no doubt that this announcement is good news for ViaSat. The company in 2016 scored a coup to secure the inflight connectivity contract for American's 737 MAX fleet, of which it has 100 on order, and confirmation of no in-seat IFE on those birds will certainly push more passengers towards data consumption. Passengers seeking a live Internet connection to stream video or distract themselves with other online activity will pay for the privilege. "For those who want to pay to get online, the high-speed, satellite-based Internet access we are installing on the MAX and other aircraft is so fast that everyone on the plane can stream," said American in its statement.
The reference to "other aircraft" here can be seen as a nod to the 140 mainline aircraft confirmed to receive Gogo's 2Ku solution. It also likely includes some of the 500ish aircraft American will shift from Gogo's ATG solutions to the ViaSat Ka-band service in the near future.
American's latest statement also suggests that some 300+ AA mainline aircraft will see upgraded wifi service installed by mid-2018, with the carrier saying it "will have completed installation of the faster satellite-based Wi-Fi on half of our narrowbodies" by that timeframe "with all of them done by the end of 2019". That is an aggressive schedule to keep, but both ViaSat and Gogo are committed to moving quickly on this front.
Meeting the increased demand will depend on the successful launch of the ViaSat-2 satellite. ViaSat recently showed off the hardware at the Boeing construction facility in Southern California in advance of it being shipped to French Guiana for launch with Arianespace, expected in Q1 '17.
There are also questions around meeting the necessary bandwidth numbers per passenger, not just per aircraft, to support streaming video solutions such as Netflix or Youtube. ViaSat is quick to use 12 Mbps as a marketing metric but has also repeatedly noted that number is not something it supports for 100% take rates on board. Still, a ViaSat spokesperson disclosed that:
The service we're bringing to AA has a 12 Mbps SLA to each connected device.
The fact that passengers will have to pay to stream should keep take rates and consumption down versus what JetBlue sees with its free Fly-Fi offering, but a 12 Mbps SLA is still a heavy commitment.
Passengers
For travelers on these new planes the news is a mixed bag and, not surprisingly, so is the response on social media, with some seeing the lack of IFE on new narrowbodies as a natural progression of the BYOD landscape, and others viewing it as a devolution of product.
American joins United Airlines as full-service carriers shifting to not offer in-seat IFE systems on their short-haul aircraft. That means that early window movie content – at least for the foreseeable future – will be off the menu, as Hollywood continues to disallow the streaming of EW content to passengers' own devices. Southwest is already there, while JetBlue and Delta remain committed to in-seat IFE in addition to streaming options on their narrowbodies. Alaska Airlines is an uncertain mix today as it digests the Virgin America acquisition.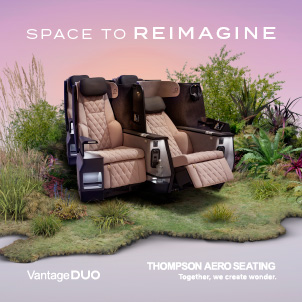 While it is commonly acknowledged that the vast majority of passengers travel with devices capable of supporting streaming IFE, that is not the whole story. The evolution of media consumption from single-screen to multi-screen is also well documented, with many choosing to watch on one screen (e.g. TV at home or a seatback monitor in-flight) while simultaneously engaging with social media or other services on a second device.
For travelers that may also become a Shakespearean decision of "to work or not to work" as they must decide if the laptop or tablet will be used for entertainment or business on a flight. Choosing to expense inflight connectivity to stream a movie is unlikely to sit well with most corporate travel policies. In that sense, the added expense of carrying in-seat IFE systems – and licensing content – could drive higher ancillary revenue thanks to consumers choosing entertainment on the embedded screen while working online (thanks, expense account).
Surviving in a streaming-only environment also depends on power at every seat. While American stopped short of confirming that it will install such on the 737 MAX aircraft, the statement suggests it will be available, hopefully in 2.1A or greater USB ports.
Looking ahead
Meanwhile, we await word on American's full IFEC strategy, as it rolls out its streaming class of inflight Internet to passengers.
Years ago, before its merger with American, US Airways ripped dropdown IFE from its aircraft, and a trial of a seatback IFE solution went nowhere. US Airways CEO – now American CEO – Doug Parker is known as not being the biggest fan of embedded IFE.
An American spokesman did not confirm whether the carrier's IFEC strategy would entail any entertainment hardware removal from current aircraft, saying only that more details will be released in time.
Additional reporting by Mary Kirby
Related Articles: