Watching my Runway Girl Network colleagues Harriet Baskas, Seth Miller and Jason Rabinowitz — and a bevy of other US media — trying out the new United Polaris business class cabin on the airline's factory-fresh Boeing 777-300ER highlighted an issue I've been thinking a lot about recently.
How, in the age of increasingly dense fully flat bed business class products, can airlines help passengers manage the bedding and assorted other soft product that is placed on their seat prior to boarding?
In United's example, passengers are presented with a Saks Fifth Avenue duvet, a separate Polaris blanket, two pillows, and a Cowshed amenity kit. (The cute bear is not a standard part of the Polaris offering, alas.)
But where do they go for takeoff? While some newer business class seats are designed with storage in mind, often this doesn't include enough for all the bedding provided. That's certainly the case for Polaris.
There are #PaxEx positives to the attractive way that airlines present their amenities — and United has to be praised for special touches like the signature ribbon here — finding somewhere to put it all is a problem.
Live from the plane, my RGN colleagues confirmed that the Polaris seat signage says "no stowage on ottoman or shelf under monitor", while the crew suggested stowing the items on the floor under the ottoman. (Not, perhaps, the cleanest space for an unbagged pillow and duvet, mind.) But it's reasonable to assume that most longhaul business class passengers are carrying at least a personal item that they'd like to have handy for takeoff and landing, with their headphones, iPad, Kindle or what have you, so that goes under the ottoman.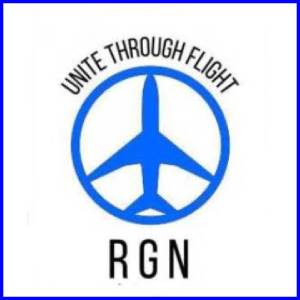 Where does the bedding go go? United, sensibly, has kept the overhead bins in the centre section of its Boeing 777-300ER, but other airlines are cutting bins by half to create a more open feel, even though this approach has its own issues.
Look, this is a nice problem to have, and compared with the cold hard reality of the 3-4-3 economy class seats down back, it certainly pales by comparison. But, as ever, business class passengers (who pay 4-6 times the cost of an economy fare) can make or break the economics of a route.
Some products deal with this relatively well. Airlines could do with emulating Virgin Atlantic's 2003 Upper Class Suite, also used by Air New Zealand, which has ample room behind the flip-over seatback for the bedding that includes a thick mattress pad and duvet. Stuffing the untied, unrolled mattress and duvet back behind the seat when it comes time for landing is, however, a little trickier — and Virgin's 2012 Upper Class Dream Suite didn't have quite the same amount of space, leading to cabins full of pillows sticking up from behind the seats like rabbit ears. But, with the notable exception of Singapore Airlines, these flip-over business class products haven't spread particularly far or wide.
It might be time for the cabin designers to start working a little more closely with the soft product folks. This might feel like "my diamond shoes are too tight" or "my tiara is pinching". But it only takes one pre-departure Bloody Mary spilled all over a passenger's clothes because the drinks table is too full of pillows to make a poor impression.
Related Articles: