With business aviation customers and outfitters always on the lookout for novel concepts to differentiate their products, the level of innovation in private jet cabins is shown by the number of entries from this side of the industry shortlisted for the Crystal Cabin Awards, which will be decided this April in Hamburg around the Aircraft Interiors Expo.
First up: a sleek, ultra-modern concept collaboration between Mercedes-Benz and Lufthansa Technik for a narrowbody-sized cabin designed for 16 VIP passengers. Feeling more like a spaceship than an aircraft, the "sensual purity" design concept is full of curves, with clean matte white and gleaming dark grained wood. Amenities on board feature a wide variety of seating, eating, sleeping and relaxing areas, a full king size bed plus a shower suite, as well as a galley designed for live cooking.
Ameco Beijing is also showing a concept, but aimed at its home market. The company is building a full-sized mockup of an Airbus A320 family ACJ aircraft this year. Ameco is taking inspiration from the textures and colours of traditional Chinese shui mo hua ink-wash landscape paintings, which date back to the Song Dynasty (960-1217 CE).
The Ameco Airbus cabin is designed for ten passengers, and includes a five-seater sofa in its VIP lounge area, a master bedroom with its own shower and bathroom, as well as eight "individual mini suites" and a guest bathroom.
It's thoroughly exciting to see the combination of traditional artwork methods and techniques applied to an aviation canvas, but it's the range of textures — which, the company says, will all be "compliance with general principles of airworthiness, durability, ease of maintenance, and ergonomics" — within this concept cabin that make it truly noteworthy.
That trend of textures continues through two new surfaces: a heated real stone floor and a hard-wearing glass-topped wood veneer.
The former, from Austrian luxury interior designer F/LIST, is the first certifiable headed stone flooring for aircraft use, offering eleven types of stone for choosy business aviation outfitters.
The latter, US company Air-Craftglass' Natural Collection of real laminated wood veneers with 0.55mm-thick scratch resistant glass tops, offers around five hundred options for veneers, which can all be laser-cut and feature either a matte or gloss finish. The wood can be as thin as 0.2mm, and Air-Craftglass is able to laser-cut the veneers to create patterns and textures for bulkheads, dividers, cabinetry, table tops and elsewhere within the cabin..
But most impressive is the now-flying Kestrel Aviation Management's Boeing Business Jet 787 cabin, which the company sold to an undisclosed purchaser last summer.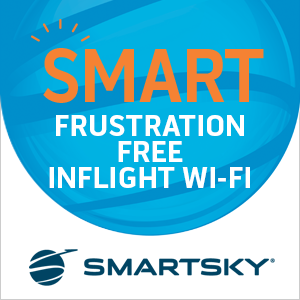 Kestrel built the entire Zen-influenced cabin on spec without an identified buyer at the time, and the company notes that "we were obliged to become a curator of a client's needs and wants on an ultra-long-haul corporate aircraft. Our primary aim was to minimize the physical toll that a passenger would suffer on an aircraft that is capable of 17-hour flights. To achieve this, we needed to push the frontiers of luxury, bespoke aircraft cabin design. The challenge was ensuring that these concepts were compatible with the unique structural characteristics of the carbon-fibre 787."
"Given the ultra-long range capability of the BBJ 787," Kestrel notes, "the design concept needed to convey a feeling of zen, an oasis of peace, soft earth tones, uncluttered flowing lines with the absence of sharp edges, good control of natural and artificial mood lighting. To the touch, we wanted a design that felt organic with surfaces that invited emotional as well as physical connection. Noise and vibration were addressed with extensive soundproofing."
"This pioneering project has the benefit of Kestrel's prior technical experience on airliner 787s since 2004 and the modification of several large VVIP/Head of State aircraft," says CEO Stephen Vella, noting that the experience brings "an exceptional cabin that was on time, largely on budget and below the weight target on a carbon-fibre, all electrical widebody aircraft."
With interaction between business aviation and the premium end of commercial aviation, these advances are bound to spur new innovations in their turn.
Related Articles: