There is lot of excitement around Satcom Direct (SD) at present, what with the launch of its new SD LIVE television product for the business aviation community – which will catapult it into IFE – and the firm's agreement to begin selling Panasonic Ku service to this part of the market, as announced last week at the 2016 NBAA convention in Orlando. In Part 1 of a two-part interview with Runway Girl Network, SD chief strategy officer Scott Hamilton brings us up to speed on the latest developments.
Can you spool up our readers about SD's placement in the business aviation market?
SH: Okay, so we have historically called ourselves a global connectivity provider. That is where we focused over the years. We are almost 20-years old and for the first 15 to 17 of those years it has been all about global connectivity. So everything keeping the passengers and flight crew connected whether it be through data or voice.
Through a variety of different connectivity pipes right; you're pipe agnostic?
SH: Yes, through a variety of different pipes We know that our customers are going to have a variety of aircraft with a variety of equipages for various reasons. And so what we have tried to do is support our customers by being essentially a one-stop-shop. I hate that term but essentially that is what it is. So they don't have to go shop around for different services on each of their airplanes; so they can come to us and they can come to us … to have a single invoice and so forth.
But you also got involved in avionics?
SH: In the end a lot of things come together in the form of data. So the way we get there is, three years ago we came out with our router, our first avionics product. The main reason we did that was because we were finding that in order to enable capabilities for customers on the airplane that are actually using the connectivity – whether it is a passenger or a flight crewmember – we needed to have something on the aircraft that can help us provide the technology to the end user. We could have continued to try to support the avionics via Honeywell and Rockwell and all their router products but in the end we knew we had to do something ourselves so we could get things to market faster and do them in a better way and provide that really great user experience. And so that is why we developed the router and we got into the avionics business.
And since then now we are coming out with some ancillary products like our Wi-Fi Hub. So that's sort of one leg up. You have probably read about SD Pro [a web-based application designed to meet the varying needs of flight departments and individual team members]. So now with the SDR, the Satcom Direct Router, and some of our other connectivity services, we are getting a lot of data, a lot of operational data. And our customers can use that data to better understand the status of the airplane and the status of the passengers and the status for the crew and so we are making better use of that data and we are giving them the tools to do that.
Do you make sense of it for them and package it for them?
SH: Yes and that is what SD Pro is all about. So SD Pro is a web-based system but it provides a user interface module so depending on your role in the flight department or in the company, you have access to the things that are important to you, whether it be flight tracking or the schedule of the aircraft or the maintenance data or what's going on with the engines, what's going on with connectivity, who is on board, who is using all that data that is going back and forth that I am paying for as a director of aviation. I can see exactly what device is using data. And so we bring all that together in one place so everyone in the flight department, or everyone in the company that needs to have access it can have a common view of what the status of an aircraft is.
Beyond that then, all of our customers have to take a lot of operational data, a lot of it is transcribed hand- manually today and they feed it off into other systems. You know they log into Rolls Royce and log into this system and that system. So what we have been doing is building interfaces to all these others systems and feeding it all automatically. And so we have got some of those interfaces in place and we are adding more over time. We are trying to simplify the flight department and make it easier to operate and one of the best examples I like to use is if you go into any particular business aviation flight department, especially a larger flight department, a lot of these still have dry erase boards and they actually need the schedule on there and who the crew is and what are the flights for tomorrow. They manually go and do all that. We are throwing all those away and we are putting up monitors and it's all electronic.
So streamlining on every kind of level?
SH: Exactly.
Of course you guys are also a value added reseller on a number of services. Inmarsat recently announced SD as a partner for SwiftBroadband-Safety.
SH: Yeah, so we have been an Inmarsat distribution partner, but on SwiftBroadband-Safety, they recently announced that we are distribution partner.
Is that just for business aviation?
SH: Actually the agreement we have with Inmarsat covers all markets. So we could if wanted to go and support a commercial airline or any other we could do it.
Okay, any interest there? Giving SITAONAIR and Rockwell Collins – and now Honeywell, also named a partner to SB-S – a run for their money?
SH: That's not where we are focused right now. There are a lot of needs that need to be met in business aviation and the military government market. Those are the two markets we primarily play in today and so we are laser focused on those two now.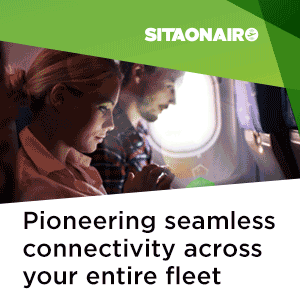 I interviewed Inmarsat here at NBAA, and asked the firm if it will go direct in business aviation, as it has done in the commercial space of late. Inmarsat said 'no', that it values its partners and will not go direct. In terms of your relationship with Inmarsat and all of these other different connectivity services, do you have a preference of pipe when you are out there in the market that you would suggest to your customers? Does one take precedence over another?
SH: I wouldn't say one necessarily takes precedence. It is really more about what does that particular customer need to do? What are they trying to accomplish? Where do they fly? How often? What kind of airplane do they have, so therefore what avionics certifications available for that airplane? So we are typically not going to just make a blanket statement that we prefer Inmarsat, we prefer ViaSat or whomever. We are going to look at the situation on a case-by-case basis. Now, I can say that and I can tell you that most of our business today is with Inmarsat but that is because that is where most of the install systems are today.
But of course now you have a relationship with Panasonic, which should be kind of interesting in its own right. You'll get a chance to  take the temperature of the market on these different products really.
SH: Well that's exactly right. There are more and more options available now. A lot more than there were five years ago in terms of Internet connectivity and Panasonic has a compelling solution that's already on more than 1,200 commercial airliners today and they focus solely from a network point of view, on aviation, which is quite interesting and quite attractive from a customer point of view to know it's all about the airplane; it's not about ships and mobile terminals on the ground. It's all about me, [if] I'm an aircraft operator. So they have a compelling solution. In terms of VVIP aircraft, they pretty much own that market today because they have the fuselage-mounted antenna that will work on the 737 or Airbus [on larger aircraft].
So their linefit status from the commercial standpoint aids them now from the business aviation standpoint on the larger aircraft?
SH: On the larger end that is exactly right.
Related Articles: