Panasonic Avionics' connectivity customers will soon have access to dramatically increased speeds. The company today unveiled a satellite modem in partnership with Belgium's Newtec, a specialist in designing, developing and manufacturing equipment and technologies for satellite communications. The new modem supports speeds in excess of 400 Mbps with versions available across Panasonic's mobility markets including air transport, business aviation, maritime, cruise ships, mega yachts, and river cruises. The new hardware is expected to enter service starting in mid-2017 with widespread deployment in the following years.
The growing bandwidth requirements for the modems are driven by increased demand from passengers to support rich media content in the mobility space. This new modem promises a twenty-fold increase in capacity over the prior generation just as Panasonic Avionics is set to massively increase the total satellite capacity under contract for its customers. Over the next two years high-throughput satellite (HTS) and extreme-throughput satellite (XTS) services will continue to be layered over Panasonic's existing global network, expanding network capacity from 2,300 MHz today to 15,000+ MHz by 2017.
The next-generation modem includes three demodulators for seamless beam switching and simultaneous data and video reception. Featuring the dynamic bandwidth allocation Mx-DMA, it combines the efficiency of single channel per carrier (SCPC) tech with the dynamic bandwidth allocation capabilities of time division multiple access (TDMA) to deliver up to 300 percent more data than legacy TDMA systems. With support for DVB-S2X, the latest satcom transmission standard, and VL-SNR MODCODS (very low signal to noise ratio modulation and coding), the modem is optimized for HTS and small VSAT antenna applications, maximizing efficiency and availability.
Panasonic Avionics CEO Paul Margis sees significant value in the upgraded technology and its support of the company's ever-expanding mobile connectivity footprint, saying in Brussels today:
As we continue to optimize our second generation global communications network, we are constantly looking for new pieces of critical technology that will enable our customers to take full advantage of HTS and XTS technology. Newtec's broadband modem, which is based on the innovative DVB-S2X standard and customized to our requirements, allows us to access much larger blocks of frequency and better support high bandwidth platforms across all of our vertical markets.
Newtec CTO Fredrerik Simoens suggests that the new DVB-S2X technology will allow significant improvement on the existing satellite links and even greater benefits as the connections increase in capacity. "It doubles the throughput over any link, doubles the efficiency. In cooperation with Panasonic we further optimized this technology for mobility, so we extended the MODCOD range to support very low signal to noise ratio conditions and we also improved resilience to Doppler variations without compromising efficiency," he says.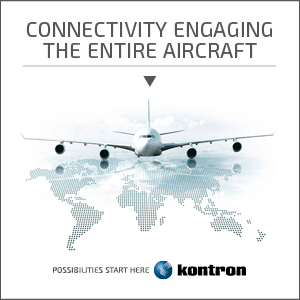 The modem hardware is one of the three main areas where connectivity providers are battling to provide better solutions to their customers (satellite capacity and antenna technology are the other two). Gogo has similarly promised a new modem delivering 400+ Mbps rates in partnership with Israel's Gilat Satellite Networks; it is also expected to enter commercial service in 2017. Global Eagle has the latest Hughes HT aero modem in its offering with supported speeds up to 200 Mbps. There is debate within the industry about just how much capacity is truly needed to any particular endpoint – 100 Mbps as an upper cap is mentioned often these days – but support beyond that is important to show the scalability of these systems, especially as hardware changes down the line are generally disruptive and expensive propositions.
The new modem will be included in a consolidated terminal hardware solution, including a router and media server. Panasonic expects that its existing customers will upgrade to the new technology with most completing the work by the end of the decade.
Related Articles: