Most seatmakers' product ranges emphasise the commonality of their various economy class seats between ultra-slimline shorthaul and fully featured longhaul products. The benefits of reducing the number of parts to be maintained seem clear, after all. Yet bucking the trend is Italian seatmaker Geven, a niche player in the market, perhaps best known in recent years for being one of the suppliers offering a seat for the controversial Airbus A380 3-5-3 layout, using its previous generation seat family.
Geven's Angelo Romano, director of strategic initiatives & commercial partnership, and Fabio Liccardo, technical director, sat down with Runway Girl Network to explain why the seatmaker has created separate product lines for separate missions.
"We wanted to make sure that we can cover the widest part of the market, still managing to be a relatively medium company," Romano said. "We don't want to fight against the big players, the big monopolies. We want to make sure that we have our market identified. Above all, we will keep serving our customers with what we can do best: customization, flexibility and making sure that we meet their demands."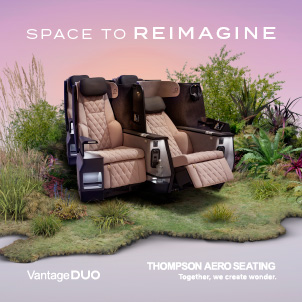 "What we learned was that we differentiated from low cost, to the premium customers," Liccardo explained, demonstrating the firm's Essenza ultralight slimline and Elemento full-featured seats. "Sometimes there was a compromise that we would not prefer, which was not good. So we designed a very light seat and a comfortable seat, so you have two different seats for two different missions. The mission of this [Elemento] seat is to have as many options possible, as much comfort as possible. So the customer that sits here and likes this seat is not the same customer that would like to have an ultralight seat."
Even Geven's signature rounded headrest is up for change with the new seats. "The rounded shape was for a long time our way of doing things," Liccardo explained. "Now we are changing a bit. With the new products, our lines are less curved, and more square. This is the way we see that the industrial designers see the cabin environment. You have more square, but also more space for a magazine, a pocket, or a bigger screen. Now we can accommodate up to 14″ screens and with the rounded shape were close to 12″ or 11".
Geven's new Essenza slimline, Liccardo noted, is so named "because this type of seat is considered the essence of seating, nothing more than that. It is a lightweight solution: high-density, single-aisle, and regional."
Elemento, meanwhile, has been developed "for long range, and we initiated it for A380, and in the next months, we will start for the A350, because the same seat concept can be adapted to different platforms. We will certify and qualify the seats for all these platforms," he said. Elemento is not, however, the seat used for the 3-5-3 A380 configuration mooted by Airbus at the Aircraft Interiors Expo in 2015.
Notably, the full-featured Elemento seat is also destined for narrowbodies. "Some customers asked us for the concept on single-aisle. With the longhaul A321, they do a lot of hours, so this concept has been applied for single-aisle."
The reverse — slimline seats designed for density over comfort or feature set — is also likely to apply as an increasing number of long-haul, low-cost airlines take flight. A compromise of sorts, too, may be on the cards: Singapore Airlines' long-haul low-cost carrier Scoot already offers slightly more comfort and features in its ancillary-based extra-legroom economy sections, in addition to a recliner-style ScootBiz section.
Single-family economy seats throughout the aircraft may be financially attractive, but in the brave new #PaxEx world, the opportunity of selling extra amenities may be more profitable.
Related Articles: