Rockwell Collins is to acquire B/E Aerospace in a landmark deal for US$6.4b in cash and stock, in addition to assuming $1.9b of B/E's net debt. The two companies expect to close the deal in spring 2017, subject to approval by regulators, shareholders and the usual set of conditions.
B/E Aerospace CEO Werner Lieberherr and his existing management team will helm the combined company's new aircraft interior systems segment under the deal that adds nearly fifty percent to the size of Rockwell Collins in terms of staff and financials.
The acquisition is "a way to help balance our portfolio between linefit SFE and aftermarket VFE," Jeffrey Sare, Rockwell Collins VP sales & marketing for air transport cabin solutions, tells Runway Girl Network. "There's very little overlap in the product lines, and it adds a substantial amount of product per airframe available for us, and they're a world-class supplier in the way that we believe we're a world-class supplier."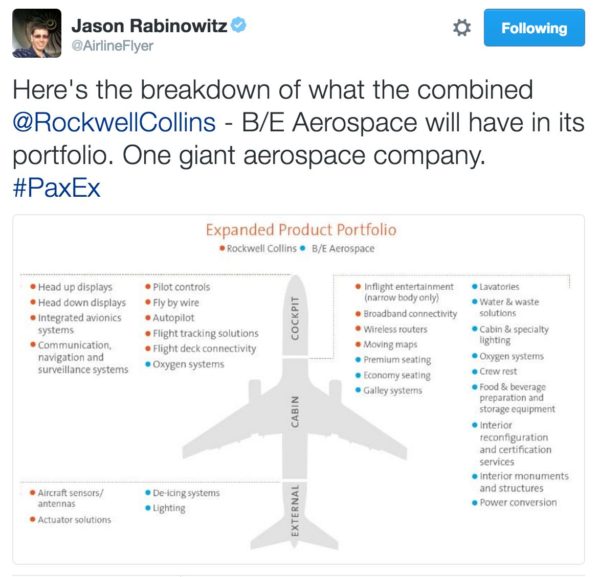 Whether the combined company will ultimately develop new in-seat entertainment systems for widebody aircraft remains to be seen, but with aircraft interiors powerhouse B/E under its wing, consideration may very well be given to offering complete seat solutions with integrated IFE.
Rockwell Collins has a checkered history in embedded IFE. In 2006, after encountering years of challenges with its so-called TES in-seat entertainment product, the company famously opted not to develop IFE for the Airbus A380 and Boeing 787, which effectively pulled the manufacturer out of the twin-aisle market for IFE, and reduced competition for new aircraft models. Its latest significant effort in the cabin environment is its PAVES seat-centric IFE solution for narrowbody aircraft only.
Sare notes that, with respect to the cabin, "B/E Aerospace is a very different market. They don't have in-seat inflight entertainment systems per se. They do more the structures kind of work than what Rockwell Collins has done previously. I don't believe Rockwell Collins has ever been in this business and gotten out.
"What we're doing now is extending our product portfolio further and further throughout the cabin. We have inflight entertainment and connectivity systems already, and this adds seats, galleys, lighting, and all the rest of the things in the cabin. It's about balancing a portfolio: we have a fourth leg to our stool, if you will, with commercial systems, government systems, and information management systems."
The key to the acquisition seems to be diversifying Rockwell Collins' previous focus on military, government and business aviation, and indeed to take with one fell swoop a leading role in the cabin, where the company had previously lacked a strong footprint due to its aforementioned exit from the widebody IFE market (its prowess in the cockpit is well-documented, with Rockwell Collins having snagged major avionics awards in recent years including on the 787 and 777X). 
The new combined company will have over half its work in the air transport market, compared with approximately twenty percent previously. And the arrangement reduces Rockwell Collins' exposure to the US market alone.
It also adds roughly fifty percent to the size of the combined Rockwell Collins, which has 20,000 employees, US$5.3b in revenue, US$1.3b in EBITDA, and a US$11b market capitalisation, compared with 10,000 people, US$2.9b revenue, US$0.6b EBITDA and US$5b market cap for B/E. The deal will be executed via a mix of cash and Rockwell Collins stock.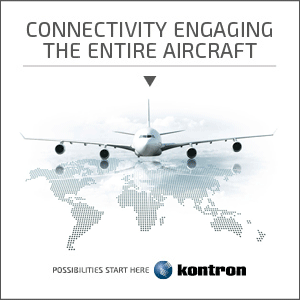 Rockwell Collins expects US$160m in pre-tax savings in its commercial/military interiors, airline relationship, digital aircraft, and aftermarket activities from the deal, then US$60-90m annually for six years. In the first year, however, an approximately $120m one-time cost.
Combining Rockwell Collins and B/E Aerospace will also improve the company's ability to integrate various parts of its business, with cabin product, network tech and connectivity offerings cited by the airline as key areas of complementary activities.
"As we learn their portfolio, and they learn our portfolio, I'm sure we start looking at in the way that we looked at the acquisition of ARINC," Sare says. "Certainly for me, there's been no defined work there. This has been a very closely held thing until it was announced. We're just scratching the surface."
Indeed, the deal seems to have been struck at a very high level. It is "too soon to even comment. It would be way premature", longterm Rockwell Collins information management systems communications director Nancy Welsh notes to RGN.
Related articles and news releases: