Astronics AeroSat and Panasonic Avionics are working towards certification for two antenna systems aimed at the small airframe market, referred to internally as T-210 and T-220, each comprising the antenna, control & modem unit, transceiver, amplifier and diplexer (see specific product details at end of piece).
Edward Popek, senior director of marketing at Astronics AeroSat told RGN that the firm expects to be "certifying on a Gulfstream GIV in October 2016. This will provide an FAA approved data package to quickly add other aircraft type STCs to the portfolio in partnership with our authorized dealer network. The follow-on STCs are relatively minor therefore [rollout] is expected to be quickly accomplished by dealers aiming to capitalize on and market to key aircraft types that best fit their specialties."
"We are seeking linefit on a continuous basis," Popek said, "but primary focus is the initial STC certification and resulting performance proof to the market to build confidence by OEMs in selecting our solution for linefit." Panasonic and Astronics Aerosat last year announced their partnership to bring high-speed connectivity and global TV to business aircraft. That relationship has evolved.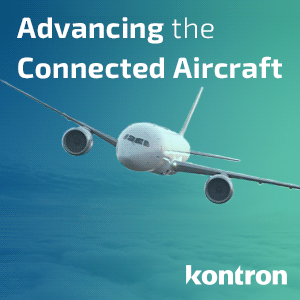 In terms of linefit status, Panasonic Avionics' VP of Global Communications Services David Bruner explained to RGN, "We have been offerable at Airbus and Boeing on all airframe types for quite some time now. We've also had offerability on the CSeries aircraft as well. What's held us back in the other airframe categories was antenna performance. We didn't want to jump into the smaller airframe types without having an antenna that would give the type of performance our customers expect."
"Recently, with our partnership with Astronics AeroSat, we can now offer a better solution to the smaller airframe types. In addition, we're evaluating several technologies that will be game changes in the RJ space."
A Panasonic Avionics spokesman added that the relationship with Astronics Aerosat "might get us to a regional jet solution".
"We are still optimizing our antenna design for these smaller aircraft, and we will absolutely work with the OEMs to obtain linefit offerability," Bruner explained. "The ability to get an aircraft already provisioned for connectivity is a huge relief for an airline. They can launch Wi-Fi service at delivery, and they don't have to take the aircraft out of service to install a connectivity service. Every hour a plane is on the ground is lost revenue for an airline. So we try to minimize that."
"In general, we believe that every aircraft type will be connected at some point in the near future," Bruner said. 
Bruner highlighted Panasonic Avionics' non-connectivity relationships with original equipment manufacturers when RGN asked whether the company encountered any specific issues working with newer airframers, including sanctions issues with Russian and Chinese manufacturers, or foreign exchange issues with Brazil's Embraer. "Each OEM is unique, but we already work with the vast majority of them on the IFE and avionics sides, so we understand the nuances of working with each of them. We have really strong relationships with the OEMs," Bruner said.
In the context of the updated market analysis for airliners released by Boeing and Airbus earlier this summer, Panasonic estimates a sizeable market for regional jet equipage. "It's a healthy market with thousands of tails," Bruner said. "While some of those aircraft have ATG or other solutions, we believe that the market is rapidly moving towards higher bandwidth solutions that can support more passenger-friendly applications — live television, streaming, etc."
Equipping — and re-equipping — the regional jet fleet in developed inflight connectivity markets like the United States, and winning contracts in advanced developing markets like Europe and Japan, where many of the mainline aircraft tricks have already been taken, is a significant opportunity for connectivity providers.
With the smaller size of regional aircraft, satellite systems in particular are proportionally heavier, meaning their cost-benefit ratios are less favourable than for mainline types. Compounding the issue, many (but not all) regional jet missions tend to be shorter on average than mainline operations.
Yet consistency of service across the regional and mainline fleets will be important, especially as regional jet and small airliner offerings diversify with new and upgraded jets from Embraer, Bombardier, Sukhoi, Mitsubishi, Irkut and COMAC in particular.
"Our airline partners want to offer passengers the same brand experience and amenities regardless of airframe type," Bruner told RGN. "They don't differentiate between wide body, narrow body or regional jet. Their focus is on the experience. So we think that this is going to be another class of aircraft that will be connected." 
In terms of the current state of the market and how it can be served by satellite connectivity, "There isn't any specific satellite capacity limitation from a Panasonic perspective," Bruner explained. "Instead, the limiting factors in this market have been antenna development and modem performance. We didn't want to enter this space until there was antenna technology that met our requirements."
As a result, this antenna issue has led to Gogo being the default incumbent with its lighter, US-Canada only ATG and ATG-4 air-to-ground systems, which are capacity constrained. Gogo and would-be ATG connectivity competitor SmartSky last week revealed some details about their planned next-gen ATG solutions.
The continual increase in demand for bandwidth and speed mean that satellite systems will become increasingly attractive, however.
Bruner took a notably platform-agnostic tack — in the context of existing high-performing ViaSat Ka-band within the United States and the forthcoming Inmarsat Global Xpress service — when discussing how futureproofed Panasonic's Global Communications Services will be within the regional market.
"Too much time is wasted on the Ku vs. Ka debate," Bruner stated. "As long as the system works, the passenger doesn't care what type of frequency the airline has adopted. In addition, with the advent of HTS and the XTS services, we are helping to drive down the costs of the service to levels where it makes even more sense to add these systems on regional jets. The service we offer today is excellent, but we're constantly looking for ways to decrease the price per bit."
"On top of that," Bruner said, "as we continue to drive improvements in antenna technology and modem technology, you'll see higher and higher levels of performance that will dramatically improve the service."
Summing up, Bruner reiterated that "airlines really want to have a consistent passenger experience across their entire fleet. You don't want to set expectations for passengers based on a broadband system on your long-haul fleet only to disappoint with a narrowband system like L-band or ATG on your smaller aircraft. So our job as suppliers is to develop key technologies, contract adequate capacity, and then deliver a reliable product so that they can deliver their brand promise regardless of airframe type."
Read Astronics AeroSat's data sheets about the T-210 and T-220 here: 
T-210 Datasheet V9 Low Rez
T-220 Datasheet V1 Low Rez
Photo at top credited to D Ramey Logan courtesy Wikipedia Commons.
Related Articles: