SINGAPORE — In a potentially gamechanging development for the world of low-cost carriers, innovative upstart British seatmaker Mirus has chosen Australian supplier digEcor and fellow Brits, IFE peripherals experts IFPL for in-seat USB outlets on the Mirus Hawk seat, initially destined for AirAsia. The power supplies, a sub-set module of digEcor's Glide product, is expected to ultimately be linefit with the Airbus A320neo Hawk seats, announced this spring at the Aircraft Interiors Expo.
With nearly 300 shipsets of high-density A320 family seats to be delivered to the ASEAN low-cost airline, the size of this order alone is significant for the companies concerned, especially given that competitor Astronics is such a market leader. It's noteworthy to see Mirus — a virtual unknown in the airline seating business — select other smaller players to supply a massive order for one of the largest airline groups in the world. The passenger experience industry has overconsolidated in recent years, and the emergence of new companies competing with established suppliers is lauded by many industry observers (it comes at a time when Virgin Australia is planning to trial another upstart competitor in the in-seat power market, BAE's IntelliCabin).
Crucially, given AirAsia's tight seat pitch, passenger space won't be affected by the power supplies. "By working closely with the Mirus engineering team," digEcor says, "we were able to deliver a system that maximises the use of the physical space of the seat and seamlessly design the USB outlet into the actual seat arm. The result is an attractive installation of a fully integrated system that has no impact on passenger legroom. The seat box fits within the seat pan itself, raising the seat box from the floor where traditionally passenger comfort was marginalized with large inconvenient seat boxes."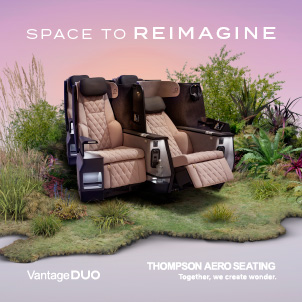 "This solution demonstrates that ergonomics and aesthetics do not have to be compromised to deliver a low cost, low weight integrated solution," says David Thomas, VP Business Development at IFPL. "In fact, it provides a significant enhancement to the passenger experience and competitive advantage to an airline."
Mirus CEO Phil Hall is certainly pleased: "digEcor and IFPL have done a fantastic job in helping to develop an elegant, fully integrated USB solution that delivers full functionality within an extremely tight envelope. We are proud to work closely with digEcor and IFPL, who like ourselves are not afraid to bring something new and innovative to the market," Hall notes.
The three-component modules of the wider Glide system — the high-power USB socket itself, the seat box, and the power supply unit — minimise both weight and intrusion into the passenger space, while providing a big passenger experience boost on AirAsia's massive network of regional flights across the continent. Moreover, USB power is likely to be sufficient for the vast majority of personal electronic devices carried on board AirAsia flights. It's unlikely, for example, that many passengers are using laptops in an economy seat pitched at 29", after all.
But the real passenger experience change comes from the fact that passengers on low-cost airlines will start to expect inflight power, a rarity on LCCs and even some full-service airlines. This step-change will likely have ripple effects across southeast Asia and beyond as AirAsia's low-cost competitors find themselves needing to compete, while full-service airlines operating in competition with AirAsia — or even simply those who share passengers with the LCC, and thus cannot rely on passenger expectations of no power — will want to exceed what is provided aboard no-frills AirAsia.
Related Articles: