Global Eagle Entertainment, Inc. (NASDAQ: ENT) ("GEE"), a worldwide provider of end-to-end connectivity and media to the airline, maritime and remote mobility markets, today announced Alaska Airlines, which has been ranked the No. 1 U.S. airline by The Wall Street Journal on key operational and customer metrics for two years in a row, awarded a contract to GEE for its Masflight Enterprise Data Warehouse. GEE's secure and high-performance data warehouse provides the most comprehensive and trusted aviation operations data available for mission-critical airline analytics and performance monitoring
Alaska Air Group operates Alaska Airlines and Horizon Air, which together with its partner regional airlines, serve more than 100 cities through an expansive network in Alaska, the Lower 48, Hawaii, Canada, Mexico and Costa Rica. Alaska Airlines, an industry leader in flight completion rates and on-time performance, has been ranked No. 1 in customer satisfaction among traditional carriers in North America by J.D. Power for eight years in a row.
"A key element to Alaska Airlines' success is investing in cloud-based analytics and intelligent applications that support our operation in real-time," said Dan Audette, Director of Operations Analytics & Strategy at Alaska Airlines. "GEE's knowledge of airline operations, coupled with their high-performance enterprise data warehouse technology makes them a good partner for the company."
"We are honored to provide Alaska Airlines with our cloud-based analytics platform that simplifies analytics, real-time competitive benchmarking, and fleet-wide performance monitoring and alerting," said Edmund Otubuah, Managing Director of Products, GEE. "The Masflight platform will provide key decision-makers with real-time situational awareness and serve as a decision-support tool to support historical analytics and improve operational workflows."
For more information or to schedule a demonstration of the platform, contact analytics@geemedia.com.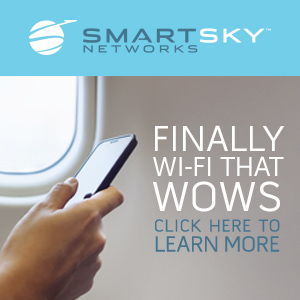 About Global Eagle Entertainment (GEE)
Global Eagle Entertainment Inc. (NASDAQ: ENT) is a leading provider of satellite-based connectivity and media to fast-growing, global mobility markets across air, sea and land. Supported by proprietary and best-in-class technologies, GEE offers a fully integrated suite of rich media content and seamless connectivity solutions that cover the globe. With approximately 1,500 employees and approximately 50 offices on six continents, GEE delivers exceptional service and rapid support to a diverse base of customers around the world. Find out more at: www.geemedia.com.
Forward-Looking Statements
We make forward-looking statements in this press release within the meaning of the Private Securities Litigation Reform Act of 1995. These forward-looking statements relate to expectations or forecasts for future events, including, without limitation, our ability to successfully integrate EMC and achieve synergies there from, the expected performance of the combined GEE-EMC business, future financial or business performance and strategies. These statements may be preceded by, followed by or include the words "may," "might," "will," "will likely result," "should," "estimate," "plan," "project," "forecast," "intend," "expect," "anticipate," "believe," "seek," "continue," "target" or similar expressions. As a result of a number of risks and uncertainties, our forward-looking statements may turn out to be wrong, and our actual results or performance may be materially different from those expressed or implied by these forward-looking statements. A discussion of risks and uncertainties related to GEE's business and the EMC acquisition that could cause actual results to differ is included in GEE's May 9, 2016 press release announcing the acquisition and in the section entitled "Risk Factors" and elsewhere in our most recent Annual Report on Form 10-K and our subsequent quarterly reports on Form 10-Q filed with the Securities and Exchange Commission. Readers are cautioned not to place undue reliance upon any forward-looking statements, which speak only as of the date made, and GEE undertakes no obligation to update or revise the forward-looking statements, whether as a result of new information, future events or otherwise.