As wireless inflight connectivity and inflight entertainment matures, airlines that have not yet made a wireless provider decision are looking for upgradeability as a purchase point, while carriers that have made the decision are considering at what time in the upgrade cycle it makes sense to move along that path.
Lufthansa Systems has three variants of its BoardConnect system, Classic, Plus and Portable, and as the wider Lufthansa Group continues to work on integrating its Media inMotion purchase, the company is positioning its three BoardConnect options as natural upgrades.
"We have set up our product in ways which allow a really smooth transition," senior vice president for BoardConnect Norbert Mueller tells RGN. "So an airline can start with Portable, and bring IFE to the passengers in virtually no time, because you don't need a real installation."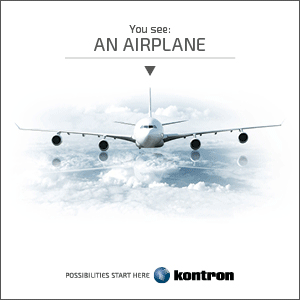 Launched last fall, Portable is designed for carriers wishing to avoid the high capital outlay of permanently installed hardware. Aimed at short- and medium-haul operators, the device can simply be slipped into a frame on the wall or placed in the aircraft galley and as such, rollout can be accomplished very quickly. Mueller says airlines can equip a fleet in a night, because it's just about carrying the device.
Notably, in the context of concerns around the flammability wisdom of putting self-contained hot boxes like BoardConnect Portable into overhead bin spaces and other locations not initially designed for them – concerns expressed by EASA, and, interestingly enough, management at Kontron, whose hardware supports BoardConnect Classic and Plus – Lufthansa Systems is not one of the companies offering a mini-fire extinguisher for inclusion inside its products, the company confirmed to RGN.
In terms of upgradeability, Mueller says "the same software, the same content, the same 'build' as we call it" would be employed to upgrade Portable to a Classic installed system, which is the base in terms of the cabin network and requires supplemental type certification (STC) for each aircraft type. Here there are basically no throwaways, suggests the Lufthansa Systems executive, "except for maybe the portable hardware, which really isn't the most expensive piece in the whole chain, and even that can be reused for another customer in a leasing model".
BoardConnect Plus adds connectivity to the equation, such as for Lufthansa's rollout of Inmarsat GX and hybrid ATG/S-band service. "If an airline wants to do a little bit more with the system, like being connected to the aircraft, like ARINC information or others where the connection is important, or happens to be important, we can then upgrade the same software, the same hardware, and augment it with an antenna solution to bring and distribute connectivity into the cabin," says Mueller. Lufthansa System is "quite busy working on" the Lufthansa GX rollout and is "looking very positively forward to see it fly".
"The other piece is the project with El Al," says Mueller. "They separately contracted with ViaSat [for satellite connectivity]. By exactly doing what I just described, they augment an existing BoardConnect Classic installation via connectivity solution. It's happening as we speak — it's not just paperware."
Mueller wasn't drawn on a breakdown of the customer demand for the three types of BoardConnect system.
"I think it's very difficult to express that in percentages without going into the different regions, because it can differ a lot and the development stage of each region is quite different," Mueller says. "If you look into the US, you see a lot of already existing connectivity installations. It's almost about introducing the new generation, since so many people are not so happy about the Gogo air-to-ground service. While in China, there is almost nothing in terms of wireless services on board, available as of now."
"From an airline perspective, that's really a great path forwards," Mueller suggests.
Though Kontron does not deal directly with airline customers – supporting Lufthansa Systems' wireless suite, and those of many others with its server and WAP hardware – it too sees wireless IFE as a natural complement to satcom or air-to-ground connectivity.
"In many cases, airlines are opting to first rollout cabin Wi-Fi systems on their narrowbody fleet, with Wireless IFE or retail services to their passengers," says Kontron VP of system and program management Andy Mason. "This gives the airlines more time to evaluate different Ku, Ka and ATG connectivity options. The cabin Wi-Fi infrastructure supported by Kontron Servers & Wireless Access Points is identical whether the application is Wireless IFE, Internet connectivity or both. So there is no loss of investment if cabin Wi-Fi is deployed first, then Ku/Ka or ATG connectivity is added on later.
"It is interesting to note that this scenario is the opposite of what we saw several years ago when Global Eagle (then Row 44) and Gogo launched initially on US airlines as connectivity-only systems, then added wireless IFE and other complementary cabin services not dependent on connectivity later on."