After struggling with delays associated with indulging airlines' bespoke interiors on the A380, Airbus took the catalog approach on its newest widebody, the A350 XWB. But the airframer continues to face challenges in reaching planned production rates. With only nine of 50 expected deliveries for the year accomplished thus far, the pressure is building and executives are talking about the situation.
During Airbus' annual Innovation Days event held this week in Hamburg, company EVP head of programs Didier Evrard sounded almost fatalistic when answering repeated questions from the media about reaching the 50-aircraft delivery goal. He described the continued delay issues as unexpected and suggested that they placed "additional stresses on the system", a manufacturing environment already stressed by an aggressive delivery timeline.
Said Evrard:
The 50 aircraft, we have challenges for that. I am really disturbed by the lack of cabin equipment. For Cathay Pacific, their seats are being delayed; we have the same issue with other operators as well. Whether it was seats in the catalog or it was seats chosen by the customer themselves, it was no different. That was a big crisis. And we have issues also with other cabin suppliers so very, very difficult beginning of the year.
Airbus has seen some improvements over the last three months, but Evrard admitted it came "with a price", explaining: "We have to mobilize additional Station 20 [final assembly line positions] where we put the cabin in the aircraft. Fortunately we are lucky enough that this year the A330 is going down so this frees up additional Station 20 that we can use for the A350."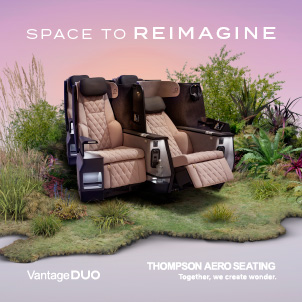 A number of additional changes are necessary to meet the target and it will require near perfect execution from the company across multiple departments. "What we are putting together today is a strong summer plan that will enable us to reach a much higher level of throughput in the second half of the year," said Evrard.
"We are where we are. Fixes are in place. Additional capacity – workmanship and hangars and stations – and the target remains absolutely achievable but it will come with a very high level of effort from the A350 team and industrial systems to enable that because the level of disruptions that we have seen with these cabin problems is very high."
But a solution to the core problem – supplier shortcomings – is not entirely obvious. And while Cathay Pacific finally took delivery of its first A350 this week, the delays are painful for both Airbus and its airline customers. Delivery delays to Finnair late in 2015 caused equipment swaps on some routes and forced the carrier to use wet-leased aircraft to fill in the gaps, a move which is functional but significantly lacking for the passenger experience.
Airbus CEO Fabrice Brégier chimed in as well in the penultimate session of the conference, noting that, "It is a bit silly to be blocked on a few seats or lavatories but it is our job to make it work."
Bregier on A350 cabin supplier issues: "You expect to have toilets with doors that close."

— Rupa Haria (@rupaharia) May 31, 2016
Brégier suggested that suppliers who continue to fail at delivery milestones could see themselves not just removed from the supplier furnished equipment (SFE) catalog but potentially blocked from working with the airframer completely. Customers awaiting delivery are likely to be disappointed regardless of who is at fault.
Seth Miller was a guest of Airbus for its Innovation Days media event.
Read More: