Aviointeriors took advantage of the Aircraft Interiors Expo 2016 to launch a new, low-cost premium economy seat for airlines looking to increase passenger comfort while controlling costs.
The so-called C4 seat is the 4th iteration of the company's Columbus line and builds on the prior generations' design and certification history to deliver the improved passenger experience at a price point significantly below the competition.
Jeffrey Forsbrey, SVP sales & marketing, explains that the seats start at $5,000 compared to a $12,000-$25,000 range for most other premium economy products on the market. At that price point there are some distinct limitations of the offering but it should compete well for certain carriers and use cases.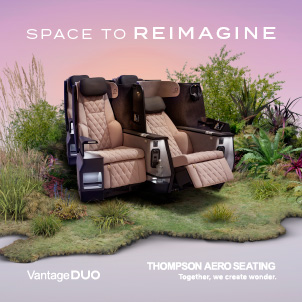 Perhaps the most notable limitation of the seat is that it does not increase width over a typical economy product. In that context it is more of an extra legroom seat than premium economy but it is also different than just taking the regular economy seats and spacing them further apart. Forsbrey explains, "We haven't added width. We've gone for comfort with pitch, memory foam and other upgraded components." The company recommends that airlines pitch the seat at 38 inches with a 10-inch recline.
In an exclusive RGN preview of the product, the benefits were noticeable. The articulating seat pan operation creates a cradle-like comfort and the extended recline is competitive with other premium economy offerings.
And that is a market ripe for competition. Premium Economy remains the fastest growing segment of commercial travel and a number of seat vendors are working to achieve market share as new airlines add the cabin on their aircraft. This new offering allows Aviointeriors to compete in the space with a product ready to deliver and ready to fly.