Lufthansa Technik might have lost out in the Cabin Systems category at the Crystal Cabin Awards this year in Hamburg, but there's no lack of passenger experience innovation coming from the company best known for its global MRO operations.
"Original equipment innovation is one of the seven product divisions within Lufthansa Technik," Andrew Muirhead, vice president of that product division, outlined to Runway Girl Network over coffee in Hamburg. "Six of the product divisions are dealing primarily with maintenance, repair and overhaul, and the product division I run is primarily concerned with original equipment manufacturing. But we don't call ourselves OEM, we call ourselves OEI — original equipment innovation — because we don't just make stuff that everybody else makes. We like to innovate."
That innovating takes the form of six new products from Lufthansa Technik.
"We have a patient transport unit, which also has a configurator that runs on an iPad. Customers we can configure the transportation unit exactly to their needs for their particular medical evacuation requirements." Interestingly, these vary significantly, Muirhead says. "For example, how much oxygen, in terms of what distances they are flying in their network? What sort of medical equipment is going to be used together with it? What sort of storage do they require? So there is a number of different configurations of the unit itself, plus the racks — a long rack on the back if you have got large amounts of medical equipment or racks at the head end which have, obviously, less space. We can cater for all our customers needs."
Next up: "an interactive personal moving map and information system on anybody's iOS, Android or mobile device. They can download the application, about 20 MB — not too big for the smart devices out there. What it allows you to do is play with the maps, Muirhead explains.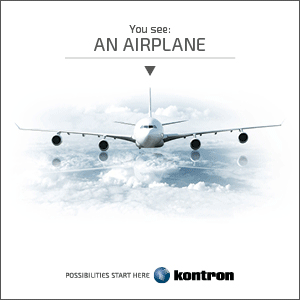 "You can zoom in, zoom out. You can see the aircraft flying in 3D and 2D over the landscape. You can also click on points of interest and it will then provide you information: top hotels to stay in, top restaurants, things going on in the city."
So, Muirhead says, "it is more than just a moving map, it is an information platform as well, and it is configurable. So, if you want to have Celsius or Fahrenheit or MPH, you can configure that yourself within the application."
The product will work for either a connected or offline aircraft, Muirhead says. "If you have already got an existing IFE platform, our software will run on the server that is onboard, or we can provide a server that has the application on. It can be either or. What you do need is a wireless network in the cabin, because when you open the app it connects to the server and the terrain data is stored on the server."
RGN wondered whether there was space for integration with popular flight tracking apps like FlightRadar24.
Lufthansa Technik is "not working with them on that," Muirhead said, but noted that, "We are working on something that is going in that direction. We have got a road map of features that we are going to be adding into this platform and that is on our radar screen."
Muirhead also highlighted the gate-to-gate iPad integration that Lufthansa Technik created for Qantas, which RGN first revealed last year, and the inductive cooktop system that we featured in February.
Next up: "a product that we call chair. Our slogan for that is "not just another seat". It is our new seating product, which has unique crash element design in it. We have just completed all of the 16G testing and applied for our TSO. We are going to be initially placing that product in the VIP market — based on the motto "learn to walk before you run" — and it's a combination carbon fiber-aluminum based seating product which is extremely configurable."
"We have a configuration tool," Muirhead continues, noting that the company has applied for its TSO. "There is thousands of combinations that fit within our certification envelope. Designers can actually design what they want, they export it, they can embed the digital model into their cabin design, and we build the chair to order. We have just have finished all of the certification testing."
Also on the horizon is the DishwashAir, which is exactly what it sounds like: a galley dishwasher to reduce plate weight on an airline's longest routes. While still in the design phase, RGN hopes to bring you more on this concept — and innovations from elsewhere in the world of #PaxEx — in due course.