In last year's Airline Passenger Experience Association (APEX) global passenger survey, 70% of respondents cited comfort and ambiance as their number one priority. This feedback played an important role in driving forward Boeing's latest innovation – the much touted, ultraviolet light (UV)-using Clean Lavatory demonstrator, according to Boeing senior communications specialist Bret Jensen, who says airlines will decide if this is to be a no-brainer 'must have' on board, or something to be offered only in premium accommodations.
Hailed in a Boeing press release as a 'self-cleaning lavatory', the system is in reality self-disinfecting, using what's known as far-UV light to kill 99.99% of microbes in a three-second burst, although residues and stains will remain, says Jensen. Nonetheless, with bacteria and other odor-causing organisms eliminated, the lavatory is left cleaner smelling as well as more hygienic.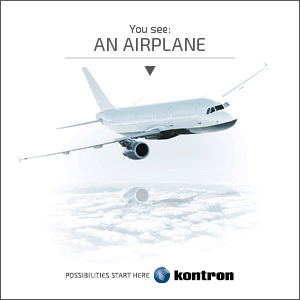 Far-UV is in the shorter wavelength part of the ultraviolet spectrum, away from the harmful section produced by sunbeds, for example. In the Clean Lavatory demonstrator, Boeing uses a pair of carefully placed UV arrays to flood the toilet surfaces and sink area with radiation, while there's also potential for UV disinfection of the tap water immediately before it exits the plumbing. A series of infrared sensors enables touchless control of the majority of the toilet lid and seat operation, as well as water flow, hand dryer, door latch activation and flush. Continuous water supply and waste bin flap actuation is accomplished by foot pedal.
Closing the lavatory door on leaving the facility activates the disinfection cycle, with the toilet lid rising automatically so that UV light floods the seat, lid underside and pan. The cycle is complete in just three seconds. Having seen the demonstration many times, Jensen says the three seconds "goes by very quickly", but for the impatient or incontinent passenger, opening the door stops the process immediately.
The result is a disinfected facility where the chances of contracting bacterial or viral infection are virtually zero, but with the added protection of avoiding contact with traditional touch-points.
The touchless toilet seat and tap are already offered as options in the Boeing catalogue, says Jensen, but the timeline for bringing the full suite of Clean Lavatory technology to market has not yet been determined. Jensen says Boeing's intention is to offer the system across its portfolio of commercial aircraft should airlines express serious interest. And as Boeing moves into the next stage of system development it is considering partnerships.
"The final design will be ours, but probably produced by one of our lavatory suppliers," says Jensen, who envisages both linefit and retrofit options in time.
Onboard lavatories can be a source of angst for passengers, particularly as they have grown more compact and modular. A fresher, disinfected lavatory experience will inevitably improve the passenger experience for all, but should Boeing stop there? Could rapid, effective disinfection be applied elsewhere in the cabin?
The potential for destroying pathogens would be welcomed by travelers, but UV disinfection might also be effective against the viruses responsible for more sinister illness. "We're looking at other options within the cabin to incorporate this technology," Boeing's Jensen confirms.
Boeing's Clean Cabin Fresh Lavatory prototype has been shortlisted as a Crystal Cabin Award finalist ahead of April's Aircraft Interiors Expo in Hamburg.