Passengers may have a hard time telling the difference between the product found on larger narrowbodies and the upgraded seating and amenities on smaller jets operated by regional airlines for US majors. That's because regionals have been retrofitting cabins or bringing new larger regional jets (RJs) into their fleets that feature first class, the option of extra legroom economy, and inflight wifi – even onboard food service – in an effort to provide their mainline partners with seamless service.
Last year, US regional airlines operated on average 11,200 daily flights accounting for 46% of all passenger flights, according to the Regional Airline Association. Delta, whose Delta Connection affiliates have operated a two-class regional fleet for the past several years, was the catalyst for US majors to improve #PaxEx on their 70-seat-and-larger RJs, and bring product more in line with mainline. "They did it because they know that the passengers expect these things," notes travel analyst Henry Harteveldt of Atmosphere Research.
At present, Delta is upgrading its larger RJs to increase the number of extra legroom seats available to passengers. "We are still modifying the fleet of [Bombardier] CRJ700s so we are going from nine first class, eight Delta Comfort+ [extra legroom seats] and 48 main cabin to nine first, 16 Delta Comfort+ and 44 main cabin," says Delta spokesman Michael Thomas. Additional space was gained by moving the rear bulkhead back several inches, he explains.
Other retrofits for the Bombardier CRJ700s include LED lighting, in-seat power for first and Comfort+, new carpet, sidewall paneling and seat covers that match Delta's mainline operations.
Some of the changes were detailed in a message to Delta Connection carrier ExpressJet's crew last year.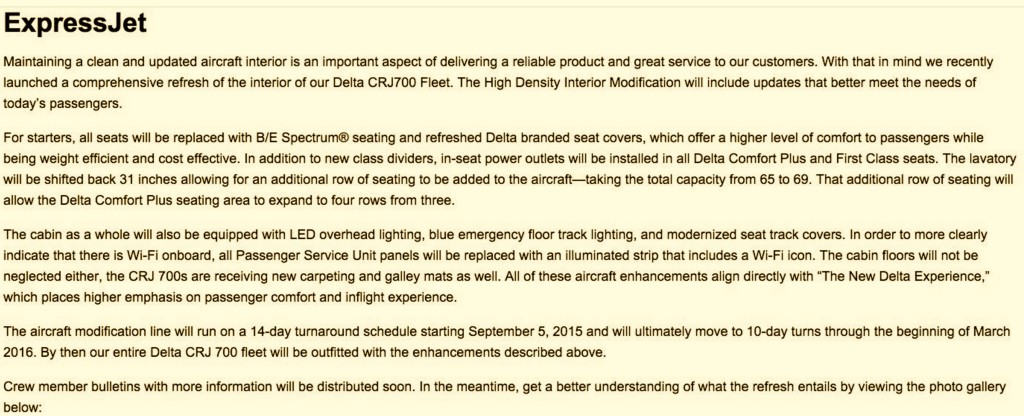 Delta is also updating the cabin configuration in other large RJs. Its Bombardier CRJ900s will feature 12 first, 20 Comfort+ and 44 main cabin seats. And its Embraer 170s will have nine first, 20 Comfort+ and 40 main cabin seats, while the E-175s will feature 12 first, 20 Comfort+ and 44 main cabin seats for a total of 76 seats. "We want our customers to have the same level of service and cabin experience on a regional jet that they would see on a mainline aircraft," says Delta's Thomas.
Initially, some airlines balked at the prospect of providing passengers with inflight connectivity. Though airlines are not likely to install it on older regional jets destined for retirement or aircraft with 50-seats or less, wifi is increasingly common on 70-seat plus seat aircraft. Delta, United and American selected Gogo's lightweight air-to ground solutions for large RJs.
"We began installing wifi on the E-175s," notes United spokesman Charles Hobard. "We've seen a positive response. It's important to maintain consistency. We are looking [at] further aligning the product with the mainline."
United's regional partners include Cape Air, Commutair, Shuttle America, SkyWest and Trans States Airlines. Flying as United Express, the airlines operate fleets that include turboprops with fewer than 50 seats up to and including RJs with 70-plus seats, though United has been cutting the number of 50-seaters flown in favor of larger, more efficient aircraft.
Today United Express carriers are operating 84 E-175s on behalf of the carrier; these have 12 first class seats, with 64 in economy, including 16 Economy Plus seats with extra legroom. That number will climb to a total of 153 E-175s, says Hobard. "Aligning the experience – that's something we strive to do. These particular aircraft allow us to do that."
The E-175 aircraft is well suited to United Express operations, which require longer range flying. But Hobard says the airlines will be scaling back some flying in "favor of utilizing 737-700s or A319s out of a hub."
SkyWest, a regional partner with both Delta and United, currently operates 179 of its 348 aircraft in dual-class configurations. The carrier meets on a regular basis with its partner airlines to discuss service options, such as seating, wifi and food service. "Each partner has different products and services and we focus on delivering their seamless product," says Sonya Wolford, VP of InFlight for SkyWest. "Of course the key is to ensure a great travel experience for every passenger. We work closely with each of our partners to make that happen."
While there is onboard meal service for the premium passengers, Harteveldt notes that in general hot meals are not served on RJs. Modifying a galley to do this would add weight and complexity. "The good news is you get a meal, the bad news is it won't be hot."
American Airlines, too, is moving towards larger RJs that will facilitate upgrades in service from its regional partners. "Since our merger with US Airways there is definitely an effort to harmonize," says American spokesman Martha Thomas. "We've stepped up our game."
American's regional fleet includes 587 aircraft with nine different types operated by 10 different partner carriers, half of which are aircraft with 60 seats or less. In 2015, the carrier added 23 CRJ900s and 29 E-175s, notes Thomas. During the same period, American placed 20 ERJ-140s into temporary storage and retired 10 CRJ200s and a single Dash 8 aircraft.
By the end of the year, American expects that all of the larger RJs in its fleet – nearly 300 aircraft – will have two classes of service.
Harteveldt has seen firsthand how well all this upgrading has worked for the US maors. On a recent United Express flight aboard an E-175 with its two class cabin, a fellow passenger thought he was on a mainline Airbus after he saw the size of the cabin and was able to easily stow his roll aboard in an overhead bin. "It was pretty consistent with United," Harteveldt says. "He wasn't aware until the flight attendant said, 'welcome to United Express, San Francisco'."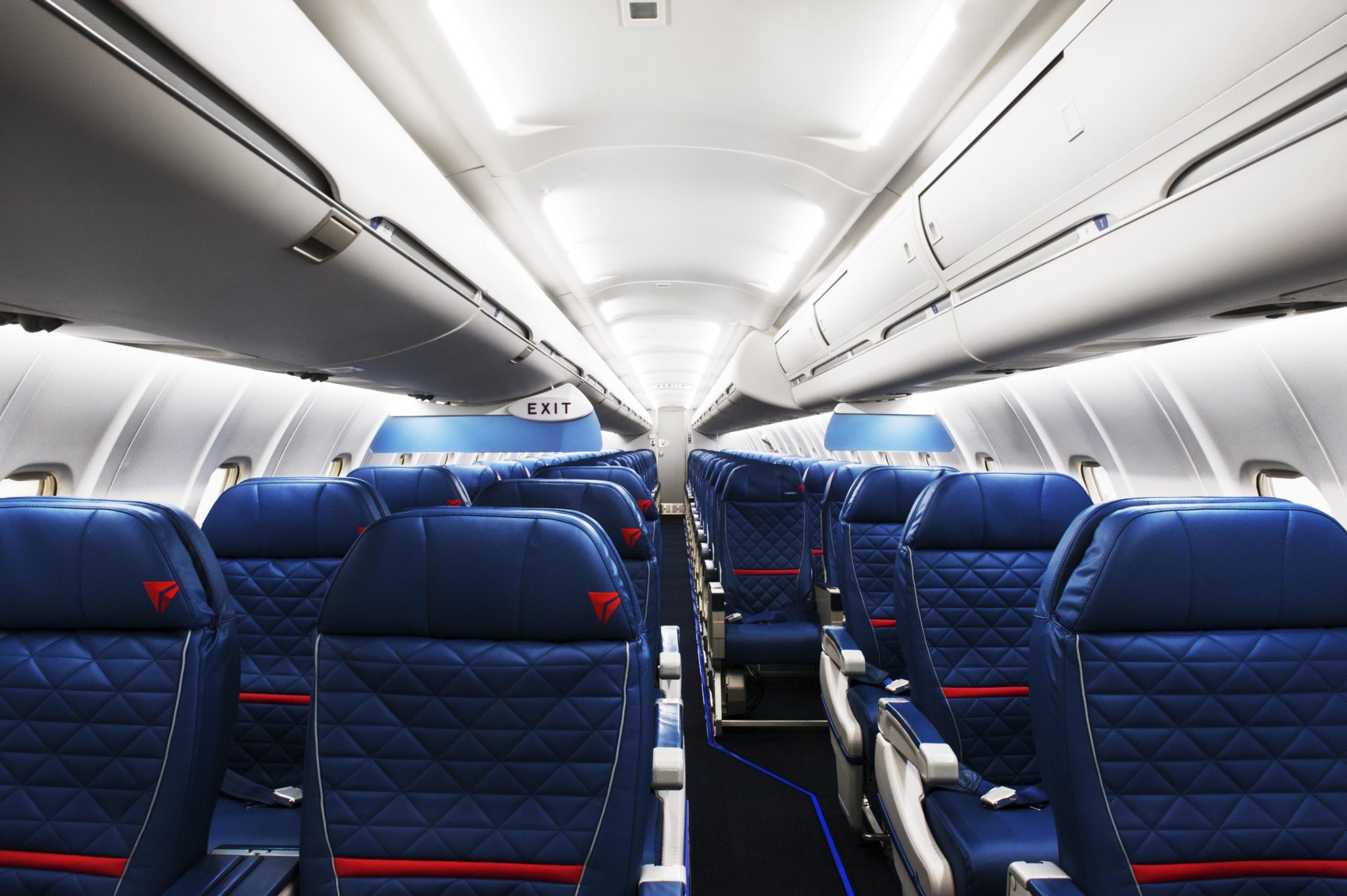 All images credited to Delta Air Lines