Gogo – in its guise as a growing provider of inflight entertainment thanks to its on-demand streaming service, Gogo Vision – is taking a laudable step towards accessibility with a closed captioning agreement with the US National Association of the Deaf (NAD).
The deal between Gogo and the non-profit civil rights association centres around three key areas: Gogo adding the closed captioning technology that enables passengers to view closed captions, Gogo beginning to source content with those captions, and Gogo agreeing to complete that sourcing within 18 months – by June 30, 2017.
The two parties note in a statement that "this is the first agreement of its kind with an inflight entertainment company, and is the result of the parties' mutual intent to increase access for people who are deaf and hard of hearing to movies and television that are viewed in flight on US domestic flights. Passengers using their own personal wifi-enabled devices can access a Gogo Vision server located on aircraft of certain airlines that contain an extensive library of movies and television shows."
NAD CEO Howard Rosenblum was quick to note the significance of the agreement. "This is a monumental step in making inflight entertainment accessible to the 48 million deaf and hard of hearing people in the United States alone. Personalized inflight entertainment has made air travel exciting again.  The ability to access and watch an extensive library of movies or television shows helps pass the time on long flights.  The NAD is thus thrilled by Gogo's decision to make the in-flight entertainment experience equally accessible to deaf and hard of hearing passengers."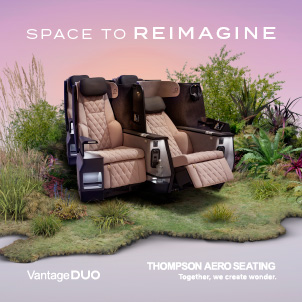 "Inflight entertainment systems can be designed to accommodate captioning in a variety of ways similar to what is available on home television sets," explains Arlene Mayerson, Disability Rights Education and Defense Fund, Inc.'s directing attorney, representing the NAD. "Gogo's actions and commitment demonstrate its dedication to providing accessible inflight entertainment systems. DREDF urges other inflight entertainment providers to follow Gogo's pioneering example."
"By seeking to ensure 100% closed captions on all of its streaming titles, Gogo has demonstrated that it is an industry leader, setting the standards for in-flight entertainment," says Julie Wilensky, the director of the California office of the Civil Rights Education and Enforcement Center, which also represents the NAD.
"We are excited to work with NAD to offer Gogo Vision's entire library of movies and TV sourced by Gogo to passengers who are deaf and hard of hearing," says Ash ElDifrawi, Gogo's chief commercial officer.  "Watching movies on a passenger's own device has become a very popular product for Gogo and we are excited to provide access to this product to the deaf and hard of hearing."
The move to improve captioning will not come too soon for many advocates for deaf and hard of hearing passengers.
Last year marked the 25th anniversary of the Americans with Disabilities Act (ADA), and nearly 30 years since passage of the Air Carrier Access Act (ACAA), but for author and consultant Svetlana Kouznetsova, who became profoundly deaf at the age of two, "sadly not much has improved for travelers with disabilities".
Kouznetsova's name may be familiar to some airline industry stakeholders. She has long bemoaned the lack of visual access to aural information — such as announcements at airport gates or on aircraft — as well as the scarcity of language captions for inflight entertainment (IFE). Her book, "Sound is not enough", seeks to increase awareness of the need for better communication and information access for the deaf and hard of hearing, whether traveling or more broadly in life.
The aviation industry serves passengers with hearing issues particularly poorly, as the result of a lack of understanding by hearing staff, a lack of training by airlines or airports to improve their ignorance, and a lack of #PaxEx provision created to meet the needs of deaf and hard of hearing passengers.
Accessibility improvements — for the deaf, blind and disabled — need to be made at virtually every point of the passenger experience (#PaxEx), says Kouznetsova.
On the ground, some deaf passengers complain about being mistreated by TSA agents who yell at them without realizing they do not hear. "I once experienced being humiliated by a security agent who was asking routine questions to passengers at a German airport with whom I took a flight back to USA. She knew that I was deaf and asked me questions by drawing," recalls Kouznetsova. "The first drawing she did was of a gun, and I told her that I can speak English and asked her to write questions to me in English. She asked me in writing if I had a gun in my baggage and I said 'no'. Then she made another drawing, and I had to remind her that I understand in writing better than in drawing. Many do not realize that being deaf does not mean being dumb. The agent could at least have asked me if I knew any certain language – many deaf people can read and write and some in more than one language like me (I'm fluent in Russian and English)."
Once at the gate, "gate agents and flight attendants often need to be reminded about informing passengers with hearing loss when making announcements. There have been cases when deaf travelers almost missed or did miss flights due to gate changes that they were not aware of." The onboard experience can also be quite frustrating for deaf and hard of hearing passengers. Though safety videos are increasingly captioned, Kouznetsova notes that only in very rare cases are public announcements captioned, recounting her own personal experience of viewing a seatback monitor that alerted passengers of a PA (public announcement) but then didn't proceed to provide visual details.
"The 'Announcement in Progress' note on an IFE screen may pop up in some instances, but almost never contains any useful information. It would not seem to be asking too much for a standard range of announcements to be pre-set within a system, or indeed for increasingly PED-equipped cabin crew (or at least senior staff) to take the twenty seconds to type out a message on their handheld device to display on screens," she says.
Many movies have audio tracks in additional languages, and flight attendants make aural announcements in more than one spoken language, yet few of them have same language captions (Emirates and Air Canada are among the notable exceptions), and many legacy embedded IFE systems are not up to snuff. "Usually foreign movies [on embedded IFE] have subtitles, but they are not same as captions and are not fully accessible to deaf people because subtitles are translations for hearing foreigners to their languages," explains Kouznetsova.
"I find it unreasonable for deaf travelers to pay the same price as non-disabled travelers and yet feel frustrated with lack of full and equal access to any types of aural information in same language captions. There are over 50 million deaf and hard of hearing people in USA and about 700 millions worldwide, and this is a significant market to be ignored," Kouznetsova states plainly.
There is clearly significant work for the aviation community to do to ensure the safety of deaf and hard of hearing passengers, as well to provide a passenger experience that matches that of able-bodied passengers. Hopefully, Gogo's landmark agreement with NAD will inspire other IFE providers – both in the wireless and embedded realm – and other #PaxEx stakeholders to move faster on improving accessibility.