What's the most important contributor to airline customer satisfaction? One traveler might think it's a deluxe seat while another might guess that a wide variety of inflight entertainment is key. But it would be wrong to conclude that bells and whistles alone can keep airline customers happy. A commercial survey program run by the International Air Transport Association (IATA) to help airlines gauge passenger satisfaction shows that, more than anything else, the airline needs to pay attention to the way its staff interacts with its customers.
"The airline with a great seat and a bad crew will get a bad score no matter how fancy the seat is," said Tim-Jasper Schaaf, director of marketing and sales at IATA who heads up the Airs@t survey program.
"The crew drives passenger satisfaction so much that the other factors are less important," he added at the IATA Global Media Day in Geneva.
IATA's surveyors based the conclusion – which even they found surprising – on post-flight surveys of 300,000 passengers. These surveys were conducted for the program's airline clients including American Airlines, Qatar Airways, Lufthansa, Air France and Thai Airways and also on airlines that do not subscribe to the service but whose performance is considered relevant.
Customers for the IATA product, called Airs@t, which is intended to be a revenue generator for the trade association, are then able to see precisely where they stand in comparison to their competition in three general areas, check-in and boarding, inflight experience and arrival.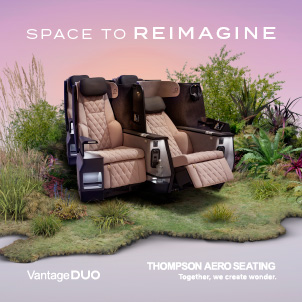 Depending on where they sit on the airplane, air travelers may not believe airlines give much thought to making them happy, but Schaaf says that customer satisfaction should be taken seriously. It doesn't seem to affect the value of an airline relative to share price, but it is linked to how an airline performs on specific routes.
"We found a strong relationship between an airlines' customer satisfaction and their market performance," he says. "The higher the customer satisfaction rating the higher the market share."
A good air travel experience depends on many factors not all of them under the control of the airline because how often a person flies, gender, age and their own expectations all contribute. Less frequent travelers tend to have lower expectations and are easier to "positively surprise," the survey shows.
Still, in reviewing the results of more than a quarter million passenger response forms, the Airs@t team has concluded that, in order to make customers happy the key is not making them unhappy because that can't be fixed with a cushy seat or a good meal.
"The first priority is to eliminate dissatisfaction," Schaaf says. Otherwise, they will not be receptive to anything else the airline has on offer.
"Passengers needs seem to have evolved," from basic physical needs to more complex psychological ones in which one-to-one relationships matter, he adds. "That's why we think cabin crew is a key contributor to the overall satisfaction as it can contribute in satisfying some of the passengers' psychological needs."
As passenger experience (#PaxEx) executives elbow each other out of the way to pricier seats, suites and even private apartments in the sky, IATA's service provides a down-to-earth reality check for executives. How much attention is being paid to the people who represent their airline at the gate and in the air and how happy are they? Because more than anything else, the surveys say it is the human factor that matters most.