While 3G mobile telecommunications and its successor 4G have been established for some time on the ground, it may surprise some readers to learn that inflight mobile connectivity has been limited to 2.5G EDGE for several years. But that is now changing. AeroMobile is celebrating the world's first inflight 3G service on board an Airbus A330-200 operated by customer airberlin. The service, which transmits over AeroMobile parent Panasonic Avionics' Ku-band pipe, will also roll out across certain other partner airlines in the coming months.
Moving to 3G via Ku will provide "a significant change to the speed of connectivity for passengers using their phones in-flight and supports their desire to always be connected", says AeroMobile CEO Kevin Rogers, noting that passengers should expect faster browsing, bigger attachments, quicker posts, and more responsive apps and gaming.
The upgrade to 3G requires a change in the airborne system, specifically the onboard picocell which "is the relevant hardware here", Rogers tells RGN. As such, though AeroMobile's 2.5G system is currently linefit offerable on many aircraft types, the 3G system will require fresh approval from Airbus and Boeing to be included in their catalogues. "I'd like to see it on the Airbus A350, the Boeing 787, the Airbus A380 and the Boeing 777 perhaps as a minimum as a linefit option," says Rogers.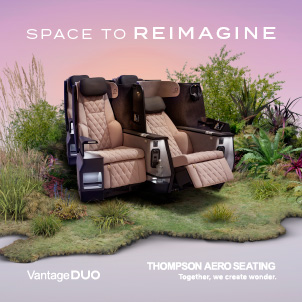 As a retrofit option, a supplemental type certificate (STC) is in place to support the airberlin A330 equipage. But more STCs are in the offing. And Panasonic, as the main B2B channel to the airlines, is in various stages of conversations with customers.
"What you'll see more and more of in the next 12 months is you'll see airlines installing picocell connectivity for the first time and airlines installing 3G rather than 2G or 2.5G. As new installs happen, you'll see a predominance towards 3G. And many of our customers today – we have an installed base of 354 aircraft (and a backlog of around 1,200 aircraft) – have a strong interest in upgrading existing installations to 3G," says Rogers.
Certain markets do not presently permit inflight mobile connectivity and are at least for now "wifi-only and obviously the United States is one of them; China and Japan are also wifi-only. But if I look at European and Middle East markets, and the vast majority of Southeast Asia, those [airlines] are taking both wifi and phone connectivity," says Rogers, noting that flag carriers in particular "want to provide the same level of connectivity to their passengers as on the ground."  Emirates, Etihad Airways, Lufthansa, Qatar Airways, and Virgin Atlantic offer both means of connectivity on all or a portion of their fleets, though voice functionality is disabled on Lufthansa. And airberlin, whose inflight Internet is powered by Panasonic Ku and sold in MB packages, can now be added to the list.
The ease of use of mobile connectivity has always been a selling point; passengers simply turn on their phone to connect to the onboard 3G network and are billed directly by their home operator. However, one sticking point for travelers on a budget is that mobile connectivity can give you a case of serious sticker shock, as pricing is akin to international roaming rates. "Pricing is generally high. But we're working with operators to get those prices down as far as we can," assures Rogers, who previously explained AeroMobile's work in this regard to RGN.
AeroMobile has over 320 roaming agreements with operators in 146 countries. "At the end of the day the pricing is set by the mobile operators; it is not set by us. But operators, slowly but surely, are beginning to realize this is a significant service and are putting efforts in on their ends to change their retail structures. Southeast Asia is far more advanced."