Ever since Qantas rolled out the Virtual Reality (VR) red carpet to their premium passengers earlier this year by offering Samsung Gear VR headsets to travelers in select lounges and first class A380 cabins, speculation about the future of VR and Augmented Reality (AR) as a viable alternative to traditional IFE has run rampant. And while a handful of forward-thinking carriers like KLM and Lufthansa have experimented with VR tech of their own of late, and inexpensive, mobile-compatible VR options like Google Cardboard look to be offering unique branding opportunities for airlines large and small in the not too distant future, for the most part, airlines have stuck to a measured, wait-and-see approach to the emerging technologies.
But with hotly anticipated VR headsets like the Oculus Rift, Sony Morpheus and HTC Vive set to revolutionize the consumer market in the next few months, future tech proponents at the recent APEX TEC in Newport Beach insist that the future of inflight VR is now. And though they are each pursuing different avenues to introduce this technology onto aircraft, the one thing the teams from castLabs, Inflight VR and the Osterhout Design Group did seem to agree on was that carriers who ignore VR and AR tech do so at their own peril.
"Lets start with something that is a no-brainer," said Michael Stattmann, CEO and founder of pioneering digital video delivery solutions provider castLabs. "VR for training purposes … maintaining the airplanes, the engines, the technology in the airplane and AR for guiding and training purposes; this is a no-brainer on the industrial side of the business. On the airline passenger side, we had a discussion recently of – do you actually need to install [these technologies] in airplanes and I believe you don't. I believe this is technology that will be adopted by [passengers] automatically, so the BYOD methodology will be applicable at the end of the day."
But that doesn't mean airlines should sit this one out entirely. In fact, Stattman suggests that carrier engagement with passengers through their VR devices is key in not just staying ahead of the game but unlocking a host of new ancillary revenue streams down the road as well.
"I think what airlines should start to think about is, OK, people will have [these devices] as an entertainment viewing device, as a new toy. How can I leverage that in order to attract people?" The answer, says Stattmann, is simple: content.
"On the content creation side, I think airlines should look at it as what kind of [VR] content can I create for these devices? Now that you have wifi in planes, you don't have to be worried about getting this technology into the plane, it will come to the plane. Prepare the plane for it. Give [passengers] something to use on it."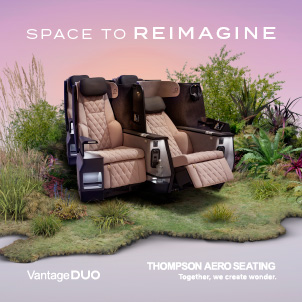 Inflight VR's founder and CEO Nikolas Jaeger agrees. "I think [VR] is something unique to offer, it's something people will talk about," he says. "It's also an easy way to update the IFE system to the newest technology and to have the image of being out there in the front. It's very hard for airlines to differentiate themselves in today's competitive market and having this technology available [via] IFE is definitely one way to differentiate themselves."
Another way, suggests Osterhout Design Groups' (ODG) client services manager Patrick Johnson, is through the use of wearable AR technology like ODG's R-7 Smart Glasses, which the company showcased using content from Paramount Pictures at the recent APEX EXPO in Portland.
"Essentially the glasses are an Android tablet, so, anything you're running on your tablet you could be running in your glasses [which] are the same as looking through a regular pair of spectacles … except they're gonna be [the equivalent of] a 65 inch HD 3D TV that's see-through," explains Johnson.
And though the notion of all that information hovering around your head while flying might prompt some passengers to reach for their virtual barf bags, Johnson says ODG has taken that into account as well. "[AR for IFE] is gonna be immersive and the key thing that's gonna need to be integrated is it also has to be intuitive. [The glasses] need to know when and where not to augment your reality so you don't get cognitive overload."
But, any way you look at it, Johnson insists that AR is going to be the new reality moving forward. "It's ergonomic. It's body position independent. I think that it just makes so much more sense to have everything that you need right in front of your face, like Iron Man … literally wearing your information … rather than having to look down. This is gonna be the next big platform."
And with everyone from retailers, next generation theme parks and even Starbucks exploring the AR space like never before, it's hard to disagree. But even Johnson admits that the logistics involved with bringing any new technology into the aircraft cabin could prove to be slow going at first.
"We're seeing a lot of momentum right now [with] private and charter airlines," he says. "Things are moving rapidly. But [commercial airlines] see basic AR applications and it's like: 'OK I get it, now what?' It's just one of those things – you can try explaining AR all day long, but until someone [experiences] it, it's hard to explain. They just have to get there."
And if Stattman is right about the VR/AR revolution being driven by tech-savvy passengers bringing the tech onto the plane with them, carriers could find themselves being nudged "there" sooner than they think.