DUBAI: Jazeera Airways is not shy about making history. As the first privately owned airline in Kuwait, the low-cost carrier has been a leader in many developments. That leadership role continued this week at the Dubai Air Show with a commitment to fit its Airbus A320 fleet with the Inmarsat Global Xpress (GX) inflight connectivity solution, and the revelation that it will offer the service for free to passengers.
The deal sees Jazeera Airways become GX value added reseller Rockwell Collins' first-ever GX customer. The carrier is also taking Rockwell Collins' so-called PAVES Cabin Wireless IFE offering, which is broadly billed as capable of supporting streaming to 500 passengers simultaneously. Service will launch in December 2016.
In a press briefing at the show, Jazeera Airways COO Abdullah Al Hudaid said the solution will be free for passengers, a move he believes will be "a tool for encouraging passengers to fly Jazeera Airways". He expects it to generate additional revenue via ticket sales rather than as an ancillary product. Al Hudaid also acknowledged that the company's route network is mostly shorter stage length operations so selling the service would be a more challenging value proposition.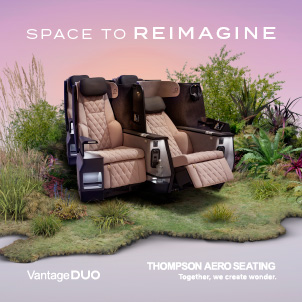 Though GX and PAVES wireless will be fitted to the company's seven aircraft, Al Hudaid noted that it will also be extended to any future aircraft as well. Rockwell Collins' Airshow map service, which customers are familiar with today on drop-down IFE screens, will be streamed to passengers' devices as part of the wireless offering.
While the announcement represents the first narrowbody GX commitment, Qatar Airways is understood to be the first Middle Eastern carrier to adopt GX. A Qatar Airbus A350, MSN42, has been installed with the solution, the carrier's GX integrator and value added reseller Thales confirmed to RGN at the recent APEX Expo. However, even though Qatar Airways CEO Akbar Al Baker has gone on record about the carrier's GX plan for the A350s, there was still some scuttlebutt at the air show that more details need to be hammered out.
GX is also enjoying momentum with Qatar competitor Singapore Airlines, which has selected the connectivity service – with SITA OnAir playing service provider and lead – for longhaul aircraft, including on at least some Airbus A350-900s, where SIA is the launch customer for Panasonic's eX3 IFE and Global Communications Suite.
In a slightly vague press release that begs more questions than provides explicit answers, SITA OnAir states: "The installation of the first GX Aviation system powered by Honeywell's JetWave satellite communications hardware [is scheduled for] for the second half of 2016. The first aircraft type to be equipped will be Singapore Airlines' 777-300ER aircraft, followed by A380-800s and A350-900s.
"As well as being the Wi-Fi Internet and mobile phone service provider, SITA OnAir will also manage the certification process of the GX Aviation system for the 777-300ER fleet, and provide the airborne GX Aviation systems for both the Boeing and the A380-800 fleets. Thales will provide the airborne connectivity system for the A350-900s with SITA OnAir providing the Wi-Fi Internet and Mobile phone service. Zodiac Inflight Innovations will provide the JetWave GX Aviation Satcom for the A380-800 and 777-300ER retrofit programs." Zodiac's win is news in its own right.
Singapore Airlines has 63 A350-900 aircraft on firm order. In a 2012 press release, SIA announced that it had brokered a $400 million agreement with Panasonic that would see it supply IFEC systems for 20 Airbus A350s due for delivery from 2014 (the first A350 is now slated for delivery in January 2016 for commercial introduction in April 2016) as well as for 15 more Airbus A330-300 and eight more 777-300ER aircraft.
Indeed, Panasonic's Ku-band Global Communications Suite is already flying on a subset of the SIA's 777-300ER fleet (review here) with Deutsche Telekom as the service provider on a KrisWorld-branded network, while some of the airline's Airbus A380 aircraft offer the SITA OnAir SwiftBroadband L-band system. Singapore Airlines' longhaul, low-cost carrier Scoot's inflight entertainment and connectivity is also provided by Panasonic on the LCC's Boeing 787-8 Dreamliners.
RGN has submitted questions, and awaits answers, from Singapore Airlines, SITA OnAir, Thales, and Panasonic Avionics about just how many aircraft are included in the SIA GX deal, and the timeline for equipage, as well as what the future may hold for SIA's partnership with Panasonic.
Additional reporting by RGN contributing editor John Walton