Airline adoption of ultra high-density economy class cabins shows no sign of abating with Airbus confirming to RGN that a European carrier has become the first operator to select a 10-abreast configuration for the Airbus A350 XWB. The news comes as Qatar Airways is mulling going 10-abreast on its A350s; the carrier is already in the midst of a densification program for its Boeing 777s.
Earlier this year, Airbus revealed it has been quietly working on a configuration that would enable airlines to offer a seat that will be just shy of 17″ width at 10-across. In an exchange with RGN contributor Jason Rabinowitz today at the Dubai Air Show, Airbus head of corporate & investor marketing customer affairs Mark Pearman-Wright said that the new product is officially "out there" and a "European leisure carrier" has ordered this configuration.
He declined to name the airline, but there was some speculation at the show that perhaps French holiday carrier Air Caraibes has potentially gone in this direction; its first A350-900s are scheduled for delivery next year and it already operates high-density A330s with seat width that is sub 17″.
In reference to A350 operator Qatar's 10-abreast studies, Pearman-Wright said, "If you look at where their market is … you could perfectly understand a higher density configuration and we support that. We don't think it's there for everybody but it's certainly there for an important part of the market."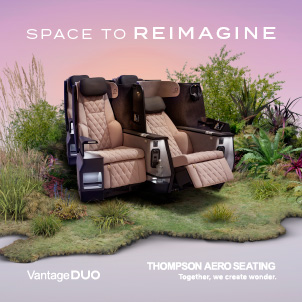 So how is Airbus adding an extra seat to the traditional 9-abreast A350 layout (which boasts 18"-wide seats)? "We are not changing the sidewalls; we are not changing the seat rails, so they're already there and they've got the flexibility to take a 3-4-3 arrangement as opposed to 3-3-3. So the offering is a narrower seat. I hesitate to use the word less comfortable, but it will clearly be less comfortable," said Pearman-Wright. He noted that this higher density offering "works in certain leisure markets or lower yield markets where comfort isn't a driver; value is the driver. It will be a cheaper product."
Even as it offers airlines the option to select sub 17"-wide seats for "high efficiency" cabin layouts (17″ is found on 9-abreast Boeing 787s, which get mixed #PaxEx reviews) Airbus continues to see 18" as standard seat width for economy. "So our standard product offering we call 'comfort economy', but … you know, the market is segmenting so you have got to be able to offer the variety of the product. So 90% of our economy class seats are comfort economy; 10% of them are there for budget economy size. 17" [is] 9-abreast on the A330, 10-abreast on an A350."
Meanwhile, Airbus is honing its plan for the cabin interior of its forthcoming, re-engined A330neo. Cautious about not delaying the industrial ramp-up of its A350 by offering too much customization on the neo, Airbus is again taking a catalogue approach. "We have got the world's largest airlines and within what they want, we are trying to get an agreement and try and standardize as much as possible. And my job, my day job is talking to the leasing and investor community. I have got a leasing background inside Airbus. That is something highly valued."
To wit, Airbus has fine-tuned the galley arrangements on the A330neo. "The big difficulty you've got when transitioning from one airline to another airline, isn't so much your supplier, it's where you have got the galleys and the lavs and we can see from the thousands of [widebody] aircraft that we've delivered, where the galley [is at in] 80 percentile so we are focusing on the 80 percentile standard type of galley, lavatory arrangement that works and that is the way we will facilitate the configuration and certainly that will help the transitions [the] lessors will do later on."
The double-decker Airbus A380 was notoriously delayed in part due to the high customization offered on the aircraft. But while A380 customers "expect the A380 to be the personification of the brand of the airline, that is a little bit of an industrial headache because you have to allow customization. By the time you get down into the twin-aisles the A350s and A330s, the airlines are quite happy to agree to much more standardization and they will see the benefit of that," said Pearman-Wright.