Though we've long known that Zodiac Inflight Innovations' RAVE seat-centric inflight entertainment system was in line for linefit offerability on the Airbus A350 and A330, and logic dictates that Zii's new role as BFE 'point person' for Inmarsat Global Xpress (GX) inflight connectivity on the A320, A330 and A380 – an unbundled approach – would pave the way for a Zii connectivity offering on the A350 as well, confirmation finally came in the form of a recent press release.
But Airbus' approved terminology can be confusing, so it's important to clarify two key points, courtesy of Zii VP of sales and marketing Harry Gray:
Zii's broadband offering with Airbus is under their designation as HBC (High Bandwidth Connectivity). This offering is provided as buyer furnished equipment (BFE) and supports the A320 (Family), A330, and A380 platforms.
Zii also has ATM (Authorization to Market) for the Zii broadband system (same hardware as HBC) to be provided as a linefit solution for the A350 platform. This offering is provided as part of the Aircraft Contracted Supplier (ACS) catalog approach and is currently paired with a Zii IFE solution. As of today it is not possible to select a Panasonic IFE and the Zii broadband solution – or vice versa.
This means that, thus far, Airbus continues to pair same-vendor IFE and connectivity on the A350 (as the A350 catalog first revealed to us in 2011). But the wheels are in motion for that paradigm to change.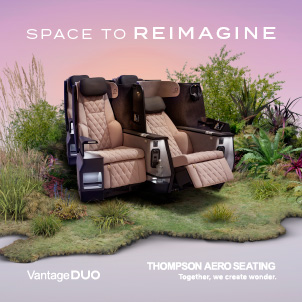 In a lengthy interview with RGN about how its HBC program will evolve (expect more broadband solutions to be approved as linefit on the A320, A330 and A380), Airbus interiors marketing manager Patrick Candelier said, "Today, A350 is not part of HBC; it's just a question of timing. Now I would be out of my role [to say more]… But clearly, what is true is that what we want to offer to our customers is the same possibility on any aircraft type. They will replicate their requests [on A330, for example] on A350 also, and at some point in time we will converge. The reason for it simply is already we're announcing the same approach for three different programs; now the A350, with a different business model again, so there [it] will come into the loop afterwards."
During a follow-up interview with RGN, Candelier stressed that today "the only thing we can offer is a bundled offer. Today our status, our decision, is Airbus is still not ready to uncouple." However, Airbus expects to field requests from airlines to unbundle IFE and connectivity in the future.
When Airbus ultimately uncouples the two, a variety of vendors will benefit from the move, and classic rivals could inevitably end up working together on IFEC integration projects.
For example, Delta Air Lines is the largest embedded IFE customer of Panasonic Avionics, but it has selected Gogo's 2Ku connectivity solution for the A350-900 and other types, including the A330-900Neo. Delta's first A350 delivery is scheduled for 2017. It's unclear if 2Ku will even be a linefit option for the carrier when it finalizes its interior layout for the twinjet (at least 18 months before delivery), though Gogo CEO Michael Small assured during a third quarter earnings conference call today (to report a 22% y-o-y revenue increase) that the Chicago-based firm is making headway at both Airbus and Boeing.
"It is a long process to get linefit for the very clear reasons that neither Airbus nor Boeing is going to delay delivery of an aircraft because one of their vendors lets them down. We are deeply in that process with both Airbus and Boeing with increasing enthusiasm by both OEMs and have every reason to believe 2Ku is in [line for] linefit for all the major aircraft types," said Small.
Pressed by RGN to describe how far along is Gogo in obtaining linefit for 2Ku on the A350 for customer Delta or indeed Panasonic Ku on the A320 (the A320 is the only Airbus platform that Panasonic Ku is not yet linefit offerable on), Airbus's Candelier insisted, "I can't be precise about discussions; and cannot elaborate about names of suppliers or technology so [they're] free to announce what they want in the press. We review all the extras that are strong enough and credible enough. I know it's a kind of non-answer. This is really the situation. In short we will make an announcement; I don't know who will come out of this negotiation phase and so it's at that moment that we will communicate as we did for Zodiac."
For it's part, Delta tells RGN: "Delta is still in the process of determining the specifics of our A350 aircraft delivery. Because of our unique operational perspective [inclusive of Delta TechOps, which retrofits Gogo solutions to Delta aircraft today], we have the flexibility to consider a number of options prior to delivery and placement of aircraft into service." Indeed, Gogo has made broader headway in retrofitting 2Ku to aircraft, having fitted the solution to an A340 operated by Delta partner Virgin Atlantic, as well as an Aeromexico Boeing 737.
Meanwhile, Zii is still working to secure a customer for its complete coupled IFEC offering on the A350. It has a "couple in the works right now which is exciting" but is not quite there yet in terms of final deals, reveals Zii's Gray.
And though Global Xpress forms the basis of Zii's connectivity offering across Airbus' portfolio, this doesn't mean Zii won't pair RAVE IFE with other connectivity systems where it makes sense via retrofit. "So depending upon the airline, maybe an air-to-ground solution is better; depending on the airline, maybe a Ku-band solution is okay, or a Ka-band solution… So we've got the ability to provide that as a turnkey package, certainly on a retrofit basis to provide the right solution for that particular airline but also give them the support of that particular product, and also get it installed and certified, where we have great expertise within the organization to get that done."
Photo credit: Jason Rabinowitz. Courtesy NYC Aviation