At a hangar at Orly Airport in Paris, Air France officials and journalists watched as the wrapping came off the Boeing 777. Below was the kind of painting one can sometimes see on the subway. Peeling back the masking paper was the artist, JonOne whose career began painting graffiti and subway cars in New York City.
At a party to celebrate the airline's eightieth birthday last year, JonOne, the Dominican-American now living in France, took out a white piece of paper and began to draw. The sketch turned into a large original canvas which he offered as a gift to Air France. One year later that painting, titled Air France Forever, has been reworked into a 4-by-7 meter banner that reimagines the airline's red tail-shaped logo infusing it with the colors of the French flag.
"We had this crazy idea to paint a plane," JonOne told reporters in the moments before displaying his work. At first, he said, the idea seemed incredible.
"Yeah we're going to paint a plane someday for Air France. That seems like painting a rocket or going to Mars or something like that. But today you're going to see that crazy idea coming to life."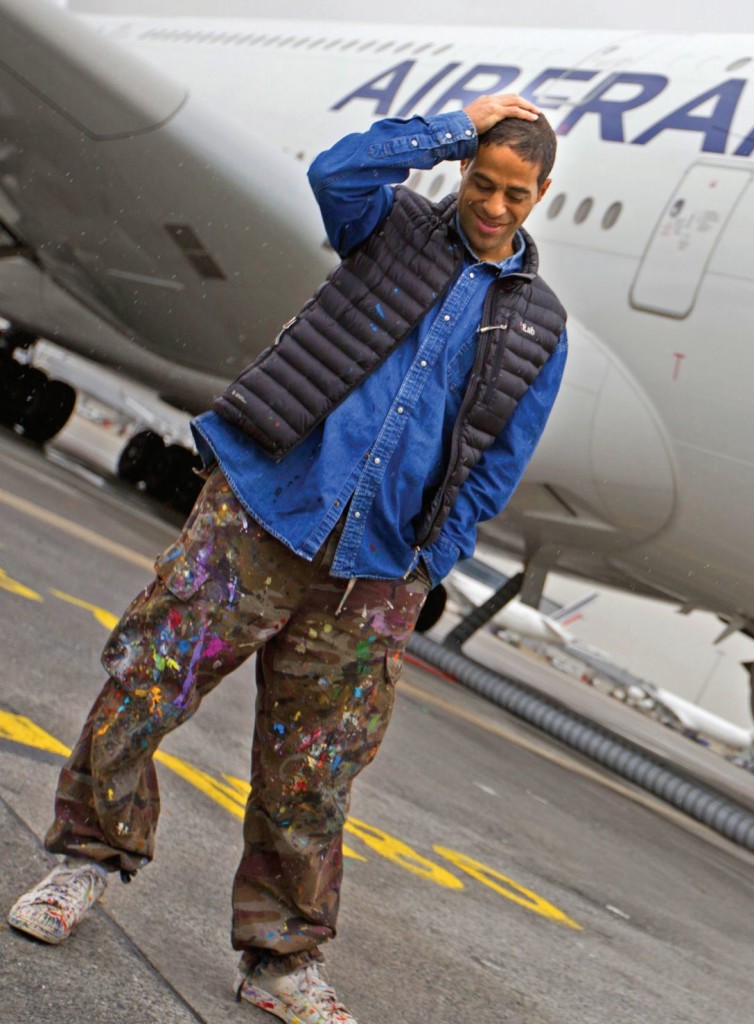 The plane, with the registration F-GSQI has been in the Orly hanger undergoing a complete cabin refurbishment, including the installation of new seats in all cabins; 216 in economy, 24 premium economy, 50 business class and four in first class. Adding the JonOne banner was a project that took seven months of planning according to Xavier Malavergne, manager of hangar maintenance. A number of the mechanics who worked on the project were on hand to watch the unveiling on Tuesday.
As the paper came off, the red, white and blue slashes were revealed, crossing from top to bottom across both sides of the aft end of the jetliner. Next to that was the unmistakable signature JonOne, scrawled in black.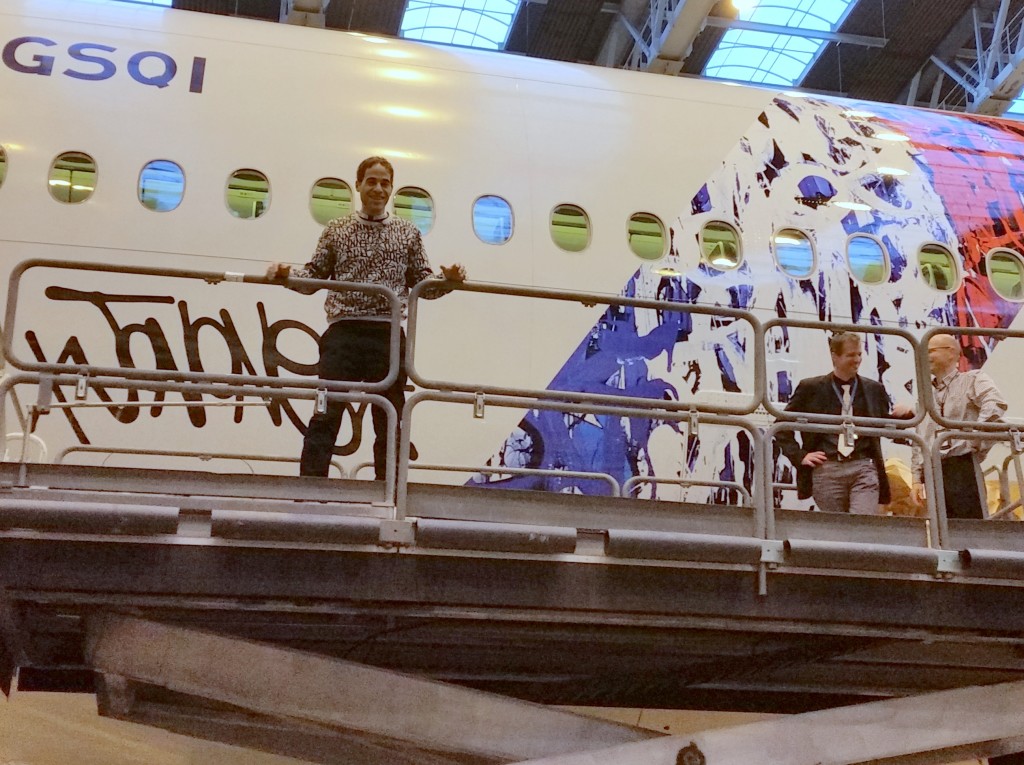 JonOne's work is bold and playful, depicting movement, power and thrust. But this is no Hello Kitty phenomenon where travelers plan their trips around the flight schedules of planes bearing the cat-inspired livery of Taiwan's Eva Airlines. On Hello Kitty flights everything is part of the show. Special meals are served on special tableware, butter pats and even toilet paper are embossed with the kitty's mug and ancillary products are sold by the litter.
The amount EVA pays to Sanrio Company for the right to use the Hello Kitty brand on seven airliners is believed to be hefty. The carrier won't say what it costs.
Air France does not expect JonOne's art to sell airline tickets like the kitty does, but Jean-Charles Trehan, the airline's director of communications says, "There's a marketing benefit for sure."
Still, unlike Eva Air and Sanrio, Air France got the work of JonOne for free, both the banner and the painting on which it was based. The airline has history of supporting art, by featuring the work of contemporary artists in its lounges, on menu cards and in special in-flight entertainment programs. Trehan says this is the first time Air France has placed art on the livery of any airplane. It may be the first airline to be given the right to use art without a fee or a licensing agreement.
"Absolutely no money" was involved, Trehan said. "It is not in the spirit of the partnership. It is only a matter of friendship."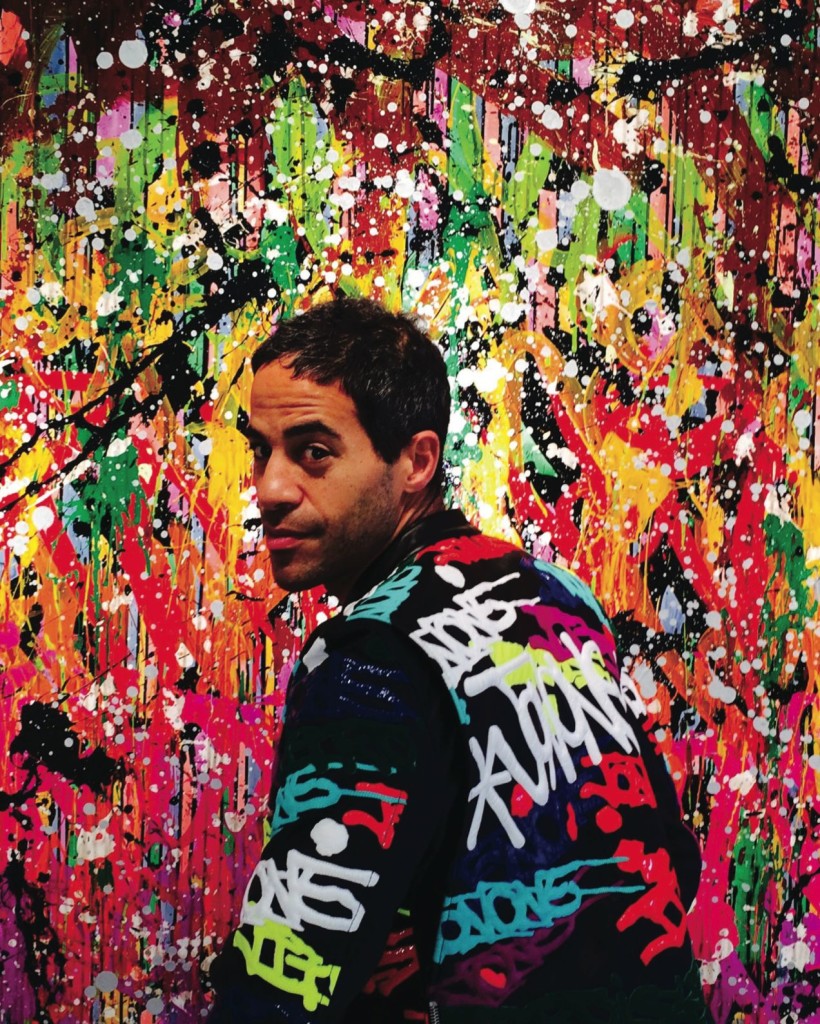 The arrangement is not completely without financial benefit. Passengers who like the painting will be able to purchase livery-themed accessories. Tote bags, notebooks and a special edition model Boeing 777 are all for sale from the Air France store.
At 52, JonOne is old enough to remember when flying was for a certain elite set. That's all changed and to some extent his art reflects the 21st Century traveler. "To see my art means a lot for me and for a lot of other people," he said.
Who might those people be? "Young people, people who love art, who love travel, inspired people," Trehan said. JonOne's cachet could be something that attracts these travelers.
Airlines frequently partner with well-known creatives in an attempt to blend and expand their circles. Even without the exchange of money the same kind of transaction is going on here. Air France gets a stop-people-in-their-tracks work of contemporary art to fly around the world and JonOne gets to show off his unique view of his adopted home everywhere Air France flies.
If the barter is good for business, so much the better.