The UK's Civil Aviation Authority regulator is issuing a striking safety notice directing airlines to take action about the increasing problem of passengers taking cabin baggage with them when evacuating an aircraft.
The directive — Civil Aviation Authority Safety Notice SN–2015/006 (PDF), entitled "Management of Cabin Baggage in the Event of an Aircraft Evacuation" — is only the sixth such notice issued this year, and the list of other topics shows just how seriously the CAA is taking the issue. It is very pleasing indeed to see the regulator stepping up, particularly after recent incidents (which Runway Girl Network has reported extensively).
Evidence from evacuations of aeroplanes since 2013 has shown that significant numbers of passengers attempt to take hand baggage with them when evacuating an aircraft. Such passenger behaviour can present a significant hindrance to egress, injury to other passengers and damage to evacuation slides.

The purpose of this Safety Notice (SN) is to draw operators' attention to the need to manage passenger behaviour so that they do not attempt to take hand baggage with them during aircraft evacuations.
It's clear that the CAA has reviewed the status quo and found it seriously wanting. Specifically:
Many UK operators currently include instructions to leave hand baggage behind in the event of an evacuation as part of the pre-flight passenger safety briefing, and often pictorial information is included on the safety card. However, some passengers appear not to assimilate, or not to heed such information and remain unaware of its significance to their, and their fellow passengers', overall safety.
That's some classic British understatement from the UK regulator. There are real questions to be asked (probably of behavioural psychologists) about the likely actions of various groups of passengers, and how best to reach them. But are airlines best placed individually to do so?
Operators should review their procedures and the manner by which passengers are informed of pre-flight safety information. This should include the contents of briefings and safety cards in order to ensure that clear instructions to leave hand baggage behind in the event of an evacuation, and the potential consequences of not doing so, are included and embedded in passenger awareness.

Consideration should also be given to the content and method of delivery, taking into account passenger behaviour and distraction during pre-flight safety briefings.
There are real questions to be asked about why the CAA is requiring airlines to do the legwork in developing standards and practices. It would seem that this sort of work is best placed to be done by a regulator, or at the very least by a technical committee including regulators, experts and industry representative from the large UK airlines.
While clearly there will be differences in approach required between airlines like regional turboprop operator Loganair, large LCC easyJet, and global carrier British Airways, if the CAA is indeed taking this matter seriously it would seem to behove the regulator to take a stronger role.
Operators should also review their procedures and training for passenger management during an evacuation; including verbal instructions to leave hand baggage behind and actions to be taken by cabin crew should passengers attempt to remove hand baggage. This should include management of passengers with hand baggage at exits in order to maintain expediency of egress, ensuring cabin crew intervention does not hinder evacuation.
Passenger management during evacuations has historically — and, seemingly, sensibly — focussed on getting passengers out of the aircraft. The principle has generally been not to stop the mass of evacuating passengers to take luggage away.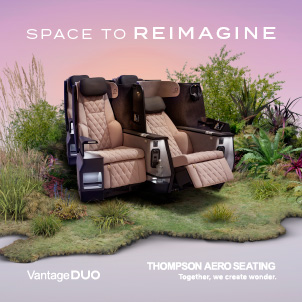 The question is whether it is possible to change passenger behavior. Any luggage passengers bring with them has to go somewhere, and "out of the plane" may well be the safest option once they're in the crowd of evacuating passengers.
Flight attendants will likely have less than a second per passenger. Does it make sense — and, especially on narrowbodies, is there space — to try to take luggage from highly stressed, potentially combative passengers?
The CAA's safety notice is a good first step, but RGN is already following up (overnight in the UK) with the CAA, international regulators, and airlines to understand more about the scope, process and timescales for this work. Should any other interested organisations or experts have information or wish to contribute to our followup articles, please contact the author (john@walton.travel).
Note just how many passengers have carried their bags off of a burning aircraft in the following video (pic above also credited to Dominic Worthington's video):