DELHI: As airlines get a breather from plunging oil prices and tech-savvy, mid-level managers accept the fact that their 'road warrior' status doesn't always come with first- or business class benefits, some sage upgrades by airlines are being implemented. Arguably chief among them is the introduction by non-US carriers of premium economy – a class of product that can give regular flyers on a budget a reasonable shot at affordably avoiding the economy class crush.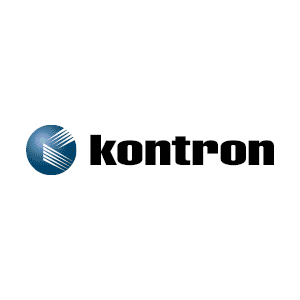 Singapore Airlines (SIA) is the latest carrier to join the premium economy bandwagon; firstly on its A380s.
But will SIA extend this new product to the new ultra long-range Airbus A350-900ULR, which after an amendment to its A350 order is now poised to enable the reinstatement of all-premium, non-stop service from Singapore to the US from 2018?
The airline, which pushed for the ULR, isn't saying explicitly. "We haven't announced any details on products or configurations as of yet," SIA spokesman James Boyd tells RGN.
Australian Business Traveler – which broke the story about SIA's adoption of the A350-900ULR for flights to Los Angeles and New York – says the aircraft will definitely feature the new business class seats that are currently being designed for the carrier's A380s. It notes that SIA previously said it was looking beyond the former 'all business class' model of the A340-500s that flew to Los Angeles and Newark until service was stopped in 2013. Leeham News' analysis of the ULR suggests that a custom premium configuration of about 170 seats – about 60 more than used on the A340-500 – is likely.
Passengers have mixed opinions about the prospect of SIA reinstating premium non-stops to the US.
Some are ecstatic:
Others are less impressed:
Those of us who regularly fly in economy class – and dread multi-stop flights to Singapore – can be forgiven for crossing our fingers and toes that the carrier will introduce its new premium economy seat on these aircraft. There is much to celebrate with SIA's PE seat, which is being retrofitted to the A380s (though the installation program is delayed), and is slated to be fitted to the carrier's 777s and ultimately at least 20 A350s that will support its global network.
A big plus is that SIA has recognized the importance of powering multiple personal electronic devices per seat.
Discussing Singapore Airlines' decision to offer AC in-seat power plus two USB ports for charging devices in premium economy, David Lau, general manager, SIA India, told RGN at a media event in Delhi: "We have taken into consideration people need to remain connected and the fact that they use multiple devices."
"A single USB is not enough," he adds, suggesting that virtually "everyone has a minimum of two" adapters that require a power source. "The experience we have gathered in business and first class made us realize this – people want multiple USB ports."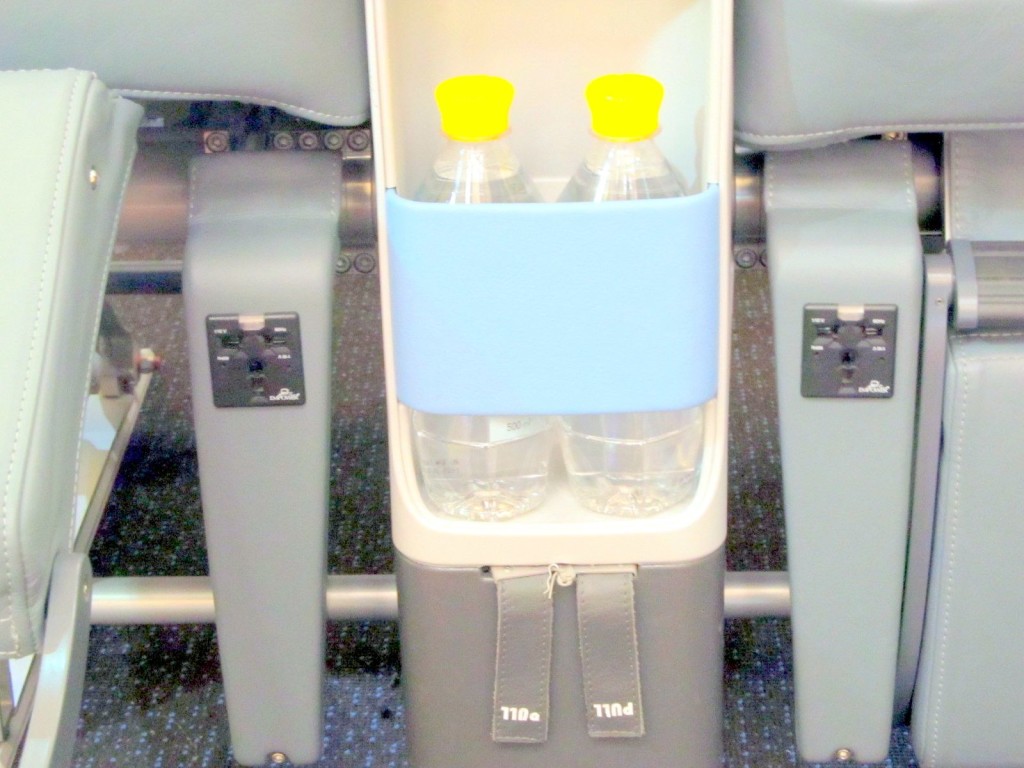 The USB ports (pictured at top) have been positioned on the side of the seats, not in front. This is both a safety precaution (think about egress in the event of an emergency) and a #PaxEx consideration. "We have them on the sides to prevent wires dangling, and also when you use headphones on an aircraft, they keep falling off when you move your head," says Lau.
Those headphones, incidentally, are of the active noise-canceling variety to optimize the entertainment experience on 13.3-inch Panasonic Avionics monitors.
The full seat – with 8″ recline and a seat pitch of 38″ – is covered in leather including a large portion of the footrest because, unlike fabric, leather is less prone to the vagaries of hot and cold temperatures and is easy to clean. "The part where the shoes touch is hard rubber, while up to the calf, leather has been used," says Lau, adding that the seat aims to remind one of a "favorite lazy chair".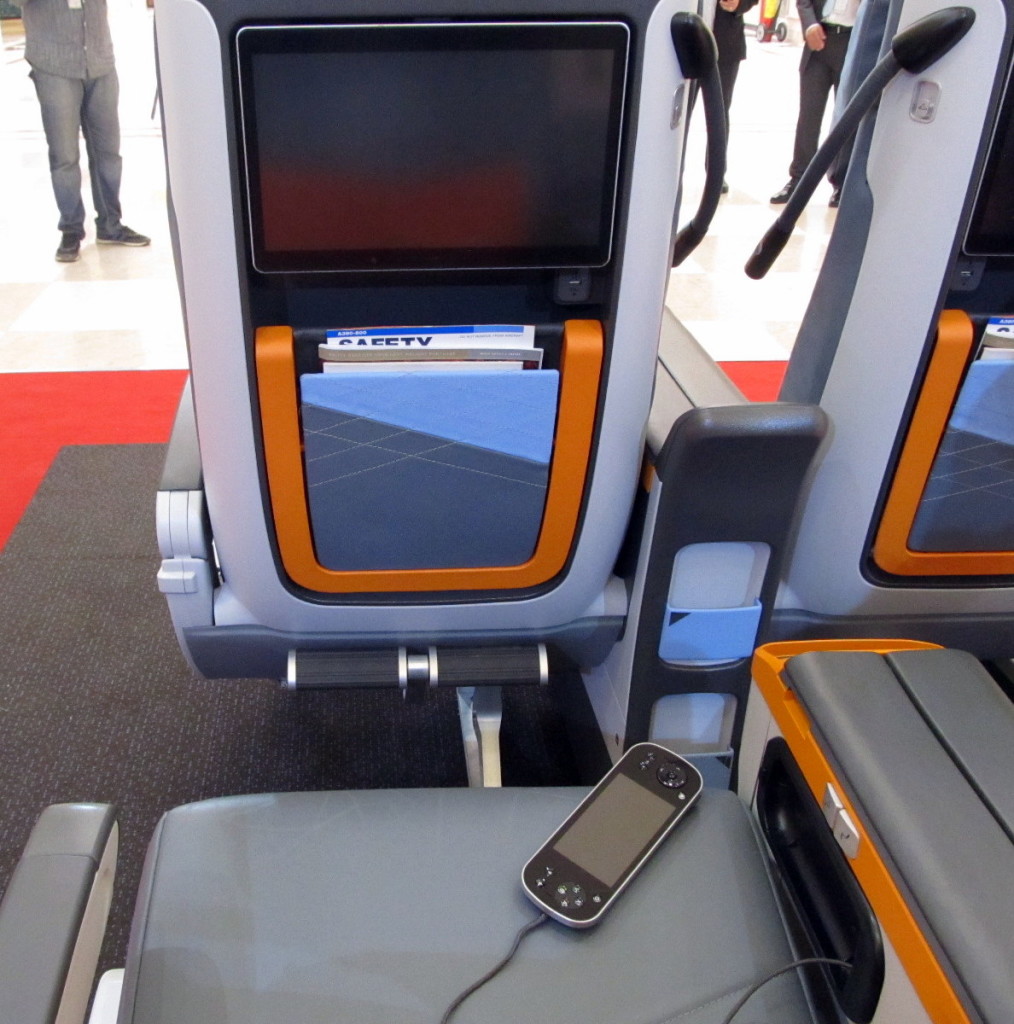 Installation of premium economy seating on the lower deck of SIA's A380s – in 2-4-2 configuration – was originally slated to be completed by March 2016, but are now scheduled for delivery by June 2016. The 36 premium economy seats will replace 66 economy seats. With a ratio of 1:1.8 "you know you are sitting in a larger space", says Lau. The cabin will launch on  the A380's Delhi and Mumbai routes starting from 25 October of this month, and 2 January 2016, respectively, and will be progressively introduced across the global network.
The price for a premium economy seat is "just 50% more than economy instead of 80%" more for business, notes the SIA executive. He says the difference in SIA's hard product versus its competitors is important to some extent – "like my horse is bigger than your horse". But at end of the day, customers "want a level of integrity, reliability and comfort level that they are already home".
As for whether premium economy will be the baseline "premium" product on SIA's new A350-900ULR, we can only wait and see (we've got a few years before launch).
Related articles: