Today's global inflight connectivity market is only mostly global. China, in particular, is a connectivity black hole for most airlines and service providers thanks to local regulations. Panasonic Avionics (PAC) is working to change that and a recent licensing agreement with the Chinese government represents a significant step forward.
A trial license has been issued which allows connectivity on hundreds more aircraft and flights, including foreign carriers operating international routes in Chinese airspace. This represents the first major access to Ku-band connectivity in Chinese airspace for foreign airlines.
Such access still requires coordination with a Chinese company and PAC is partnered with CTSat to facilitate that aspect of the operations. As corporate communications manager Brian Bardwell explains, this is the first step towards a permanent coverage offering over China:
The Chinese regulatory body MIIT granted a trial expansion business license to CTSat on 29 May 2015 to further test the Panasonic Ku Network in China. We have begun preparations for this trial expansion, which will allow a number of China-registered and foreign-registered airlines to begin using Panasonic's eXConnect broadband connectivity service over China airspace on domestic and international routes. We expect these trials to begin in the next few weeks.
The expanded access trial license is valid for one year. During that time PAC, CTSat and airlines will validate the functionality of the offering and also work towards obtaining a more permanent license for the operation.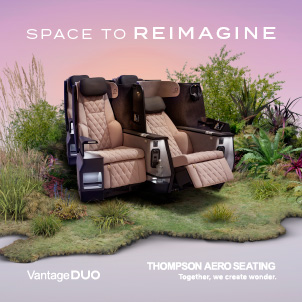 Bardwell continues, "With this approval, airlines will be able to provide eXConnect services on flights to/from and over China to maintain connectivity globally in the Panasonic network. This was the last major hurdle for regulatory approval to offer global coverage."
Panasonic has a bit of an advantage in the market given its history as the inflight connectivity provider of choice for a number of airlines based in China.
This latest CTSat license deal represents a significant expansion of that access and a huge move forward for many other airlines in the race to provide a truly global connectivity offering. And as airlines add operational data feeds to the broadband connectivity stream being able to ensure truly global coverage is even more important.