Known in the airline industry as having a lust for innovation, low-cost carrier flydubai has selected Global Eagle Entertainment to fit its Boeing 737-800 fleet with Ku-band satellite-supported inflight connectivity as part of a bundled solution that includes seatback entertainment content that can be beamed to the aircraft over the connectivity pipe, and the provision of operational data.
Global Eagle, the airline industry's largest Content Service Provider (CSP), already supplies media content for flydubai's award-winning Lumexis seatback IFE system. This new agreement "greatly expands" Global Eagle's relationship with the airline, it says, and represents an industry first insofar as the connectivity plus the seatback IFE content package will be delivered by a single provider. Dubai-based flydubai represents Global Eagle's first connectivity customer in the Middle East.
The new capability being introduced as part of this package will see Global Eagle update the IFE content via the connectivity pipe to ensure the "freshest" content for passengers. This too is being billed as a first for the industry, and though the integration details are still being thrashed out – as well as how often the content will be refreshed (on overnights or in-flight?) – the arrangement is "a no brainer", says Lumexis VP of sales Jon Norris, noting that Global Eagle's testbed aircraft, a Grumman Albatross seaplane, had Lumexis IFE installed so both parties know "the systems work well together".
"The study that flydubai is working internally on is what functionality they wish to offer," says Norris, adding that the end result will "put a lot of other airlines to shame in terms of what they can offer" in the region.
Ghaith Al Ghaith, CEO of flydubai, is equally effusive, saying the integrated IFE, connectivity and digital media system will enable it to "provide the highest standards and latest innovations of inflight services to our passengers and enhance their onboard experience". Tech-savvy travelers who have found connectivity to fall short of their expectations will no doubt be looking for flydubai to acquire adequate Ku capacity to support a viable broadband service.
"There will be plenty of bandwidth for flydubai customers using the Internet services," assures Global Eagle chief commercial officer Wale Adepoju.
Though we await visibility on how the inflight connectivity will be priced, Global Eagle says it will support the generation of ancillary revenue at flydubai "through the sale of advertising and sponsorships", and it will manage "billing and payment processing".
Rollout is expected to begin in the fourth quarter of this year, as Global Eagle notes in this exchange with Routehappy data research manager – and RGN contributor – Jason Rabinowitz: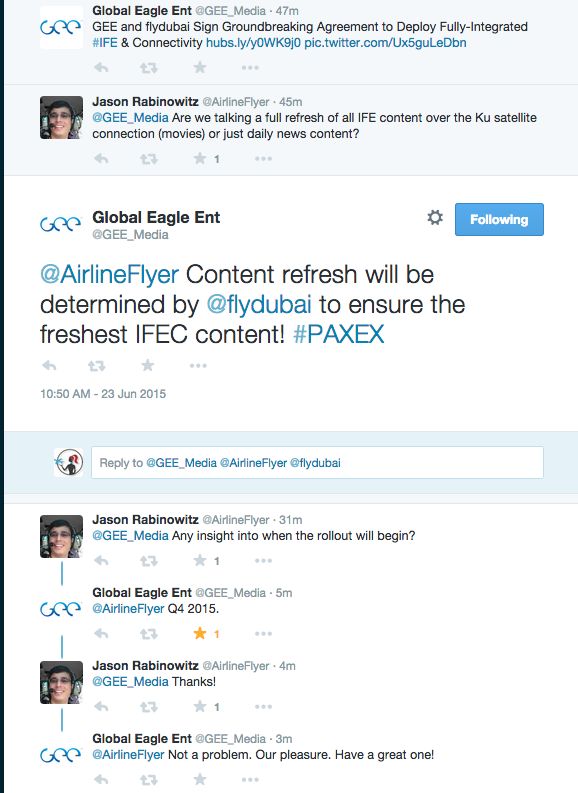 Meanwhile, flydubai has also awarded a follow-on contract to Lumexis to equip 11 more 737NGs with embedded IFE, bringing its total commitment to 54 aircraft. The system installed on flydubai's 10 new 737s will represent Lumexis' newest offering, the "FTTS Gen 4", which features an Android operating system, mobile processor, multi-touch pinch and zoom screen, and a 2.1A USB reversible plug to charge passengers' devices.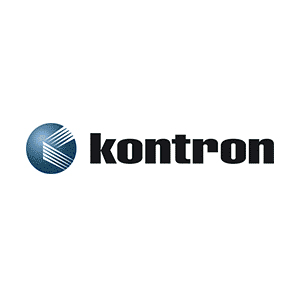 "A lot of the new technology and processor developed for [Lumexis' new IFE solution for the LCC narrowbody market] iPax will come across in FTTS Gen 4. We're also taking a half a pound of weight out of the 10.1" screen," says Norris.
Does Lumexis envisage packaging IFE hardware with Global Eagle connectivity hardware going forward? After all, the two firms share a common shareholder, Ed Shapiro, who chairs both companies.
Norris says Lumexis remains agnostic when it comes to connectivity partners. "We've always said we'll work with any connectivity provider and while we do have a common chairman, we operate very much independently and non-exclusively. We have worked jointly on deals [with Global Eagle] and will continue to do so where it makes sense."