With the Apple Watch at the front of the tech industry's mind, the passenger experience industry is also thinking hard about wearables — and how they could revolutionise the way airlines operate and deliver services to passengers. RGN last week sat down with SITA OnAir's CEO Ian Dawkins and chief strategy and marketing officer François Rodriguez on the sidelines of the Passenger Experience Conference prior to the Aircraft Interiors Expo  in Hamburg, Germany.
Wearables will first change the way the flight deck and the cabin communicate, says Rodriguez, who is currently the company's lead on wearables within the cabin. No longer will flight attendants need to pick up a wired telephone to speak with the cockpit, with wrist-to-flight-deck talking the way forward.
Work is already ongoing to figure out how to link the bleeding edge of wearable technology with highly regulated aircraft communications, with Rodriguez suggesting the primary way of linking into backend systems being through the tablets that airlines are already issuing to cabin crew. Using tablets will, of course, require some custom application development if the Apple Watch is used, since the fruity wearable requires an iPhone for functionality.
A second implementation of wearables will be passenger experience notifications. As an example, the "seat 2J would like a tomato juice" notification possible with current generations of IFE is limited to seat-to-galley notifications. SITA OnAir expects that notifications could be routed to a flight attendant by a simple tap on the wrist from a smartwatch.
Expanding analytically on the options available, it would be very interesting to see an airline using wearables to dynamically allocating flight attendants to greater demand across cabins, prioritising requests from premium cabins, or flagging requests from high value customers holding high-tier status.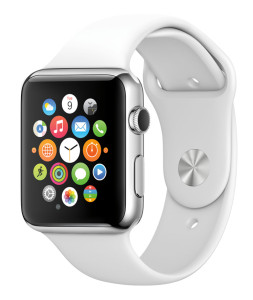 Thinking of safety, it would also enable backend checks of, say, alcohol consumption: a flight attendant could be notified to conduct a surreptitious alcohol check on a passenger, and might also deliver a bottle of water or a bite to eat alongside a slightly smaller pour or a mixer-heavy, booze-light drink.
SITA OnAir's Rodriguez has firm views on the wearables platform too. Initially, airlines rolled out iPad-based systems, since Apple's iOS is widely familiar to the greatest number of potential users. With the evolution of Microsoft's Surface platform, the enterprise IT benefits of integrating Surface tablets with wider airline systems are driving a new generation of product rollouts. Rodriguez identifies the openness of the Android platform as a significant drawback to its implementation in the aircraft environment. 
With numerous airlines already issuing connected (and ruggedised) touchscreen devices to their maintenance teams, and Japan Airlines developing a Google Glass-based maintenance system with the Nomura Research Institute, it's clear that the airline wearables revolution is just getting started.
More widely, SITA CEO Ian Dawkins highlighted four key benefits already being delivered by its connected aircraft strategy, which would tie in neatly to the wearables agenda: flight deck communications, passenger broadband, aircraft tracking, and aircraft health monitoring. SITA OnAir also confirmed RGN's prior exclusive that Malaysia Airlines is trialling its tracking system, in addition to Singapore Airlines. A formal launch of the so-called AIRCOM Flight Tracker is planned for mid this year, says an OnAir spokeswoman.
Since SITA OnAir already manages highly secured data in the cockpit, and has adopted a "nose to tail" approach to connecting the cabin and driving operational benefits for airlines, it believes it is positioned to help fortify operators to fight cyber crime. "Today you've got, around the world, people cutting heads off other people; in the future, hacking an aircraft from the ground will be the thing," predicts Rodriquez.
The fear is real. A security researcher was recently denied travel on United Airlines after suggesting on social media that the carrier's onboard systems can be hacked, reports AP. He's one of many hackers to have made the claim. And the FAA acknowledges it must do more. Citing the potential for security threats to transpire that "could result in the malicious use of networks, and loss or corruption of data brought about by software worms, viruses, or other malicious entities" the agency is in the process of establishing an aircraft cyber security working group.
Additional reporting by Chelsea Bryan