When you think of the word "hosties", is your mental image strong women running grueling, muddy boot camp endurance races and being congratulated by Princes William and Harry? If not, think again.
When Virgin Atlantic senior cabin crewmember Sophy Mahon had the idea for Hosties 4 Heroes, it was because she "wanted to support our troops in Afghanistan" at a time when the media had yet to get behind the relatively new Help for Heroes military charity, and she wanted to do a boot camp of some description.
Help for Heroes provides care and support for British servicemen and women who have been wounded or injured in the line of duty.
"It was a vision more than an idea," Mahon laughs, just back from a trip to Cape Town on an Airbus A340-600. "Loads of 'hosties', as we call our ourselves (tongue in cheek), glammed up to the nines, crawling around in mud, wading through murky waters and scrambling over nets. It had to be a winning fundraising idea, surely — and it turns out I was right!" 
Inspired by the poignancy of Armistice Day, observed as the UK memorial to remember servicemen and servicewomen, Mahon "started the ball rolling by picking the first event from the Help for Heroes website, an event perfect to get us caked in mud and at that point a total challenge, a 10k trail run set in Leamington Spa, the Wolfrun." 
"I rang around a few of the girls at work who I was (and am) friendly with, and who I knew would be up for a laugh and a challenge. I pitched my idea and got them signed up and fundraising. Our initial team was Jemma Hafernik, Amanda Wells, Helen Towell, Gemma Lochrie, Samantha James, Toni Hodges, and Sarah Ridsdale — and me, of course," Mahon explains.
"Meanwhile, behind the scenes with a graphic designer friend, we created a logo, a website and sourced a few great sponsors including Hi-Tec and Proskins. It was all so exciting and when we all arrived the night before the event I had uniforms waiting for them. The challenge itself was a huge success! We raised £2,500 (nearly US$4,000) and Hosties4Heroes were on the map. Suddenly lots of girls wanted to get involved in the fun and help to raise more money." 
As time has gone by, the muddy obstacle races have got tougher and more challenging. "We did another Wolfrun the following year, as well as a triathlon (that was hard!), the Nuts challenge which was obviously completely Nuts, and we'll be doing it again in September for the fun element alone," says Mahon. "Add into that two Tough Mudders and a couple of skydives with the Red Devils, which I added because there were girls that wanted to get involved who didn't really run but still wanted to get involved. This was a perfect (and quite mean) alternative!"
Mahon loves the slightly subversive way that the cabin crewmembers refer to each other as 'hosties', even while they're out there in the mud smashing stereotypes left, right and centre.
"We all call ourselves it in the industry, although of course it's not our correct job title. It's just much quicker to say, and it was a natural evolution of doing our glamorous bits at various relevant events. It's our job after all — why not to put it to some charitable use?" Mahon says.
Mahon thinks for a moment when asked what the best part of the experience is for her. "The most exciting bit for me personally is the constant source of unforeseen personal rewards and achievements! Meeting the legendary veterans, being embraced by the Help for Heroes family, receiving an award from them, and meeting both princes, Wills and Harry… the list goes on."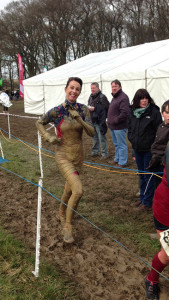 "Doing the Sun Military Awards two years in a row is a highlight of this journey, and it's such an honour. Not knowing what could be around the corner always excites and inspires me." 
"But the one thing I didn't see coming," Mahon says, "was the friendships and bonds made with the girls through doing an event together. It's a bit like us going to work — sometimes we know a couple of people on each flight we do, but sometimes none. It's no different when we all unite the evening before an event to meet up and get in the sprit of things. Knowing and seeing that they are excited and proud to be a part of something that I created is really quite overwhelming and incredibly heartwarming." 
Fellow flight attendant Amanda Wells is thrilled by "how supportive and generous everyone has been. And of course the incredible amount of money we have raised."
And colleague Elise Haigh emphasises that "the most exciting part about being part of Hosties 4 Heroes is about being part of something special — and not just for the fun of it, doing awesome challenges that raise money to change people's lives. But not only that, it's getting to meet those that benefit from the work the Hosties 4 Heroes are doing too."
The Hosties 4 Heroes continue to raise money for Help For Heroes, with their next event a Judgement Day race on April 4th in the Ministry of Defence urban warfare facility Copehill Down an hour west of London Heathrow.
"Any support is welcome," Mahon says, "whether it's new hosties registering to become involved, publicity to promote our fundraising efforts, donations in kind for kit, locations, challenge entry fees, discounted accommodation for the evening before, since we all travel from various parts of the country — it all adds up for us — or simply donating via our JustGiving page." 
The Hosties 4 Heroes are active on Facebook and Twitter (@Hosties4Heroes) and Mahon, before she wings her way to Delhi on board an Airbus A330-300, tells RGN they always welcome new volunteers.