New Zealand is a unique aviation market, with a population of 4.5 million across its two main islands, and an effective duopoly on mainline flying between full service Air New Zealand and low-cost carrier Jetstar.
Thanks to the duopoly driving direct bookings, both airlines are able to offer innovative direct pricing for a significant proportion of their customers — something that isn't available to many airlines elsewhere, and which particularly isn't an option for many legacy full-service carriers.
That gives passenger decision-making an interesting dynamic.
On a recent trip from Wellington to Christchurch — timetabled at 45 minutes but usually ten minutes shorter in flight — I had the option of Air New Zealand or Jetstar.
Booking a few weeks out, Air New Zealand and Jetstar were within $10 (about USD $7) of each other in price on the outbound, while Jetstar was $60 (about USD $43) cheaper on the return.
Both Air New Zealand and Jetstar use kiosks for check-in and operate from the same domestic terminals at Wellington and Christchurch. So it's all down to the onboard #PaxEx.
Received local wisdom is that Air New Zealand can command a premium. But what for — and how much?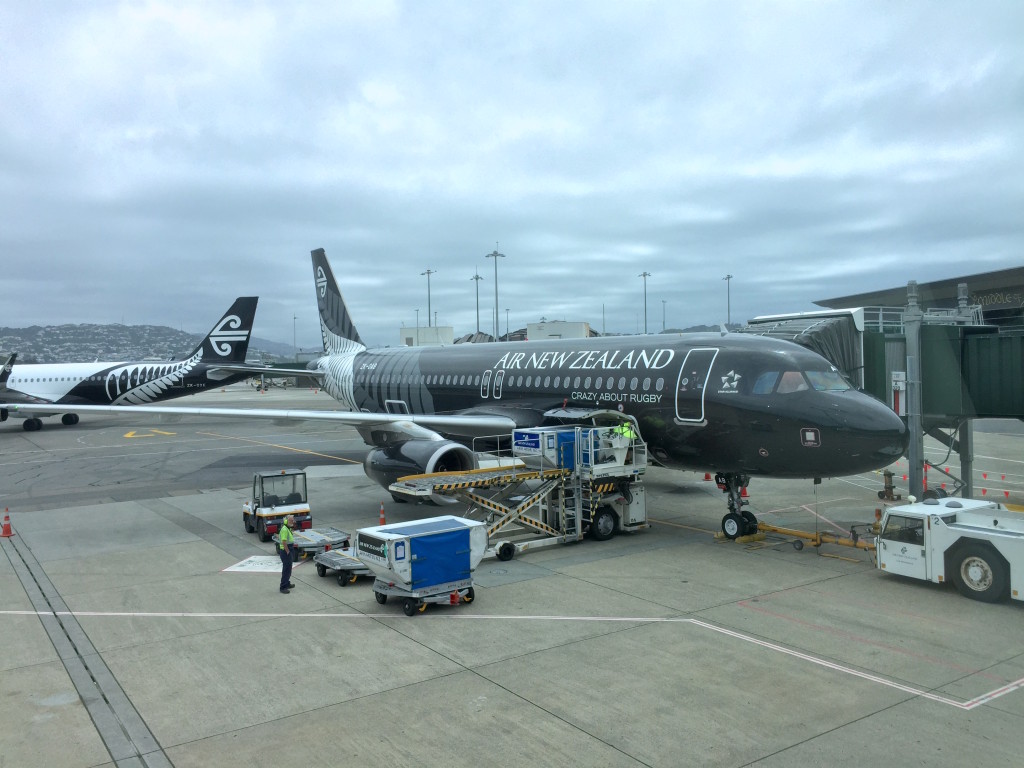 Both airlines offer very similar fare bundles with pick-and-choose options
For passengers booking within New Zealand, Air New Zealand offers four travel categories on its domestic network: a standard nonrefundable seat (with 7kg cabin baggage), standard nonrefundable seat and a checked bag, and two more flexible offerings. Note that passengers booking from outside NZ may not be offered all the fare types and may be offered only more expensive packaged fare buckets as an "economy" fare.
Jetstar has three travel categories within New Zealand: a standard nonrefundable seat (with 7kg cabin baggage), flexible fare with standard seat selection and a $10 food/beverage voucher, and a refundable option that also adds exit row seat selection and a bag.
Both airlines allow seat selection for a fee outside the fare bundles. Both airlines offer fewer frequent flyer points for cheaper bundles.
Verdict: A negative tie. Both airlines' booking processes were frustrating, charged nickel-and-dime credit card fees, added unwanted insurance that I had to remove and continually asked whether I wanted hotels, rental cars and so on.
The seats were practically identical on a short flight
My seat on Air New Zealand's domestic A320s is listed on the airline's website as 76cm, which is 30". Some regular seats have 78cm, but these weren't available for selection when I booked.
My seat on Jetstar's A320 was pitched at 29". Despite being 6'3", and looking out for whether I felt more crammed in, I didn't perceive any noticeable difference.
Both airlines offer the same seat width on their A320s — the 18" Airbus narrowbody standard. Both airlines also offer exit row seating for an extra fee.
Note that Air New Zealand also operates ATR 72 turboprops on this route, which has seats that are significantly narrower and less comfortable than either of the Airbus aircraft despite notionally offering 78cm (31") pitch. 
Air NZ also offers extra-legroom seating to its paid lounge members and high-status frequent flyers; being neither, this didn't affect my decisionmaking.
Verdict: Theoretical advantage to Air New Zealand, though I couldn't perceive the difference. If I were a regular passenger my reaction would have been that these seats were the same.
Jetstar offered more onboard options
Obviously, inflight services on a 34-minute flight aren't what people care about most, but for the flyer who is dashing between cities without the time to buy something at the airport, Jetstar had a full food and beverage service by request. My fare bucket also included a $10 beverage voucher, which I cashed in for a beer. (Alas, Victoria Bitter, the Pabst Blue Ribbon of Australian brews.)
Air New Zealand ran a trolley service offering free water and either a mini-cookie or a small bag of crisps, with no opportunity to purchase anything further. Some peak hour flights offer a "Koru Hour" service of wine, beer, soft drinks and snacks.
Verdict: A slight advantage to Jetstar.
"Jetstar? You don't have anything important to do when you arrive, eh?"
Talking to Kiwis about my trip, the nearly universal response was a half-joking question about whether I had left space in my schedule for my Jetstar flight to be late or cancelled. The carrier has a poor on-time reputation within New Zealand, not least because it has a small fleet, worked hard, which means that time-sensitive passengers or those whose schedules preclude a time cushion — particularly those travelling on business — have personal or office policies about not flying Jetstar.
Air New Zealand has an advantage thanks to its larger domestic fleet, elastic capacity and the opportunity to add capacity with international A320s or even long-haul Boeing 767 and 777 widebodies during irregular operations, together with regional subsidiaries Air Nelson's Bombardier Dash-8 fleet and Mount Cook Airline's ATR-72 aircraft.
And that's the clincher: it only takes a few personal or network experiences of a significant Jetstar delay — often poorly handled by Jetstar's small airport operations and low terminal staff-to-passenger ratio — or a series of breathless newspaper headlines about stranded flyers to make some passengers decide to fork out extra to fly Air New Zealand.
Verdict: I didn't care about an on-time arrival on this trip, but that's not always the case. I certainly wouldn't fly Jetstar for same day meetings.
Overall: these two airline experiences are very similar
Jetstar and Air New Zealand fly the same planes with similar pitch between the same terminals, often for similar fares. The difference: Air New Zealand's pitch is marginally better, but Jetstar offers inflight food and beverage service.
The real difference: reliability, or at least perceived reliability. I wouldn't pay more than $10 extra to fly Air New Zealand on a leisure flight like this. On business, or for an urgent trip? The difference would have to be over $100. Plenty to spare for those Victoria Bitters.