KLM is absolutely winning at this social media thing. Lots of companies both in and outside of the aviation sphere can learn from the Dutch flagship carrier, which has managed to become a globally recognized leader in utilizing social media for customer service, brand development, and revenue generation.
Socialbakers, a firm that tracks and benchmarks more than eight million social profiles across numerous platforms, called KLM the most socially developed brand on Facebook in 2013. At that time, about 100 KLM staff around the world were dedicated to its social media cause. By the same time the following year, that number had entered into the neighborhood of 150. In September 2014, KLM was awarded the title of "Best in Customer Service Using Social Media" as well as "Best in Driving Revenue Using Social Media" by global airline marketing consultancy Simpliflying.
At last week's Hamburg Aviation Conference Gert Wim ter Haar, KLM's social media hub manager told the story of how KLM came to be such a social media force and how it has managed to monetize a service that many airlines still consider a risk and a cost-centre.
KLM currently handles about 75,000 weekly messages, in 14 languages, across a variety of social platforms including Facebook, Twitter and LinkedIn globally; Sina Weibo, Tencent Weibo, WeChat and Renren in China; VKontakte in Russia, and numerous others. The airline is even exploring the use of messaging service WhatsApp and how to make that work for passengers. "Social media is all about trying and failing and having luck… and having bad luck sometimes," declared Wim ter Haar at the Mövenpick Hotel in Hamburg, Germany. "We try to do fun things but we also make mistakes … it's okay to fail … we went fast and we broke stuff."
The bank, at least, is one thing that KLM is not breaking with its social media campaigns. "Yes we have a huge organization and it costs a lot of money, but social media is also a channel that makes money. In 2014 we were able to contribute to the revenue of the company €25M," says Wim ter Haar. "Understandably, that is not much in the total revenue of the airline, but for social media revenue it's a great number. We are definitely putting a lot of focus on that because in our company we need to make sure that the cost we create with the social media service, and it's quite a cost, also pays back."
According to Wim ter Haar, social media is a great place to advertise exclusive campaigns, but he warns that sending the customer back to a website for booking greatly increases the risk of losing him or her along the way. He suggests that other companies do what his did.
"About one and a half years ago it was really difficult to have people converting through social media because we sent them through our website to make the booking," he explained to the group. "The conversion got stuck at the payment part because you aren't able to send credit card details safely through the platform … so we went looking for a possibility to have people pay securely through social media, but we didn't find it."
Not to be deterred, KLM and one of its payment service providers established its own fully-secure payment platform (for a mere €3,500) that allows its social media reps to offer a quick payment link and stay with the customer through booking to ticket issue.
"It takes seconds and we now make €100,000 every week through this payment functionality," says Wim ter Haar. "Let's hope that in 2015 we are going towards doubling this amount."
What else can we learn from KLM's winning social strategy?
Get native speakers onboard. KLM originally tried to save a buck by outsourcing social media operation to people (for example in India) who had only studied the languages they were helping in. They quickly realized that native speakers were required "get closer" to the customer.
Train the people! KLM believes that social media should be a one-stop solution of passengers. Your social media team should have access to any and all resources necessary to completely answer any query. Just providing another number to call is not enough.
Be human, mirror your customer and have fun with it. One of KLMs most viral social media conversations happened when an airline rep answered a customer in the same Dutch street-slang he wrote to her in.
Develop products based on the feedback you get through social media. At Schiphol, KLM passengers who had left something on a plane had to wait days before calling airport lost and found. After noting the high volume of tweets about this, the airline dedicated special staff with security clearance to check planes and reunite people with their belongings immediately. This video it made to promote the service has recently gone viral.
Advertise what you're doing. Traditional forms of advertising are still a great way to let people know how you're using social media to help them. Leave flyers at check-in desks or shout about it with an airport billboard. KLM still does these things.
Don't assign social media to a single department. KLM says it does not have internal discussions about who does what and who pays for what. The whole company owns the KLM social brand.
Tell the customer how long they could be waiting for a response. KLM recently initiated a Facebook and Twitter feature where every five minutes, a highly visible estimated reply waiting time is updated. This has been a hit.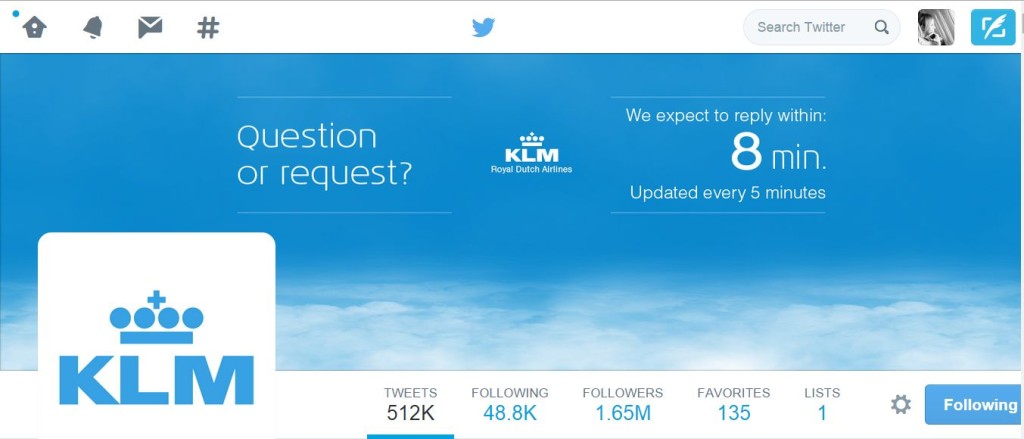 Monetize it! Don't send customers back out into the distraction-filled internet. If you've solved a problem in a way that will earn you money, follow through by any means necessary.
Don't switch off. There is no "closing time" for social media, it's a 24/7 game, notes the carrier.
Finally, take risks. You're going to make mistakes, you're going to "break things" – own those mistakes, learn from them, and move on.