Alaska Airlines plans to start selling a new preferred seating product later this year, joining other airlines in leveraging existing, extra legroom seats in certain areas of the aircraft to expand ancillary revenue.
The company plans to offer customers the ability to book exit row or bulkhead seats coupled with a free drink and priority boarding. Price points are $15 dollars for routes 1,250 miles or less, $30 dollars for trips ranging from 1,250 miles to 2,000 miles and $50 dollars on flights that are 2,000 miles or more in length. Alaska also plans to offer a "preferred economy" section on the seven Embraer E-175s that SkyWest will start operating on behalf of the airline during the second half of the year.
"Initially, we expected around fifteen million in revenue and margin on an annualized basis, but we anticipate growing these revenues over time," Alaska Air Group SVP of planning and revenue management Andrew Harrison recently declared. He says the airline plans a second quarter debut, but an airline spokeswoman told RGN to "stay tuned as we plan to roll it out later this year."
One of Alaska's challenges is finding new sources of revenue while maintaining low costs, says long-time industry consultant Robert Mann. He notes that airlines have been merchandising some type of preferred seating option for nearly a decade. Alaska may have left certain revenue opportunities off the table, and in that respect, "why not go get it", he says. As Alaska's stage lengths continue to grow, and many of its routes reach the five-hour mark, it makes sense to allow customers an opportunity to pay for extra legroom, Mann concludes.
However, Alaska says Mileage Plan members holding elite status will "continue to have first crack at these seats at no cost".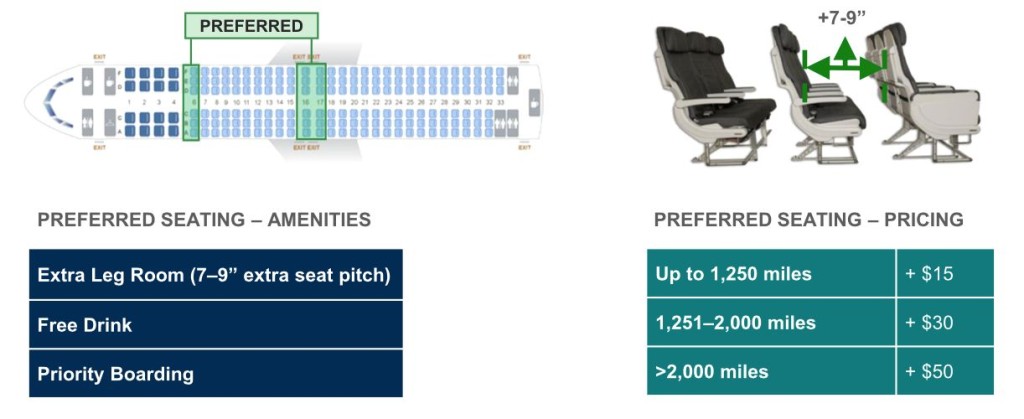 Alaska appears to be working on other ways to shore up revenue, including examining its existing products in a different light. Harrison recently explained that by year-end 2014, Alaska had introduced a discounted booking class to first class fares on roughly 50% of its markets, which helped increase the company's paid first class traffic in the fourth quarter. He says Alaska plans to roll out the discounted booking class to the remainder of its routes by the end of March.
The airline's ability to offer the discounted bookings should be bolstered by an upgrade to its revenue management system that automates certain processes that are "manual today in the system", Harrison explains, including the latest tier of first class bookings. Another attribute of the system is an ability for Alaska to optimize flights based on demand more regularly to help the airline optimize revenue, says Harrison, even as basic underlying pricing algorithms remain the same.
Alaska estimates that the introduction of preferred seating, the revenue management system upgrade and the annualizing of some initiatives it introduced in 2014, should generate roughly $100 million in revenue during 2015. By giving customers the option to book exit and bulkhead seats for an additional fee, "there's no downside" to the scheme, says Mann. For its part, Alaska believes the extra legroom, the complimentary drink and priority boarding "make this a compelling offer to our customers," Harrison says.
Related links: