Aircraft interiors decisions are some of the most closely guarded secrets in the airline industry. Divulging details to media about pending mega aircraft orders has become fairly commonplace, but airline management seem to take a vow of silence when it comes to the highly competitive passenger experience (#PaxEx) space. It's understandable, then, that United Airlines has been rather quiet about its plans to offer new tablet holders on tray tables when it rolls out new first class seats on domestic flights.
"Adding tablet holders to seats, particularly some first class seats, is one of several initiatives we're looking at. Nothing specific to offer right now," United spokeswoman Karen May told RGN in October after reports surfaced about the matter.
Fast forward to today, and we've learned that United is moving ahead with the plan. The company has brokered a deal with SmartTray, but specific details about what the product entails are sketchy to say the very least. When we reached out to SmartTray for comment, it said it can only confirm a deal has been struck.
SmartTray offers an array of tray table tablet holders for both economy and premium class passengers' personal electronic devices (PEDs). Its SmartTray X4 Next Gen premium class tray table, pictured below, makes it possible to use PEDs hands-free without taking up tray table space. During the unveiling of X4 in September 2014 at the annual APEX Expo, SmartTray founder and CEO Nick Pajic noted that over 760 million people worldwide are forecast to own tablet devices by 2016.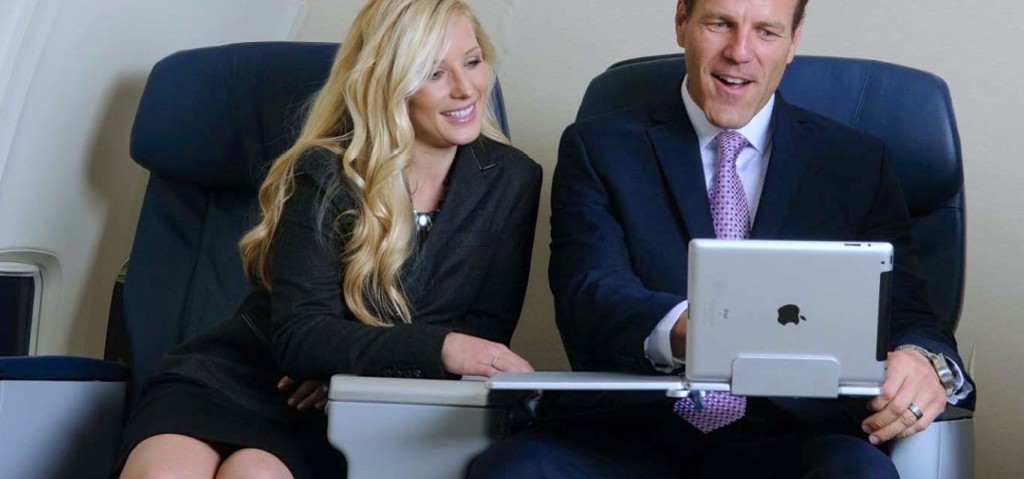 The company is constantly innovating. In December it announced that new "expandable groove technology" has been engineered to hold smartphones and tablets with and without their protective device cases. The groove expands and retracts automatically to the thickness of the air traveler's device, and is offerable across a variety of products, including X4.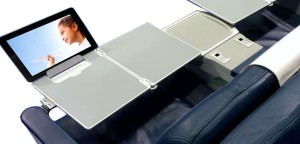 The pre-selection committee for the esteemed Crystal Cabin Awards has taken notice of SmartTray's efforts, and added the SmartTray X1 Next Gen economy class tray table and the  X4 for premium class to its short-list in the annual competition. Results will be announced in April during the Aircraft Interiors Expo in Hamburg.
But back to United. Tablet holders in first class will certainly be a welcome addition for passengers. United is, after all, in the process of rolling out inflight connectivity and streaming video across its fleet, and expects to ultimately stream DirecTV to passenger's devices. RGN contributor Seth Miller recently spoke to United passenger systems managing director Tarek Abdel-Halim at a Future Travel Experience conference about the carrier's progress on the Wi-Fi equipage front. See his video interview below.