In June 2014 senior airline executives attending the International Air Transport Association's (IATA) annual general meeting in Doha were quietly shown a new economy class seat concept representing a collaborative effort between Panasonic Avionics and B/E Aerospace. Three months later, during the APEX Expo in Anaheim, California, the new integrated IFE/seat was demoed for select Panasonic customers behind closed doors, but members of the press were held at bay. This week, the 'Jazz' seat, as it is called, finally made its public debut at the International CES exhibition in Las Vegas, giving the world a glimpse at the future of long-haul, economy class travel.
Jazz represents a major step change improvement in the passenger experience (#PaxEx), and a leap forward in aircraft interiors innovation. The IFE monitor, tray table, personal reading light with mood lighting options; and inductive charging for personal devices plus storage for said devices are all presented in a super slim shroud on the seat-back. The seat legs follow an organic design methodology; various components are made from lightweight magnesium, including the armrests; and the seat-back structure is all-composite.
"Everybody remembers the Fusion project we did a few years ago, the fusing together of IFE and seat design," says Panasonic Avionics executive director sales and marketing Neil James. But Jazz is not the next iteration of Fusion. Rather, this is an all-new project from the ground up. "Everything from the seat rail upwards is brand new. The idea here was to be completely uncompromising about what we do," James told RGN at CES.
Like all of Panasonic's latest generation X Series IFE systems, the seat electronic boxes are tucked neatly inside the seat leg instead of invading a passenger's legroom space. But the legs on Jazz feature innovation from the inside out. "It is more organic than the traditional way we manufacture legs," says B/E Aerospace VP of R&D and new product development Alex Pozzi. "So a lot of these structures are hard to machine; if you look at the shape, it's not necessarily a machine friendly shape so what we've been working with is trying to 3D print primary structure so we can basically print the leg from the inside out. So you create a hollow leg that's tubular or has sort of a bone-like structure on the core, and webbing on the inside where it looks like a shell on the outside, so we can get shapes like this."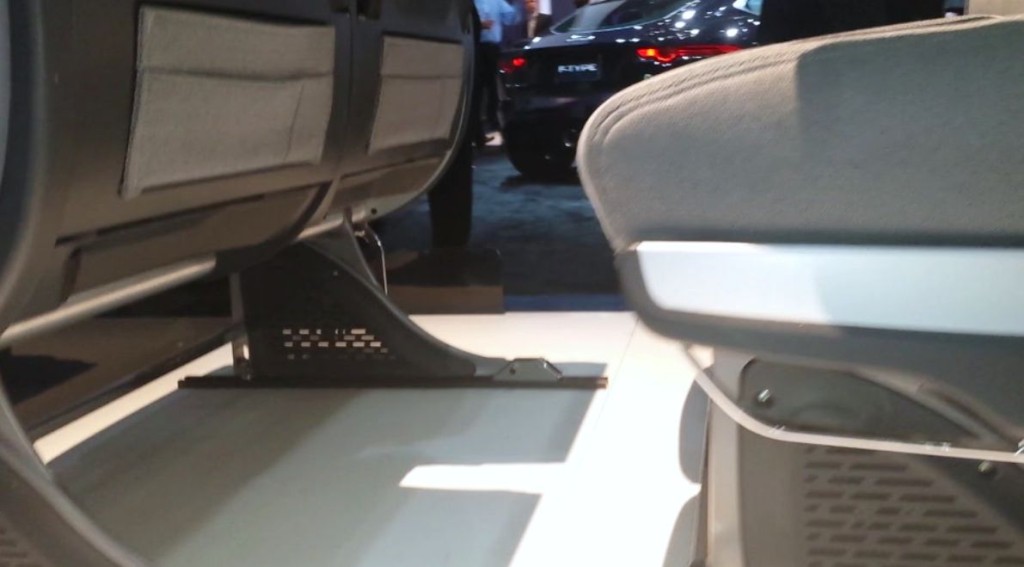 The new technology still requires "a little bit of fine-tuning", says Pozzi, but the legs have already wowed airlines. James recounts a story of the one airline's reaction. "We were happy to show off the IFE, thought it was fantastic, but we turned around and the head of marketing was crawling around on the floor and going, 'never mind all that, look at this seat leg'."
As previously reported by RGN, magnesium has been showing great promise for use in aircraft seats; it has significant advantages in density and thickness. However legacy magnesium alloys are highly flammable. "There have been a couple of different directions on magnesium that I've heard in the SAE seat committee. I think it's still progressing; you can certainly use magnesium on structure as long as the structure has a certain amount of bulk or thickness to it," says Pozzi. "You don't want to be using it for thin sheet. Like these armrests are not sheet; they're machined from plate and so are the legs, so we think we can get this through certification. I mean that's the plan. There is some work there still to be done."
Though Panasonic and B/E are still working out other finer details – for instance, there is still some discussion about making the PED ports modular so airlines can swap them out – the pairing aim to launch Jazz into commercial service in 18 to 24 months.
Are premium seat offerings in the works? "We're working on some premium projects as well," says James. "But it's always exciting to show innovation in economy class because people think that's not where it really happens." Clearly that's not the case.