DOHA: Qatar Airways is currently working with a supplier on real-time streaming of aircraft black box data to the ground, company CEO Akbar Al Baker revealed today at a press conference organized as part of the unveiling of the carrier's first Airbus A350 XWB in Doha.
Inmarsat – whose SwiftBroadband aeronautical service supports inflight Wi-Fi on Qatar's Boeing 787s and now the A350 – is known to be offering a 'black box in the cloud' service, under which – on the back of certain defined trigger events (such as an unapproved course deviation) – historic and real-time flight data recorder and cockpit voice recorder information can be streamed off an aircraft to defined aviation safety recipients. But Qatar's Al Baker declined to discuss the carrier's partners.
"Qatar Airways is already making an experiment with a supplier, that I am not at liberty to tell you or from which country … but we are working very closely with them testing the system whereby all the flight data recorded in the black box, or the flight data recorder, is also received continuously during the flight on the ground in our operations centre," he said. "Once this has been proven and all the bugs have been cleared, Qatar, I hope, will be the first airline to introduce this in all of airplanes."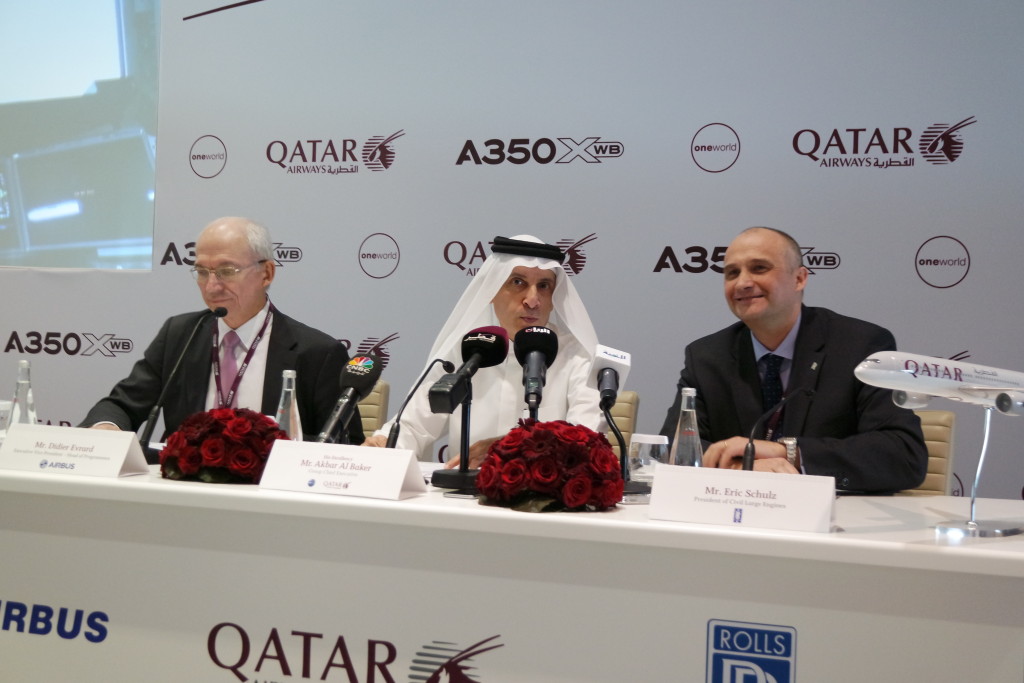 Questioned further, Al Baker told RGN that the cockpit voice recordings are not currently part of the data to be streamed. He also told us that we should expect further announcements about this project very soon. The proclamation comes at a time when certain aviation industry stakeholders are taking a fresh look at black box streaming in the wake of the tragic disappearance of Malaysia Airlines MH370, and the recent crash of AirAsia QZ8501.
On a similar note, Al Baker reaffirmed his position on taking flight tracking control away from pilots entirely, and making systems tamper-proof.
"I'm sure you're aware that I sit on the board of governors of IATA and we are very aggressive in pursuing this matter. IATA should be leading this subject of automatic tracking of airplanes without the control of the pilots. There is a task force in IATA to pressure regulators who should demand …like in the past airlines never had TCAS, then IATA put a lot of pressure on regulators to insist that all aircraft should be equipped with TCAS after the accident in New Delhi where there was a mid-air collision," he said.
"The same has now happened after the Malaysian Airlines mishap. We as members on the board of governors are insisting that now it should become mandatory that aircraft should be able to be automatically tracked from the time it takes off until the time it lands."