It's 2015 and an airline refuses to let the women in its cabin crew wear the trousers from its newly designed uniforms.
Gulf carrier Etihad has confirmed to RGN  that, while its newly designed uniforms were created with a trouser option, flight attendants will only be allowed to wear skirts.
Etihad's new uniforms, designed at great expense by Italian couturier Ettore Bilotta, and unveiled in a runway event at Abu Dhabi airport last month, build on the airline's Facets of Abu Dhabi rebrand, which continues throughout the carrier's lounges, aircraft livery, new aircraft interiors and older aircraft cabin refreshes.
Unfortunately, the facets being emphasized by the airline's uniform decisions are less than sparkling.
"There is no trouser option with the new female cabin crew uniform. Tailored trousers are one of the options for ground staff," an Etihad spokesperson confirmed in response to RGN's query.
When asked for the reasoning behind the trouser ban, Etihad's spokesperson said: "There was very low demand from our cabin crew for the trouser option with the previous uniform so it was decided not to include it with the new one. A tailored pant is one of the options for ground staff, reflecting the diverse nature of their roles and working conditions."
Yet that would seem to be a completely different reason than that given by the designer.
"Females in the inflight crew were not allowed to wear trousers, because the element of femininity had to be emphasised. It was only allowed for ground staff," Bilotta is quoted as saying by Abu Dhabi's The National and Australian Business Traveller.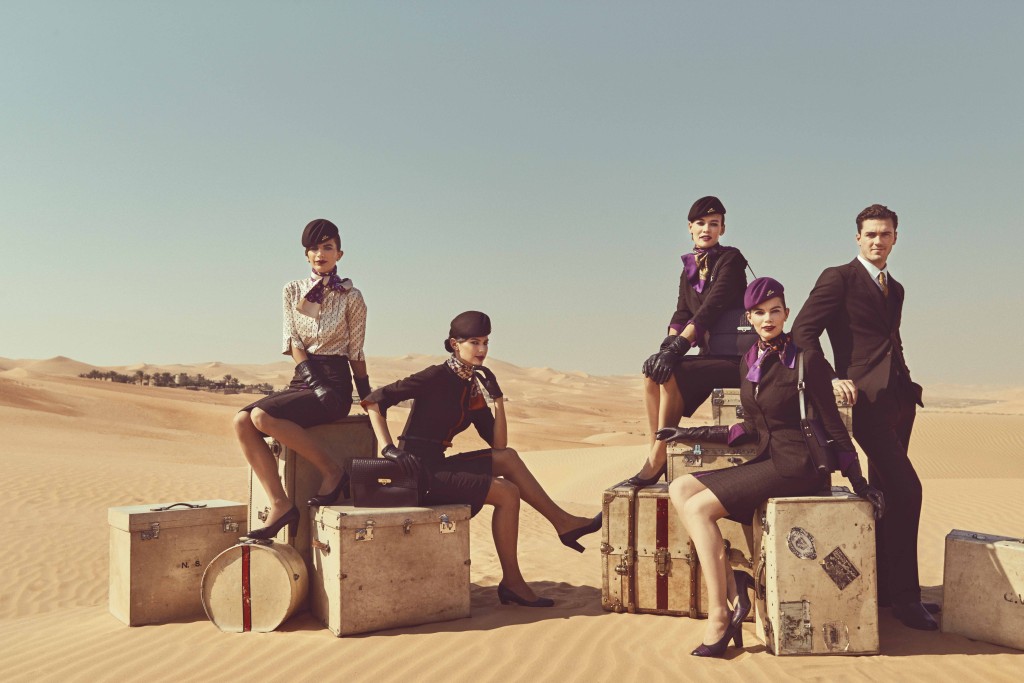 Etihad has the widest variety of passenger experience-focussed cabin crew roles of any airline, from its inflight chefs to food & beverage managers to sky nannies to personal butlers. Oddly, the women's uniform for the butlers does feature white trousers in a tightly fitting white stretch material, unlike the other cabin crew uniforms.
The whole situation is especially discordant given that the big three Gulf carriers are perceived by some as taking advantage of their internationally recruited cabin crew, using their power and governmental links to ensure compliance with exacting rules and standards without granting them the rights demanded in numerous other states, as well as preventing collective representation of their employees.
Etihad is one of just a few airlines that insist on skirts or dresses for their women cabin crew. British Airways' "mixed fleet" new-contract cabin crews are currently fighting to be able to wear trousers. Singapore Airlines' crews must wear the iconic sarong kebaya, although the airline has been moving away from an at-your-service positioning of its "Singapore Girls" in favour of emphasizing their knowledge and savvy within its advertising.
Let's be clear: objectifying or sexualizing women cabin crew for a presumably male gaze is neither appropriate nor acceptable.
It's also a remarkably poor idea from a safety perspective. In safety-critical situations, passengers need to perceive flight attendants as safety professionals, not a bit of totty who are there to look pretty and serve the drinks. 
Passengers on Asiana 214 discovered that in San Francisco, when flight attendants who had only recently won the right to wear trousers physically carried passengers on their backs from the wreckage of a burning aircraft.
Experts say that what you wear in the event of a fire matters. You want to wear natural fibers because synthetics can melt and stick to the skin, making burns far worse with a longer recovery time. They recommend no panty hose. It seems, at the very least, women flight attendants should be offered the choice of whether or not to wear skirts and hose.
Additionally, with recorded incidents of disruptive passengers — and costly, inconvenient flight diversions to deal with them — on the rise, it's baffling that any airline would choose to emphasise women cabin crews' "femininity".
Sexist airline trouser bans make it seem as if the carrier is prioritising service over safety while also suggesting it views its women employees as window-dressing — and wants its passengers to do so too.
Twelve-year-old Etihad has never yet had a fatal accident. It shouldn't have to put the professionalism of its cabin crew to the ultimate test before affording them respect.