San Francisco International Airport is not only the latest US airport to receive Emirates' double-decker A380 service direct to Dubai, but it will also increasingly employ "smart airport" features for passengers, says Airport Director John Martin.
Speaking to RGN during a ceremony yesterday to celebrate the new daily A380 flight – which replaces the carrier's 777-300ER service to SFO – Martin noted that the airport has already launched a guidance app for blind and sight-impaired passengers, which uses a bluetooth beacon system and represents the first step toward a connected airport experience.
"We've developed a prototype in Terminal 2 to allow blind passengers to navigate using a voice activated system and access all of the facilities … The blind passengers report this has really opened up the terminal in a way they've never experienced before, to know about all the services," he says, adding that a next step application would facilitate non-English speakers looking for guidance.
Echoing tech-savvy attitudes that in part drew Emirates to deem SFO an A380 destination, Martin says, "The direction the industry needs to move is that passengers can use their handheld device to navigate around the airport, to know when they have to go to the gate, to know about all the services and amenities that are available. [But] we would want to protect people's privacy. There's no reason for us to get private information on the passengers but we want to be able to, if the passengers choose, to share information and have it accessible, probably via an opt-in [solution.]"
Emirates VP of USA sales Matthias Schmid believes the Dubai-San Francisco route will be incredibly popular because of both tourism and tech. "We connect the Silicon Valley with the 'Silicon Valley' in India [Bangalore], so there is an absolutely natural tech fit … It's a huge source market for us and we are very confident that this product will work," says Schmid, adding that Emirates expects to easily fill the seats on the super jumbo. "We have consistent very, very high load factors out of this market and we are very, very convinced that the market, although it's a highly competitive market, can absorb this additional capacity."
Jesus Barajas, bag room agent with service company Swissport, says he handled one of the largest A380 baggage loads he'd ever seen in loading the Emirates inaugural flight to Dubai, with upwards of 900 bags hoisted into the aircraft — 200 more than the normal average of 700 he has seen for Lufthansa A380s leaving SFO.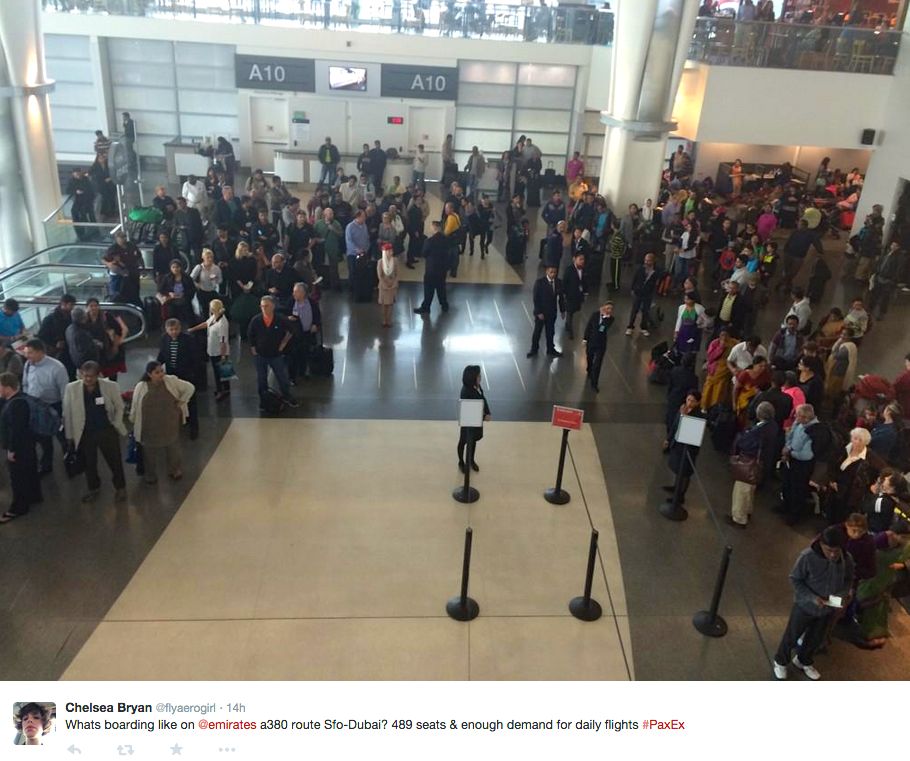 But SFO – perhaps the most tech-savvy city in the world – won't yet have fast inflight Internet on its direct routes to Dubai because equipage of Panasonic Avionics' Ku-band satellite-supported connectivity system on Emirates' A380s was put on ice after operators learned of micro crack problems on A380 doors. Multiple sources say the carrier opted to stop further modification of its A380s with Ku connectivity pending resolution of the door issue. A source suggested the carrier will have "to put four aircraft on the ground at a time for as long as it takes".
Though Schmid would not comment on the timeframe until full Ku equipage is complete, he did say regarding the door problem, "Look, it's a fairly new aircraft … we are working together with Airbus and with all the different authorities in order to address all the potential issues that actually come up on the technical side." The A380s are currently equipped with a lower bandwidth Wi-Fi solution, though Emirates is offering free service to passengers.
Asked whether increasingly monied city-dwellers might ultimately look to Emirates for a Premium Economy experience that has proven popular Europe, Schmid said the airline has no plans to create another class. Abu Dhabi-based Etihad Airways has also said it is not interested in offering Premium Economy.
"Right now, we don't really see any reason to have a differentiation in the economy class because the seat pitches are quite wide, if you look at the inflight entertainment, it's really state-of-the-art, as well as the onboard service we provide," Schmid says, directly admitting that Emirates feels its economy product is already essentially a Premium Economy offering. We know many passengers who would dispute this assertion, however.
Emirates boasts one of the most extensive IFE content line-ups in the world. Though the carrier is understood to not be paying all rights to play music on board due to ongoing negotiations with publishers' collection agency PRS, Schmid says, "I can confirm that we are working with PRS on music licensing fees."
In Emirates' eyes, all 489 seats on the A380 – 399 of which are in economy class – feature sufficient glamor to inspire SFO to match and complement the Emirates brand. Martin notes that $4.5 billion will be spent on airport improvements over the next 10 years, with construction of a new four-star luxury hotel slated to begin immediately on airport property a mere hundred yards away from the terminal.
Also this week, Emirates will launch A380 service from Dubai to Houston, Texas – again replacing 777-300ER service – and to Milan, Italy.